More than a Seniors Exercise Program, Vitalize 360 takes a Holistic Approach to Wellness
More than a Seniors Exercise Program, Vitalize 360 takes a Holistic Approach to Wellness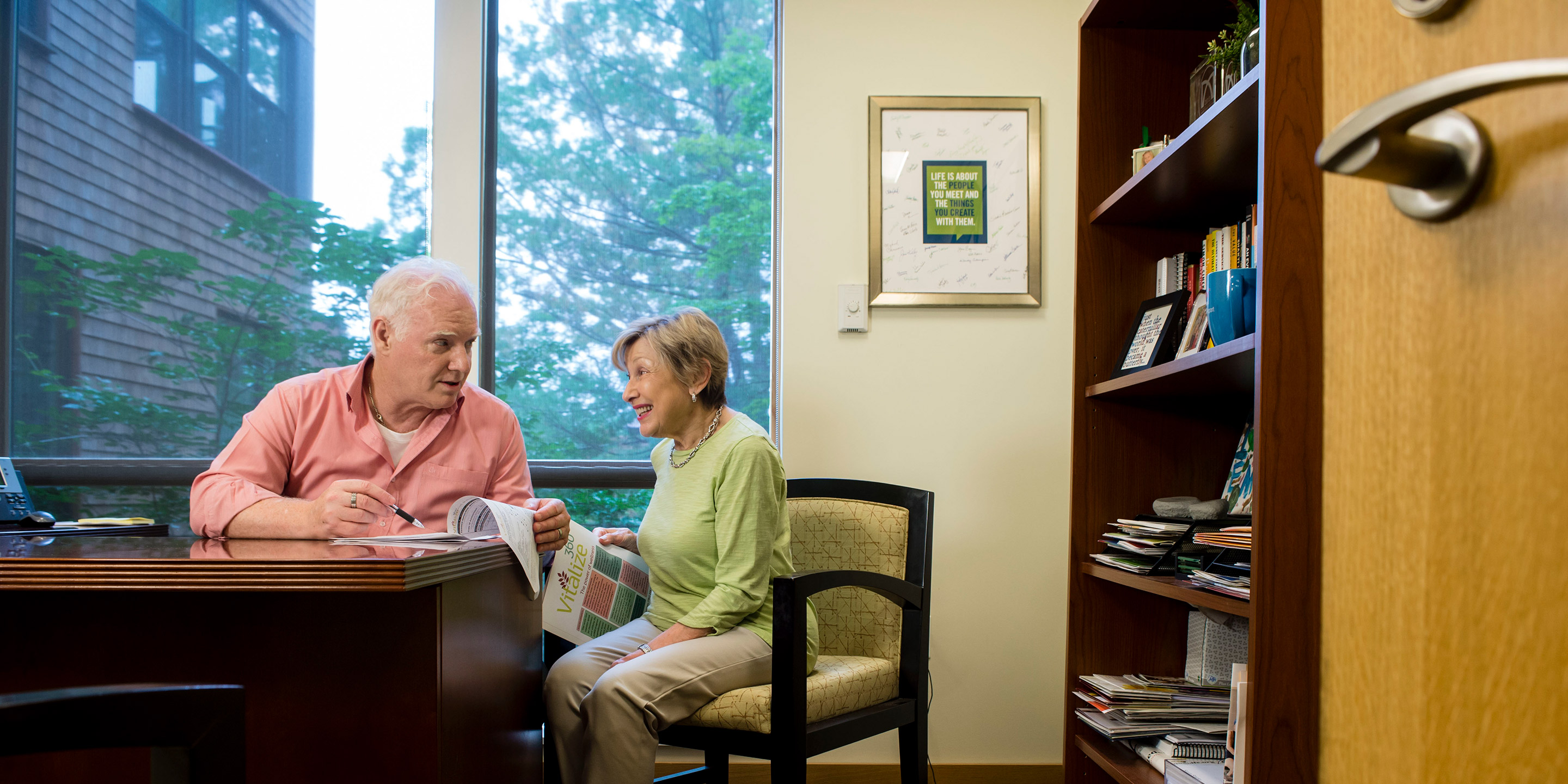 Our Vitalize 360 program, which is part of life in all Hebrew SeniorLife communities, helps seniors make lifestyle changes that lead not only to improved health, but to a richer quality of life. Vitalize 360 looks at the entire well-being of a person and encourages them to consider all aspects of their lives, including health, nutrition, physical and mental fitness, community links, lifelong learning and spirituality. The platform combines personalized coaching with research based tools in an effort to improve participant's quality of life.
We sat down with Brendan Kearney, Vitalize 360 coach, to learn more about how he uses the program to help seniors on the NewBridge campus identify what matters most to them so that they can live their best lives.
How do you describe the Vitalize 360 program to new residents?
I tell them that it is a one-on-one coaching program and that it's a two-way street. I introduce them to the concept of having goals even at this age. I get to know them, and hopefully they get know and trust me. I explain that mostly what I am interested in is what is challenging for them. We focus on what they hope to accomplish by overcoming their challenges.
Why is it important for residents to set goals during this phase of life?
I think it is important because it reiterates that the productive and rewarding days of their lives are not over. The goals are a reminder to folks that there are still things to accomplish. This is very empowering! I've seen our residents get very excited about re-approaching a goal or idea that they had set aside a long time ago. The notion of "it's never too late" brings a great sense of hope. And the achieving of the goals brings empowerment and increased self-esteem.
What would you say to a resident who might say, for example, "I'm happy with my life. I don't need a program like this to figure out what matters most to me."
I do get that response, and I have to respect it. I don't push. If they decline I'll ask if I can check in again with them in the future. I'm out and about so much that I see everybody almost weekly. And in many cases, they will come back in the future and say, "You know what? I would like to talk with you!"
What is the most important trait for a wellness coach?
Without question it's the ability to make a connection with people, which comes very naturally to me, but at the same time can be very hard and emotional. At times I'm working with people who are facing some of the toughest challenges they have ever faced. I make sure they understand that I am not a therapist, and I'm not their 'friend'. Rather, I'm a human being who is here to listen and help them live their best life based on what matters most to them.
What is the most valuable lesson you have learned in this role?
I feel very honored to be able to spend time with and learn from our residents. We have residents who are 100 years old that are teaching me lessons for my own life by how they live theirs. I've learned that people can articulate what's important in life, and I learn that from them every day.
 
Blog Topics
Learn More
We empower seniors to meet their wellness goals using Vitalize 360, an innovative health and wellness platform that combines one-on-one coaching with research-based tools.
Orchard Cove, in Canton, MA, offers living options that span the full continuum of care, including independent living. The community is bustling with activities, from life-long learning to entertainment.