A Senior Living Wellness Program Designed for Every Resident
Watch the video below for insights into the success of our Vitalize 360 program
A Senior Living Wellness Program Designed for Every Resident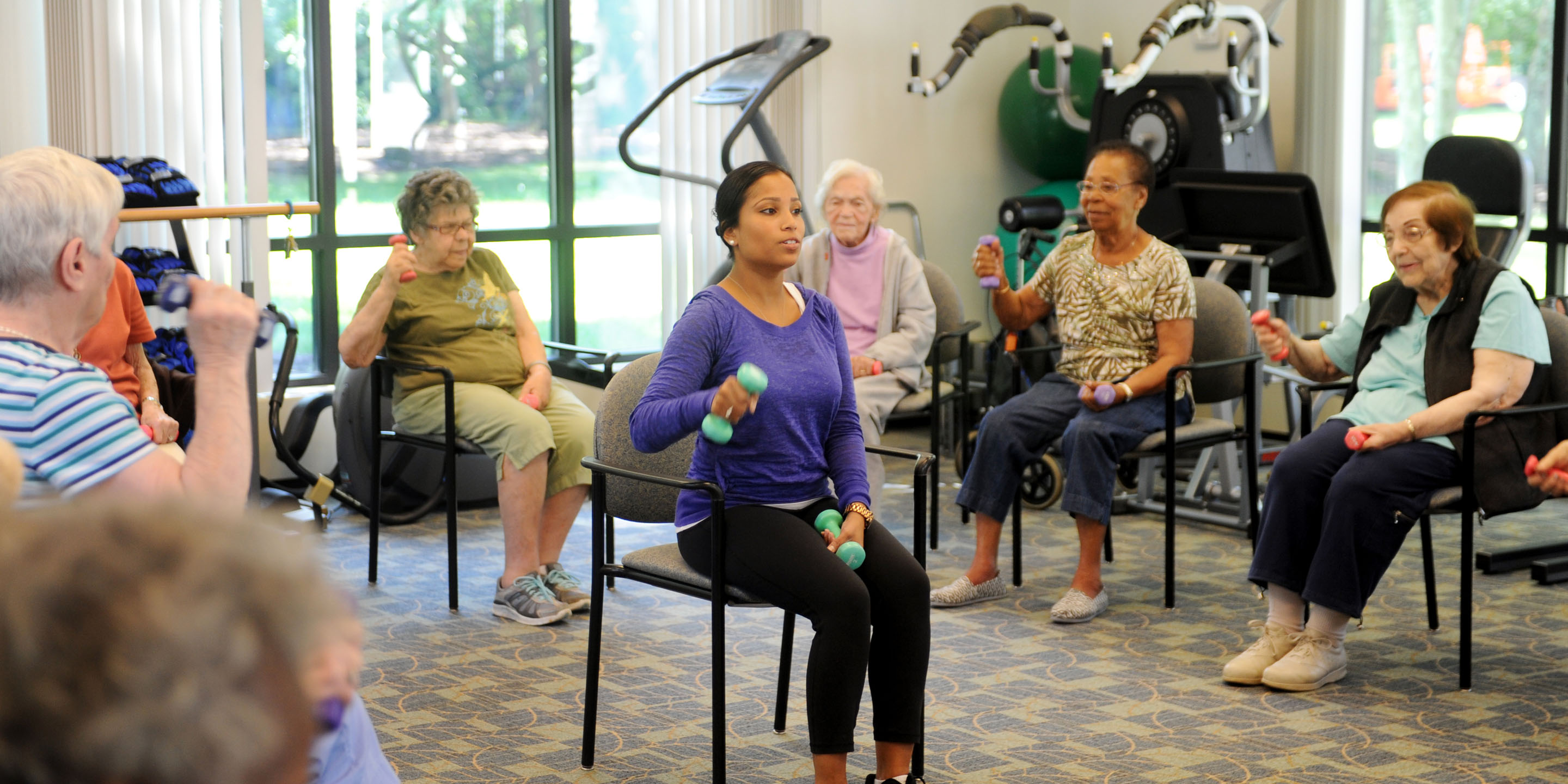 Because the doctor said so.
All too often this is how we approach our wellness. Medical professionals use a set of standards to tell us what we should do to improve our mental and physical health. Even our spiritual leaders may turn to quoting rules or good ideas that will help us lead better lives. While it's certainly not a bad approach, there are more effective ways to help us take charge of our own wellness.  
Hebrew SeniorLife's Vitalize 360 program focuses on giving our residents purpose. Developed in partnership with Kendal senior living communities, the program leverages the knowledge and expertise of Hebrew SeniorLife staff, including researchers at the Hinda and Arthur Marcus Institute for Aging Research, and our Harvard Medical School-affiliated physicians. 
Since its original creation in 2010, Vitalize 360 has helped thousands of seniors in all five of Hebrew SeniorLife's communities make lifestyle changes that lead not only to improved health but to a richer quality of life. Based on real-world results, the goal is to promote independence and encourage healthy choices. 
In other words, the Vitalize 360 program encourages our residents to discover what is important to them and empowers them to actually do it.
In the video below, Executive Director of Orchard Cove Aline Russotto and independent living residents talk about the positive impact the program has made in their lives and the community at large. 
 
What is wellness?
Wellness concerns a broader range of issues beyond just a person's general health.  
Vitalize 360 looks at the entire well-being of a person — a 360-degree view, if you will — and encourages them to consider all aspects of their lives, including health, nutrition, physical and mental fitness, social links, lifelong learning, and spirituality. The goal is to inspire older adults to follow their own rules and wishes. 
As people age, it's easy to forget that life isn't a straight journey. Rather we are always faced with crossroads and the path we take may loop back on itself. Moving to a senior living community like those offered by  Hebrew SeniorLife represents a big life change for many older adults, which makes it a great opportunity to reevaluate where they have been and where they would like to go. 
How does it work?
Vitalize 360 merges personalized, one-on-one coaching, with research-based tools and a scientifically grounded assessment system. By placing the emphasis on what each person would like to do, rather than what they "should" do, coaches can help seniors direct their own wellbeing.
This style of direct engagement allows seniors to ask themselves a question that is often buried under day-to-day living: what is most important to them? Participants share their life stories with their Vitalize 360 coach, revealing goals and dreams that might have previously been put on hold.
Based on principles of self-efficacy and management, Vitalize 360's coaching model assures that a thoughtful coaching conversation will challenge seniors to take action and forge their own path to the life they see themselves living. With the coach's assistance, each individual develops a personalized  Vitalize Plan that includes Life Goals, Supporting Goals, and Action Steps. It is designed to support existing activities, inspire new achievements, and foster a meaningful, active life. 
Throughout the year, an interdisciplinary team of professionals supports residents in achieving their goals. The coach and team are trained to carefully listen, observe, and ask questions.  Information about the person is gathered using two evidence-based assessment tools and entered into a web-based software system. The data and the Vitalize Plan are tracked for resident follow-up, and utilized for organizational outcome measurement, benchmarking, and quality improvement. Residents are offered the opportunity to meet with their Vitalize Coach annually to review their plan, celebrate achievements, and set new goals.  
What does it look like?
That depends upon each senior's sense of purpose and the goals that they have set.
While the process of improving your life can seem daunting or exaggerated, in practice all it takes are small, attainable milestones to pave the way to achieving big results.  The goals that seniors create are not always lofty, world-conquering aspirations. However, far be it from us to discourage one of our seniors from trying to instill a new world order. Aim big!
Rather, someone may want to pick up old hobbies, enhance their spiritual connection or practice, reconnect with their artistic side, or improve their physical endurance or balance. Perhaps an aspiring painter needs to work on dexterity and finger strength to work a brush, a knitter needs new patterns, or a former model ship maker needs a new workspace. 
A senior may be looking to visit their grandchild at a big family reunion and develop an exercise program to build up their muscle strength or improve their balance with yoga and tai chi. Those looking to restart or enhance a spiritual practice could take meditation lessons, or work with our spiritual advisors to find the right kind of religious service or study group.
No matter what each senior is looking to do, what makes Vitalize 360 so effective is the emphasis on owning the process. The attainable goals set with the coach mean that each resident will establish their own standards through which they improve their overall well-being. Each senior can feel the empowering realization that it's never too late to make things better.
Live in a community that supports your growth
Of course, Vitalize 360 is just one of the many programs available to Hebrew SeniorLife residents. If you're ready to live in a community that supports your entire well-being—physical, mental, social, and spiritual—Hebrew SeniorLife offers choices for every budget and lifestyle. Each Hebrew SeniorLife community, including Orchard Cove in Canton, MA, and NewBridge on the Charles in Dedham, MA, offers residents access to our award-winning Vitalize 360 wellness program. Our coaches will meet with you one-on-one to hear what matters most to you, then help you come up with a plan to meet your goals. Ready to learn more about living in a Hebrew SeniorLife community? Contact us today. 
Blog Topics
Learn More
We empower seniors to meet their wellness goals using Vitalize 360, an innovative health and wellness platform that combines one-on-one coaching with research-based tools.
Orchard Cove, in Canton, MA, offers living options that span the full continuum of care, including independent living. The community is bustling with activities, from life-long learning to entertainment.