Addressing the Certified Nursing Assistant Shortage
A new Hebrew SeniorLife training program is helping to increase CNAs in the workforce.
Addressing the Certified Nursing Assistant Shortage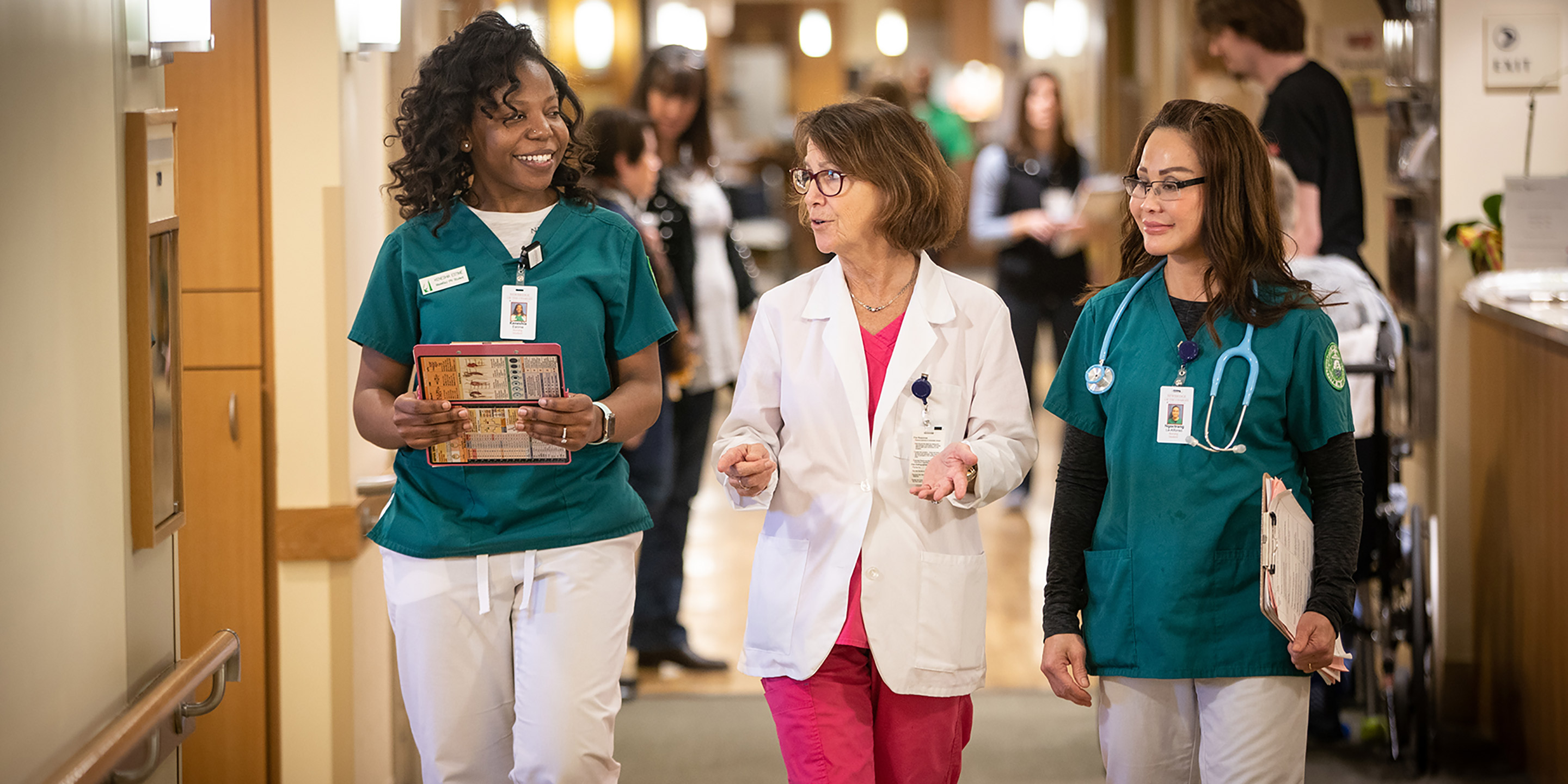 A certified nursing assistant, or CNA, typically works in a hospital or nursing home and is a crucial part of a health care team. CNAs have many different roles and responsibilities but their central role is making sure patients are receiving the proper care and assisting with daily care needs. 
Given our nation's aging population, the need for qualified CNAs is high and there's a shortage of CNAs in nursing homes and health care facilities across the country. The COVID-19 pandemic didn't help the problem - and in many places - it made it worse. Many CNAs decided to leave a job that was very high-risk when the pandemic began At the same time, the need increased as nursing homes were desperately trying to fight the virus while continuing to care for and engage residents and patients. 
At Hebrew SeniorLife, we created a new CNA training program to address the shortage and remove barriers potential CNAs have to continuing their education. Co-led by Tabitha Fineberg, Hebrew SeniorLife's Administrative Director of Academic Programs and Susan Graff, Director of Professional Practice and Education, the program graduated its first group of trainees in March. 
What is a Certified Nursing Assistant?
A certified nursing assistant is a person who has gone through a training program and been certified by the American Red Cross to provide basic nursing care to someone who is ill, injured, or disabled while working under a registered nurse (RN) or licensed practicing nurse (LPN). CNAs are trained to provide physical and emotional care for the patient or resident, including activities of daily living like bathing, dressing, grooming, toileting, and helping a person transfer in and out of bed, a chair, or a wheelchair. 
CNAs spend time with residents and patients getting to know them, their likes and dislikes, their life stories, and their families. Because of this close relationship, CNAs are often the first to notice a change in a patient or resident's behavior that may require medical attention - like a change in their appetite or new symptoms. CNAs help engage residents in community life, support activities, and facilitate relationships with other residents.
Preparing for the Future
The shortage of qualified CNAs in health care has been a challenge for many years. Before COVID-19 hit in early 2020, Massachusetts reported that vacancies for CNA positions in nursing homes increased from 6 percent to 17 percent over the previous decade. Major hurdles include proper training, qualified candidates, and finding people who are willing to work flexible hours. 
When COVID-19 necessitated the closure of local training programs, leaders at Hebrew SeniorLife became concerned about the impact that would have on the workforce shortage, and how that would affect not only our organization but all local health care organizations. 
In response, we created a new CNA training program and graduated our first class in March. Trainees are paid during the training and those who graduate are guaranteed a CNA position at Hebrew Rehabilitation Center, our long-term chronic care hospital, and are certified by the American Red Cross. 
In addition to filling an immediate need for CNAs, this program helps build a pipeline of future nursing leaders. "At Hebrew SeniorLife, we find that many of our CNAs continue their education and later fill more senior roles such as LPN or RN, and some go on to management positions," says Tabitha. "Because our program pays students during their training and guarantees them a job, it provides a rewarding and viable career pathway for a population that may have difficulty accessing traditional educational programs due to financial, socioeconomic, and other factors."
The Hebrew SeniorLife CNA Training Program
At Hebrew SeniorLife, our CNA program is quite unique. Our staff does more than teach the basic skills of supporting a patient's activities of daily living. CNAs are taught how to care for a resident with dementia by attending a full day habilitation training, they are taught how to work with residents that are part of the LGBTQ+ community.
"We were really meticulous in putting together our training program," says Tabitha. "We wanted to ensure that the CNAs who graduate from our program not only know how to be great CNAs, but they're also ready to provide the best possible care for our patients. We felt that it was important to go beyond the 75 hours of curriculum that's required for certification. Our four-week, 160-hour curriculum includes topics that we felt were important to their success, including effective communications, dementia training, nursing orientation, and training in our electronic medical record system."
Tabitha and educators from Hebrew SeniorLife's Professional Practice Department teach the program which includes time in the classroom, lab skill training, and clinical training, as well as tests and quizzes along the way. Students also spend time working with patients alongside Hebrew SeniorLife Patient Care Associates. At the end of the program is a final written and clinical exam to ensure everyone is ready for the American Red Cross certification examination.
Unlike other CNA training programs, Hebrew SeniorLife's program ensures candidates are recruited into a job and selected for the training program at the same time and are paid to participate. Candidates start with the training program, then participate in a two-week floor orientation on the new unit they will be working on, and work while waiting to sit for their certification exam. Once they are certified by the American Red Cross, they move into their new CNA role.  
Demand for the program has already been high, with interest in the second cohort, which began in May, exceeding available slots. A third cohort has been scheduled for August and recruitment will be starting in June. We intend to offer the program three to four times a year or more based on the needs of the organization.
To learn more and apply for the program, visit the Nurse Aide Training Program page. If you have specific questions about the curriculum or program, feel free to reach out to us by email.
Blog Topics
Learn More
If you are looking to get started in health care, our paid nurse aide training program may be for you! Earn while you learn plus participants who successfully complete the program are guaranteed a job at Hebrew Rehabilitation Center.
Hebrew SeniorLife is the only senior health care organization affiliated with Harvard Medical School. Members of our caregiving teams specialize in providing geriatric care, and they do so with care and compassion.