Art-on-the-Brain Brings the Museum Home
An innovative mobile app that brings meaningful activity to those who struggle to travel.
Art-on-the-Brain Brings the Museum Home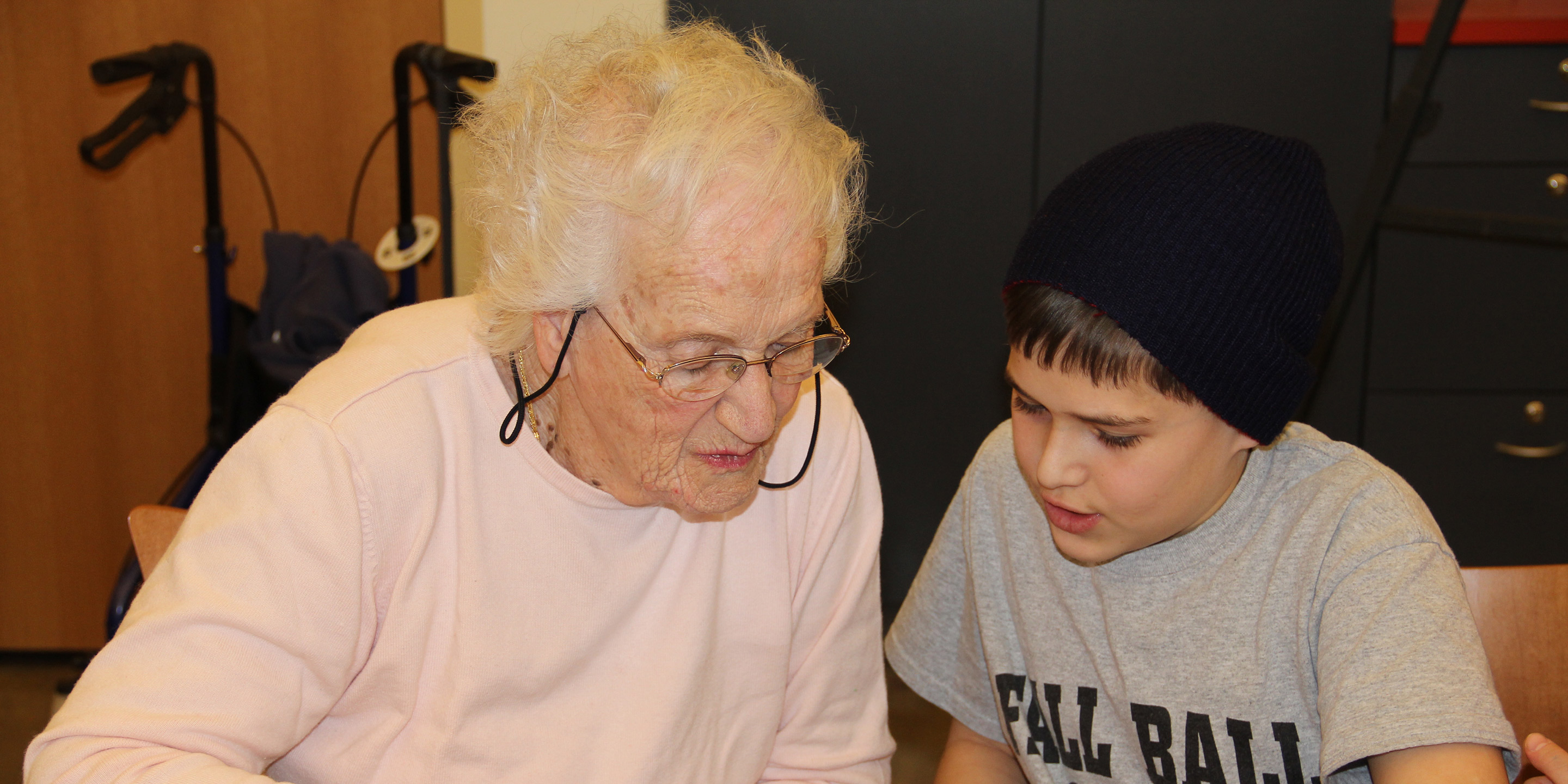 It's no secret that getting out and about can become harder with age, especially for seniors with complex health conditions. But this doesn't mean that meaningful recreation has to go out the window. At Hebrew Rehabilitation Center (HRC), staff from Life Enhancement, Nursing, IT, and the Hinda and Arthur Marcus Institute for Aging Research have come together with volunteers and family members to help launch a creative solution to this dilemma.
We sat down with Jenna O'Brien, Associate Community Life Leader at Hebrew Rehabilitation Center to talk about Art-on-the-Brain, a new mobile health solution developed to address the problem of reduced access to meaningful recreation among older adults.
Q: What exactly is Art-on-the-Brain, and how does it work?
Jenna: Art on the Brain is an interactive mobile visual arts application that brings the user to an art museum via an iPad. Participants enter the virtual museum through an app and are able to explore and click on art that catches their eye. At HRC, we are using the app with long-term chronic care patients to improve quality of life.
There are 3 functions of the application:
Learn – participants learn about the history of the selected art and artist.
Play – participants have the option of playing cognitive games such as crossword, word search, puzzles, and even write their own story based on the art and artist.
Mingle – participants (on their own, or with the help of a volunteer, staff, or family member) can post comments, opinions, and their stories on a safe, secure, and monitored social network.
 
Q: Where did this idea come from, and how do we know it works?
Jenna: Art-on-the-Brain is more than just a fun idea. It's an evidence based project founded in neuropsychology research. The project is funded by the Centre for Aging and Brain Health Innovation and is in collaboration with BayCrest Health in Toronto, who developed the app and used it with independent living seniors in the community with great success.
 
Q: What does the project hope to provide?
Jenna: The hope is that we will see an increase in the following:
Quality of Life – Our patients are physically unable to go out into the community and attend galleries and events as they did before. We hope that access to this app produces a similar effect as an actual museum visit would. We hope it makes them happy, helps them connect with friends, family and staff in discussing the works of art, and helps them focus less on pain and boredom.
Active living – We hope using the app promotes a desire to try other activities, and expands the user's interests. The goal of Art-on-the-brain is to enable users to sit longer, pay closer attention to, and participate more during other activities.
Cognition- There is reason to believe that this app can lead to improvement in the patients' attention, memory, and reasoning ability.
 
Q: How could this app benefit social connections with family?
Jenna: We are hoping that this app makes visits more engaging for family members. A family member can sit with their loved one and look at art together, learn together, and play games together. We want to open a path to dialogue and interactions such as this between family members and patients.
 
Blog Topics
Learn More
Hebrew Rehabilitation Center provides its patients with many different kinds of expressive therapies to support their psychological, social, and emotional needs.
Hebrew Rehabilitation Center provides person-centered extended medical care in a homelike setting for patients with chronic illness. As a licensed long-term chronic care hospital, we provide higher-level, more comprehensive medical care to older adults than a traditional nursing home.