Enjoying the Outdoors With Limited Mobility
Different ways you can go outside no matter how you get around.
Enjoying the Outdoors With Limited Mobility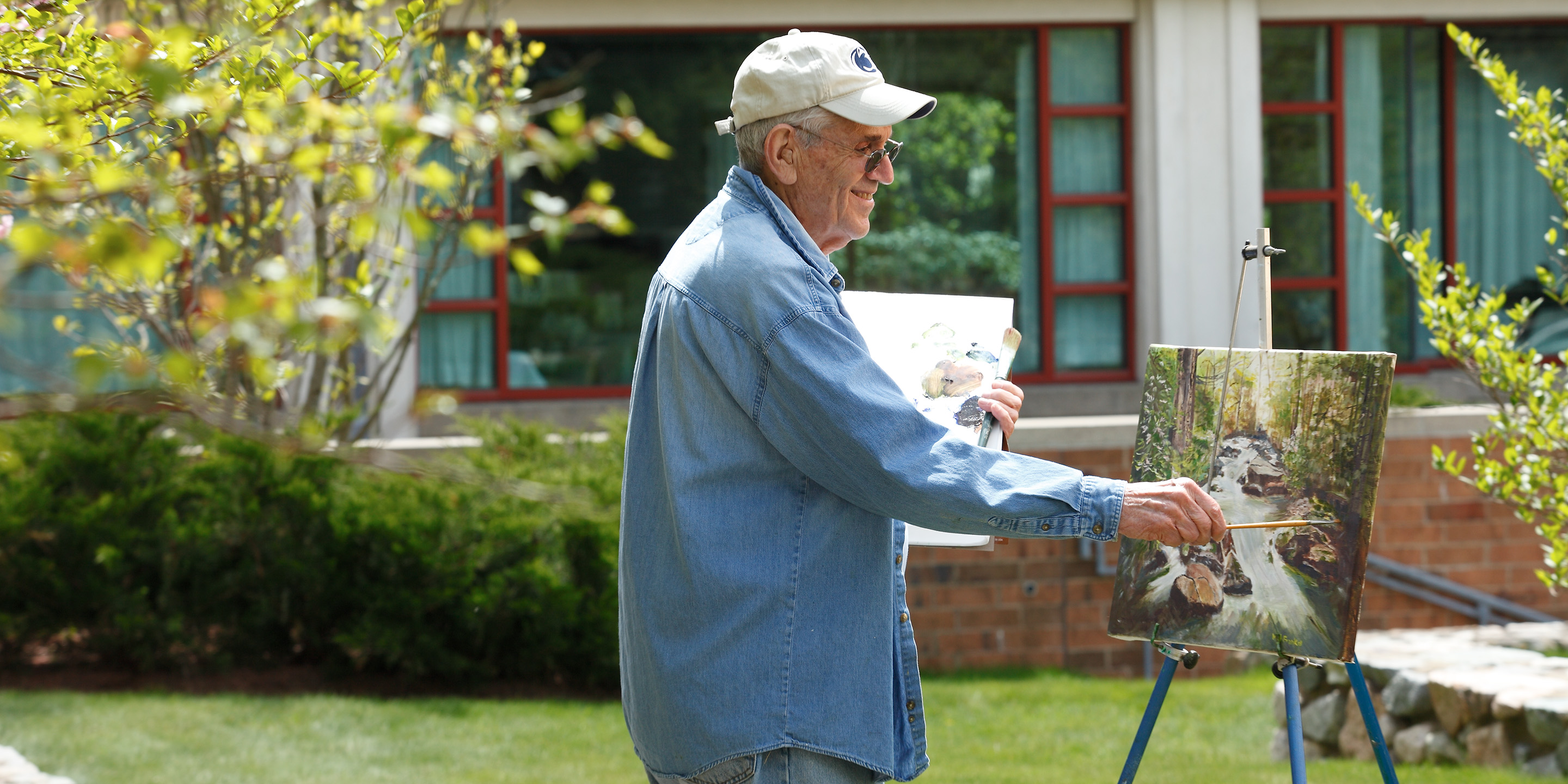 The great outdoors is great for a reason; getting outside is good for your body and mind. Time and time again, research has shown that exposure to nature has real benefits. It can improve mood, boost the immune system, lower blood pressure, and even promote healing after surgery.
Those benefits are equally realized by older people. According to a study in the Journal of Aging and Health, adults over 70 who spent time outdoors experienced improved mobility, fewer sleep difficulties, and less pain. 
Though going outside may improve mobility, what about people whose mobility is already limited? Fortunately, there are many ways to experience the outdoors from finding a good walking trail to bringing the outdoors closer to home.
Get out there
First and foremost, it's important to use the correct mobility aid and the device that provides you the best support. Walkers with larger wheels and skis work best on outdoor surfaces.
Whether using a wheelchair, scooter, walker, or cane, the Americans with Disabilities Act requires public places to be built to accommodate mobility aids. 
Beyond street sidewalks and curb cuts, many parks have created wheelchair-accessible trails. These usually have smoother grades and broader paths. If you are anxious about how accessible a place is, it's important to research or talk with friends. Make sure you know what the walking conditions are like: is the surface level, how long is the trail, are there benches or restrooms available?
Most parks and even hiking trails will have a detailed website or online reviews that can tell you if the area is accessible - for example, how close a trailhead or picnic area is to the parking lot. Mass Trails maintains a list of accessible trails. Some good ones are the Lower Neponset River Trail, the Bay Colony Rail Trail, the Blue Hills Trailside Museum Guided Nature Experience, and the Stony Brook Wildlife Sanctuary Sensory Trail. 
Of course, maintaining good foot health is a very important part of hiking—not to mention  benefitting your overall health. Here are a few more tips for walking outdoors from the physical therapists at Hebrew Rehabilitation Center's outpatient physical therapy program:
Do not walk beyond your current abilities, take breaks and listen to your body.
Wear comfortable clothing with layers along with shoes that are supportive and fit well.
Bring water and medications that may need to be taken during the time you'll be out.
Always carry a cell phone for emergencies.
Strengthen the major muscle groups responsible for strength and balance:

Sit to stands strengthen the muscles in your thighs and core, which help give you stability.
Heel raises challenge your balance and work the muscles in your calves.
Standing marches also work your balance in addition to strengthening your core and hip flexors. Try to progress from holding on to a chair or wall for support to going hands-free (but keep something nearby in case you need to steady yourself!).
Go out for a picnic
While exploring accessible parks, find a picnic table or a bench and chow down on a sandwich. Anyplace with a nice view works, or really just a flat area with sunshine is enough. Invite family and friends to socialize and enjoy the outdoors as well. Maybe they can bring a folding table if there aren't any picnic tables around. 
Bird watching 
Bird watching is a great activity as it can accommodate different levels of mobility. It might involve going on a hike or just sitting on a bench—guide book in hand—and debating whether that's a Yellow-rumped Warbler or a Pacific-slope Flycatcher. Either way, it's good exercise for the body and the mind.
Bird watching can be done from inside the house as well. Setting up a bird feeder or bird bath encourages feathered friends to come visit. There are even window feeders that use suction cups to attach directly to a window allowing for easy viewing. Stocking bird feeders through the winter is a great way to fight the dreary cold weather and the birds will appreciate having a reliable food source. 
Visit a garden or arboretum
If the birds are flitting around too quickly, switch to much slower-moving targets—plants. Most public gardens and arboretums have accessible paved paths allowing exploration of beautiful flowers, plants, and trees. Hebrew Rehabilitation Center in Boston is lucky to be located right next to the Arnold Arboretum, giving our patients a place to go to enjoy blooming lilacs. Picking up a book on local plants from the library or a bookstore can help your mind stay just as engaged as your body.
Fishing
Fishing is a great way to relax outside. It's also a nice opportunity to bond with family or friends. If fishing from the bank or off a dock isn't enough, renting a pontoon boat is a good option since it can be wider and more stable than most boats.
Swimming
Another water-based activity, swimming is one of the best ways to exercise. Outdoor pools allow you to enjoy the sunlight while staying nice and cool. Being in the water reduces your weight, taking the strain off of your muscles, bones, and ligaments. Whether swimming laps or just lounging, going to a pool accommodates a variety of fitness and mobility levels. For those depending upon a wheelchair, look for pools with a lift to help get into the water.  The indoor pools at Hebrew SeniorLife's Orchard Cove and NewBridge on the Charles both have lifts, but for an outdoor pool you can use any of the Massachusetts Department of Conservation and Recreation pools such as the Olsen Swimming Pool in Hyde Park.
Gardening
If you have the space, try planting a small garden. Growing a garden is a rewarding experience as you can watch it progress year after year. As plants mature they produce more flowers or vegetables. Germinating new seedlings is a faster process than you might expect and it can be very exciting to wake up to new plant growth that you can actually see.
Gardening is another activity that accommodates a variety of energy levels and can provide low-impact exercise that increases flexibility and strength. For wheelchair-friendly access or general concerns about stooping over the ground or getting down on your knees, raised beds can be built or purchased so they're easier to reach.  While there are plenty of low-maintenance plants, choosing varieties that require a bit more care might encourage going outside more often to water or prune the plants.  For those who want a real challenge, hand weeding will keep you active throughout the entire growing season.
Less active activities
It's not always necessary to do something big to reap the benefits the outdoors have to offer. 
Just be outside
Visit with friends and family outside your building or on an outdoor porch. Instead of on a couch in front of the TV, bring your sewing, knitting, or cross-stitch project to a nice bench under a shady tree. If it won't disturb others around you, take a radio to listen to the game or some music.
Reading
Diving into a good book is an enjoyable and stimulating experience that you can do pretty much anywhere. Whether sitting at home by an open window or going to your favorite park bench, reading helps your mind stay active.
Sit at the beach
What goes well with a good book? The beach!
While the sand and surf can be tricky to navigate, some beaches have solid boardwalks to provide a steady surface to get to a beach.  There are special wheelchairs designed for the beach that are available for purchase or rental at certain locations.  Fitted with balloon tires and safety belts, some of them even float in the water.
Like finding a good hiking trail, do some research before deciding on a beach. Once decided, it might be a good idea to give the beach a call the day you are going to go to make sure that you won't have any problems with the weather or conditions.
Experience the outdoors while staying indoors
Enjoying the outdoors doesn't always require physically going outside. Just opening up a window lets the fresh air come in. Keeping window shades open allows warm sunlight to brighten up the room. Regardless of mobility, sitting by a window is a nice way to relax and watch the world around you.
House plants and flowers
You can bring some nature inside as well. A fresh vase of flowers, or some nice house plants provide color and greenery to cheer up a room. Even if a rainy day forces you to stay inside, some pretty plants will help keep your spirits up.
Enjoying the outdoors with Hebrew SeniorLife
There are plenty of ways to take advantage of all the benefits that nature provides. Whether going for a nice long walk or just sitting and watching, going outside is a calming and healthy experience. Hebrew SeniorLife built their senior living communities with this in mind. 
Orchard Cove in Canton is right next to a pond that provides a variety of walking trails to enjoy and a beautiful view to observe from the window. Or, you could choose an apartment with a view of the beautiful landscaping, with flowering trees in the spring and different colors of leaves in the fall. 
NewBridge on the Charles in Dedham also has lots of walking trails in addition to a canoe and kayak launch along the Charles River. Paddling is an alternative way to move around and a good option for those who would rather stay off their feet.
To learn more about how Hebrew SeniorLife's senior living communities support an outdoor lifestyle, call us at 781-859-3088 or contact us online.
Learn More
At NewBridge on the Charles in Dedham, MA, you'll find modern senior living on a 162-acre intergenerational campus. We offer a complete continuum of care to support your best life, as you define it.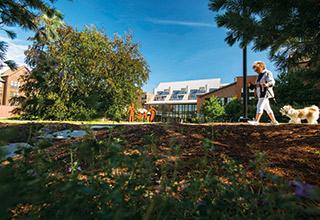 Orchard Cove, in Canton, MA, offers living options that span the full continuum of care, including independent living. The community is bustling with activities, from life-long learning to entertainment.