How Does Music Therapy Help Dementia Patients?
A new study points to benefits for improving quality of life in people with memory loss
How Does Music Therapy Help Dementia Patients?
Humans have a deep connection to music. The way we hear and process sound stems from our evolution. The rhythms and melodies of songs resonate deep within our bones. Music operates on a subconscious level and unlocks emotions. By studying these effects, we can continue to develop a better understanding of how our brains work. 
Because music touches us on such a deep level, music therapy can be used to help those with difficulty communicating express themselves and connect with their emotions. For this reason, music therapy is an important part of the care Hebrew SeniorLife provides for seniors with dementia.
Leticia Prieto Alvarez is the memory care program manager at Hebrew SeniorLife's assisted living community at NewBridge on the Charles. Every day she uses music therapy and other expressive art therapies to help patients communicate, and to engage different parts of the brain – linking speech, learning, attention, and memory. 
She recently conducted a research study to evaluate the feasibility of using neurologic music therapy on older adults with dementia, and the results are promising.
What is Music Therapy?
Music therapy, along with other types of expressive therapies, uses the arts to provide psycho-social support to seniors. It can be used to help seniors with a wide range of issues, including depression, anxiety, pain, changes in health status, or difficulty adjusting to a new living environment.
Expressive therapies also include other modalities like art, poetry, and movement. Expressive therapists are masters-level mental health counselors who also have formal training in their chosen art form. Leticia uses singing, piano, viola, percussion, and guitar to engage seniors during therapy sessions, encouraging them to participate at whatever level is appropriate for their abilities.
Benefits of Music Therapy 
According to Leticia, "The aim of music therapy is to address the emotional world – the intellectual powers of the person. We try to increase relaxation, to increase energy level." 
Music can elicit positive responses and increase communication even in those patients experiencing the advanced stages of dementia whose verbal skills have been diminished. 
"You may have someone with a slumped posture who appears forlorn and disengaged," Leticia continues. "You can give them a drum or tambourine and their eyes light up and they become energized using the instrument to communicate themselves through it. Music also elicits memories and emotions … pleasure, stress-relief, arousal, social affiliation are distractions from unpleasant feelings." 
Above all, music therapy offers a big boost to neuroplasticity, which is the ability of the brain's networks to change and grow. Modern imaging technology has revealed that music is processed by many different parts of the brain – not limited to a single region. By using different pathways, information and memories can be accessed and communicated to others. For example, a summer hit from a person's youth may help them remember childhood trips to the beach.
While music therapists will help make the most of a therapy session, simply attending a live performance is beneficial as well. 
Before the pandemic, NewBridge on the Charles residents Bob Tutnauer and his wife Alba enjoyed going to concerts and ballets as a way to fight the problems with language that came from Alba's aphasia.  The excitement of the music and movement sparked something in Alba and she would chat with other attendees, or ask Bob questions – sometimes without waiting for the intermission. To Bob, the positive changes were well worth a potential side-eye from another audience member.
Watch the video below to hear more from Leticia and see what a music therapy session is like.
Music Therapy and Memory
Memory works as a kind of file cabinet where it takes in information, alters, organizes, and stores it. The creation of new memories and retrieval of older ones can be triggered by sensory input like sound, taste, and smell. 
Retrieval can prove particularly challenging in patients with dementia as the disease damages certain pathways used by neurons in the brain. It's like trying to type with a keyboard that's missing keys. The concept of the letter 'U' still exists but there's no way to display it.
Fortunately, studies have shown that those pathways are spared until the later stages of dementia. The information encoded in musical memories may still be accessed by certain sounds. 
Furthermore, music stimulates the brain to create positive emotional responses. It triggers parts of the nervous system such as the brain's reward system. This produces "feel-good" chemicals such as dopamine, serotonin, and oxytocin, improving emotional health and helping with memory loss. 
Such activity means that the benefits can last beyond the therapy session, especially as a part of ongoing treatment. 
What Does a Therapy Session Look Like?
A music therapy program can be performed in an individual or group setting. It implements 20 standardized clinical techniques that fall under three categories: cognition, sensorimotor, and language and speech.
Ultimately, the objective of many therapies used for dementia is to return to the participant an awareness of their time, place, and identity. Emotions contained in music can help patients regain a sense of self and where they fit in the world. 
The first priority is to jump-start the brain and bring everything into focus. Rousing, fast-paced music can increase cognition by stimulating alertness and activating responsiveness.
Once the brain has woken up, the next focus is activating the parts of the brain responsible for sensorimotor tasks. This part is all about the rhythm and beat, encouraging body movement with feet tapping out a marching tune or shuffling to a samba. 
Other techniques such as singing – or Vocal Intonation Therapy (VIT) to be scientific – use language and speech to foster orientation. Singing the date and day of the week, along with a participant's name, opens a back door to parts of the brain otherwise inaccessible due to how dementia damages pathways in the brain. 
What's Next?
In short, more studies are needed to confirm the specific benefits of music therapy. 
The feasibility study conducted by Leticia showed that there are major benefits to neurologic music therapy. Not only is it an effective strategy, it also enjoys a good cost/benefit ratio. Music programs are fairly inexpensive and straightforward to implement. They work well as a complimentary treatment at all stages of dementia. Importantly, it is an enjoyable and social experience for the participants, improving their health as well as quality of life. 
However, we still don't know exactly why music is such an effective treatment. More collaboration is needed between music therapists and neuroscientists. It's apparent that music affects the brain in a positive way, but we are left begging the question: Why does it work? What do the changes in the brain look like? 
Also there is the concern that different dementias likely respond differently to music intervention (Alzheimer's disease versus frontotemporal dementia), and more studies are needed in other dementias, including vascular, Parkinson's disease dementia, and Lewy Body dementia.
"We need to continue exploring," Leticia concludes. "Neurologic music therapy is valuable way to engage older adults with dementia, and I think it's because the residents are happy to participate and the results on cognition are so promising. The research and my experience with the power of this therapy make a compelling case to increase this type of treatment in assisted living communities."
Memory Care in a Supportive Environment
If your loved one is experiencing early- to mid-stage dementia or Alzheimer's disease and you're looking for a supportive environment where the arts are used to help residents make the most of the cognitive abilities they have, Hebrew SeniorLife can help. Our memory assisted living community at NewBridge on the Charles in Dedham, MA provides personalized care based on each resident's history, talents, preferences, and goals. Call us today at 781-859-3091 or contact us online to learn more or to schedule a tour.
Blog Topics
Learn More
At NewBridge on the Charles in Dedham, MA, our memory care assisted living community was designed to address the needs of those with early- and mid-stage Alzheimer's disease or dementia.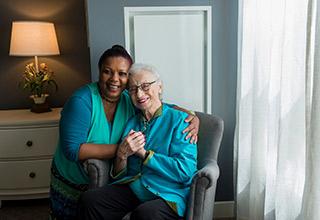 Using music, dance, and art, our expressive art therapists provide psycho-social support to seniors experiencing a wide range of issues, including adjustment to aging, health status changes, depression, and anxiety.