Meet Hebrew SeniorLife's Nurse of the Year
How a lawyer from Haiti became a respected nurse in Boston
Meet Hebrew SeniorLife's Nurse of the Year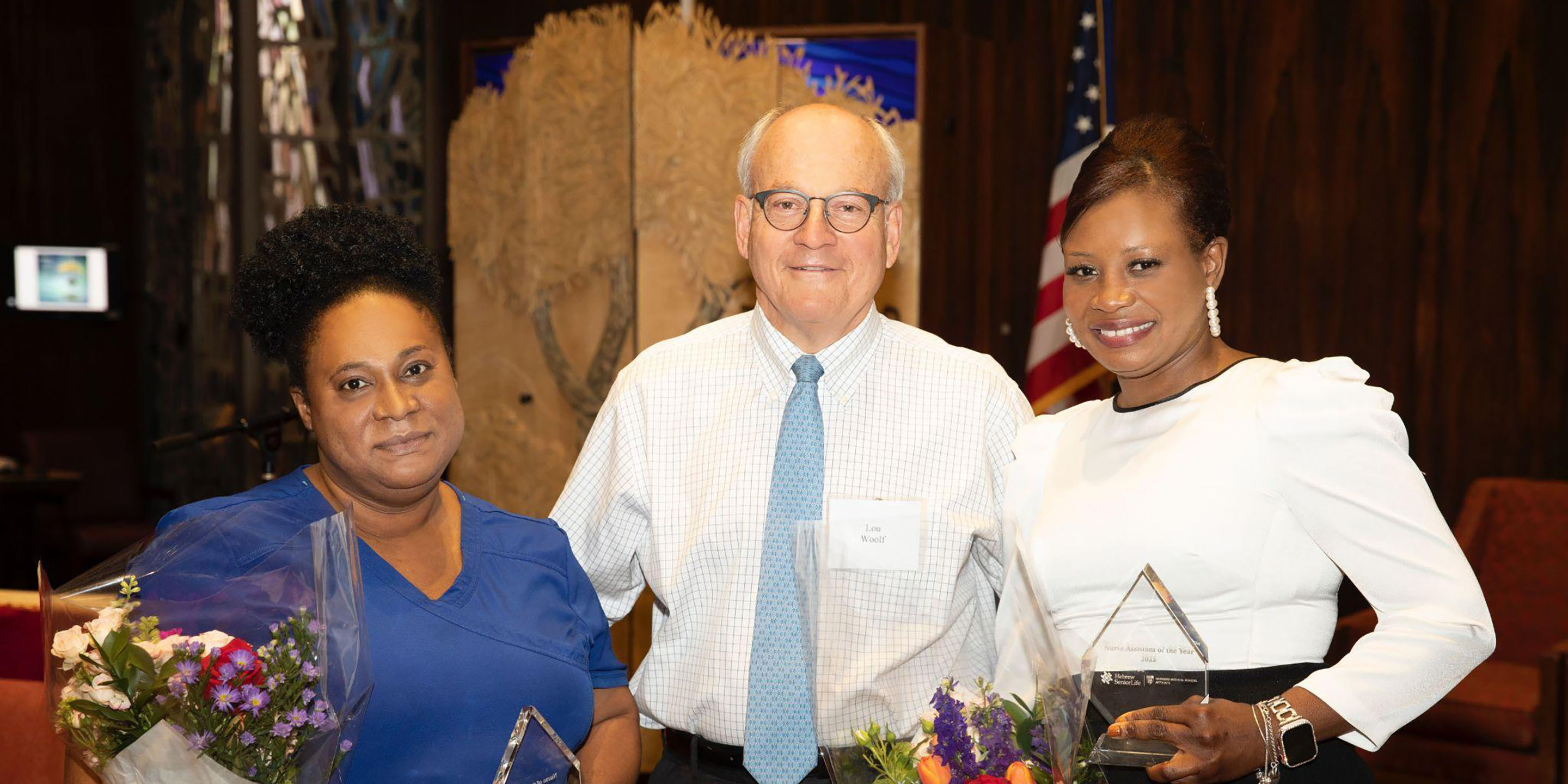 Caring for people requires caring people. The senior care professionals at Hebrew SeniorLife embody this ideal. Especially given the challenges of the pandemic, the commitment of our nurses to keep working day after day is a testament to their devotion to helping people. Carline Cenat, winner of Hebrew SeniorLife's 2022 Nurse of the Year Award, is a shining example of someone driven to serve with a focus on providing excellent, compassionate care. Carline is pictured above (left) with President/CEO Lou Woolf (center) and Certified Nursing Assistant of the Year Dadie Petit-Frere.
Born in Port-au-Prince, Haiti, Carline always wanted to become a doctor or nurse. However, when she graduated high school, Haiti only had one medical school in the entire country. Instead, Carline enrolled in law school, got her license, and worked as a lawyer for seven years.
It wasn't until she moved to Boston in 2003 that she would have the opportunity to achieve her childhood dream of becoming a nurse. After completing Hebrew SeniorLife's Nursing Assistant training, she worked at Hebrew Rehabilitation Center in Boston for two years before leaving to attend the nursing program at Roxbury Community College.
Carline graduated in 2009, becoming a Registered Nurse. She then came back to Hebrew Rehabilitation Center and has worked in the Boston campus memory care unit ever. Currently, she works as a charge nurse, meaning that she is in charge of the nursing operations on the unit during her evening shift. 
It was through the assistance of her manager Linda Sanders and tutor Susan Kalinda that Carline would start to build the experience that would eventually lead to her winning Nurse of the Year.
"They have the gift—the patience and understanding to teach a new grad. They made me feel comfortable, making it easier for me to learn and gain experience. Every day I learned something and the more I learned, the more confident and prepared I felt to do my work," Carline said.
Hebrew SeniorLife offers a Nurse Residency Program to provide comprehensive support for nurses as they begin their careers. 
Carline drew strength from the leadership of Hebrew SeniorLife, as managers always took the time to thank her before going home. They motivated her with emails every Friday to review the week and outline the upcoming challenges that they would need to work together to overcome. Carline's experience is a great example of the dedication found across all of Hebrew SeniorLife that earned us a spot on the Boston Globe's list of Top Places to Work.
On bad days, prayers and meditation help Carline get through. Her co-workers also help in this regard. "We are more family than coworkers," she says."We laugh together, cry together, we console and advise each other, and my manager Fana [Heilemichael] is always there for support and guidance."
Fana clearly appreciates all the work Carline does as well. So much so that Fana was the one who nominated Carline for the Nurse of the Year honor. "Carline is very talented, caring, and loved by everyone in the unit—staff, patients, and family—because of her compassion and caring heart," she wrote. "We have one family member who wants to be called twice a day to get updates about her mother. Whenever she is told Carline is working, she always says, 'I'm going to sleep peacefully knowing my mom is safe.' "
Carline has a natural understanding of what it takes to care of people. "I love caring for my patients. I see my job as more like a mission in the life of my patients than a job. Taking care of older or sick people requires compassion, love, understanding, patience, and communication. Sitting and listening to a patient or a soft and kind touch work really well."
This compassionate approach has led Carline to develop close friendships with the people she cares for. One particular patient called Carline "my daughter" and would wait at the nursing station every evening for her.
Carline has also seen how giving care can reciprocate to receiving care. "In 2012, I had a miscarriage and was given time off," she remembers. "On my first day back, I came early and was sitting in the synagogue crying when one of the patients came and sat close to me. He held my hand, prayed with me, and blessed me. A year later, I had my daughter and was granted maternity leave. When I came back, I went to see that kind patient in his room after I heard he was dying. He smiled at me and pointed to a drawer. In it was a piece of paper with my name and the words 'Jehovah, thank you, because you will take care of her and her baby.' "
Carline certainly appreciates all the experiences she has had. "Fourteen years ago Hebrew SeniorLife welcomed me with no experience, having just graduated from nursing school. I was afraid, lost, and anxious," she says. "Today I'm confident, I have experience. I wouldn't be who I am without all those incredible people around me, showing me love, support, understanding, sharing their knowledge with me, teaching me in different ways. I feel blessed that I am the product of Hebrew SeniorLife and I am proud to acknowledge it."
Hebrew SeniorLife is known as a leading provider of senior services because of extraordinary staff like Carline.  We are committed to our employees' growth and support formal career development through on-site programs and scholarship support. Nurses at Hebrew SeniorLife work in a variety of care settings, and we provide career growth opportunities for those who wish to move to a different level of care. Learn more about why we're a great place to work and view open positions.
Learn More
From direct patient care, nursing, and life enhancement to culinary support and research, we have opportunities for you to make a difference in the lives of seniors while building a rewarding career.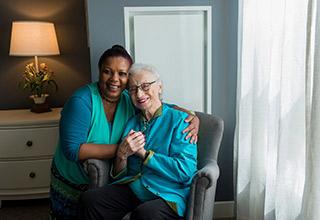 Hebrew SeniorLife partners with many Boston area high schools, vocational schools, colleges, and universities as a clinical training site for students seeking an RN, LPN, or CNA degree.