Redefining aging all the way to rabbinical school
A ReAge conversation with Rabbi Joel Baron
Redefining aging all the way to rabbinical school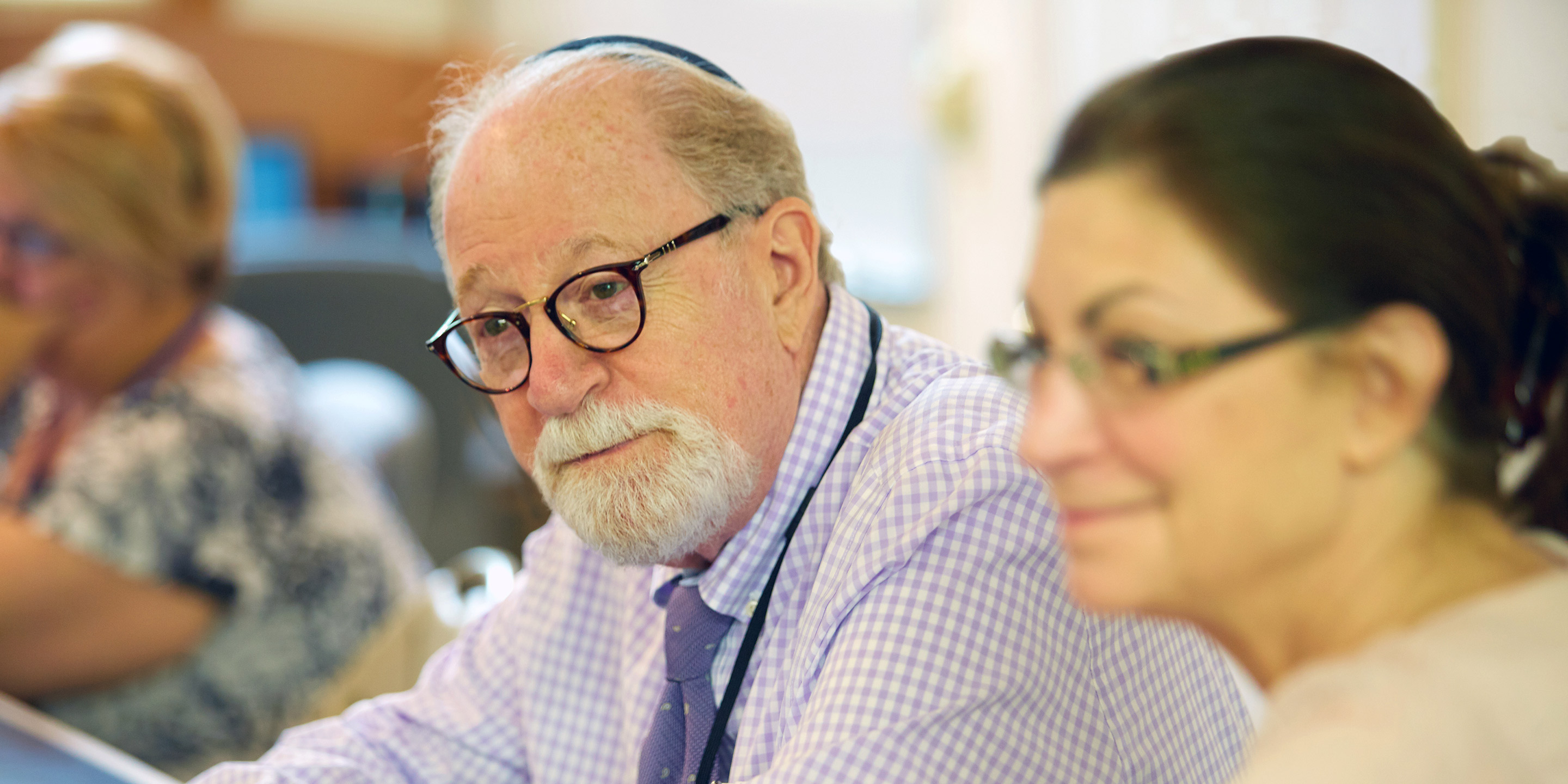 Over the summer, the Boston Globe featured the incredible story of Rabbi Joel Baron, a retired publisher of two leading medical journals, who after becoming the oldest newly ordained rabbi in North America now serves as a chaplain with Hebrew SeniorLife Hospice Care. Growing up in Cleveland in the 1950s, Baron had considered becoming a rabbi but felt parental pressure to pursue a more practical path. Fast forward to 2002, he and his wife enrolled in Me'ah, the adult study program sponsored by Hebrew College and Combined Jewish Philanthropies. It was then his passion for Jewish studies was reawakened.
As Joseph Kahn describes in the Globe piece, Baron "hopes to be seen as a role model of sorts – not only for the local Jewish community but also for members of his generation seeking greater fulfillment in their retirement years."
I sat down with Rabbi Baron over the summer not only to find out more about hospice care at Hebrew SeniorLife but also to learn what advice he might have to encourage other older adults "to dare risk growing for as long as we are granted life" as Rabbi Sharon Cohen Anisfeld so eloquently put it at Baron's ordination. 
It's August. How long have you been a rabbi now?
Two and a half months. And before that, chaplaincy for over two and a half years.

Why did you choose hospice work?
Hospice, as a concept, is often misunderstood. It's not about dying as much as it is about having the most comforting and scenic road out of life that is possible. We don't want to be brought into patients' lives when they only have 3 days left to live; we want to be there to accompany them in the process of walking through the rest of their life. Hospice is not a place to go to die. It's a place to go to make the rest of your life as meaningful and comfortable as possible.
One of the things that is difficult for families and caregivers – as well as nurses and patients – is redefining what "hope" means. When you enter hospice, hope is no longer about living a long life; at that point hope may be redefined simply to mean living the rest of one's life in comfort. It's about relief from physical, emotional, and spiritual pain – and Hospice Care involves a team of nurses, chaplains, social workers and doctors to make that possible.

And why Hebrew SeniorLife?
I knew I wanted to be a chaplain, which requires extensive periods of clinical supervision. I chose Hebrew SeniorLife for my Clinical Pastoral Education (CPE) work because of Mary Martha Thiel's reputation. But then the work itself took over for me. And it's become my goal. It's just so incredibly satisfying to help people walk through the hardest times of their lives – whether they are going through an illness, or approaching end of life, or supporting a loved one who is. And for me, HSL's commitment to doing this work within a religious context is very powerful.
Chaplaincy is not a core part of every hospice in the world, but it is a core part of Hebrew SeniorLife's hospice. Our Director of Spiritual Care, Rabbi Sara Paasche-Orlow, was part of the team that brought Hebrew SeniorLife Hospice Care to life. And that set a direction.
And it's not just about Jewish patients. I've treated Catholics, Protestants and atheists – that's 21st century chaplaincy. People of all faiths come to Hebrew SeniorLife because of the quality of care.

What advice do you have for those in their retirement years who think they are "too old" to start new chapters?
It's OK to fail. It's OK. The world does not stop spinning when you try to do something new and it doesn't work out for you. It's hard. So what? Life's hard. Are you going to stop living because life is hard? At my age, I was more accepting of the possibility of failure. It was OK. And really, some parts of this journey were made harder because of my age but other elements were enhanced by my perspective. It doesn't matter if you fail. What matters is trying. We are so fearful of failure. Being older, you are more accepting of failure. You're more experienced with failure. It's alright.

It's so easy to feel like it's too late – I'm 38, and I feel that way all the time.
You're almost never at point in your life when it's REALLY too late. It just often feels too late. So it becomes a question of your will and resources. There's no question that to do what I did took some money. I had to pay tuition for six years and, though my wife and I had savings, Social Security, and pensions, I wasn't earning during that time. So resources are important. But, then again, you can be blessed with all resources in the world, but no will to achieve your dreams.  

What about ageism? Not all professions are as welcoming of older men as the rabbinate.
Of course there are professions and areas of activity that one does get too old for. One can't enter medical school after a certain age, for example. But there are so many things one can do, that they totally outweigh what one can't. I feel very supported in my life, my religion, particularly my wife, my friends and family. It's the work of our lives to overcome the negative feelings that tell us we are limited and can't do things. We are limited. I was never going to be a pole vaulter. But we tend to over-emphasize what we can't do. I'm not saying that everyone has to start a new profession. My only point is that there is so much more available to you than golf and tennis. People feel "Oh I could never to that at my age." That's true; but the point is there are many things one can do.  As the Hebrew SeniorLife slogan goes: this is the time to ReAge.
Is it always about trying new things? You were drawn to Judaism at an early age. Your story seems to show that new paths can sometimes involve returning to old interests.
The love was old, but this definitely felt new to me. These were areas of Jewish knowledge about which I knew precious little. It was also about becoming fluent in Hebrew – not easy in advanced age – and being willing to put in the time studying, thinking and writing. You've got to follow your heart. Now is as good a time as any.

Chaplaincy is kind of the "unfinished business" business. In some ways, your commitment to finishing your own business led you to this.
Well, I did have regrets. Everybody has unfinished business, but we have to come to terms with that. And I'm very lucky that becoming a rabbi is no longer unfinished business for me. I feel very blessed.
 
Blog Topics
Learn More
Hebrew SeniorLife Hospice Care works to bring meaning and fulfillment during the final stage of life, in addition to providing comfort and management of symptoms related to a patient's illness.
Spiritual care programming is an important part of life on every Hebrew SeniorLife campus, with a full team of interfaith chaplains available to connect each resident, patient, and family member with the spiritual resources that resonate most for them.