Reflecting on more than five years of Hospice Care at Hebrew SeniorLife
Reflecting on more than five years of Hospice Care at Hebrew SeniorLife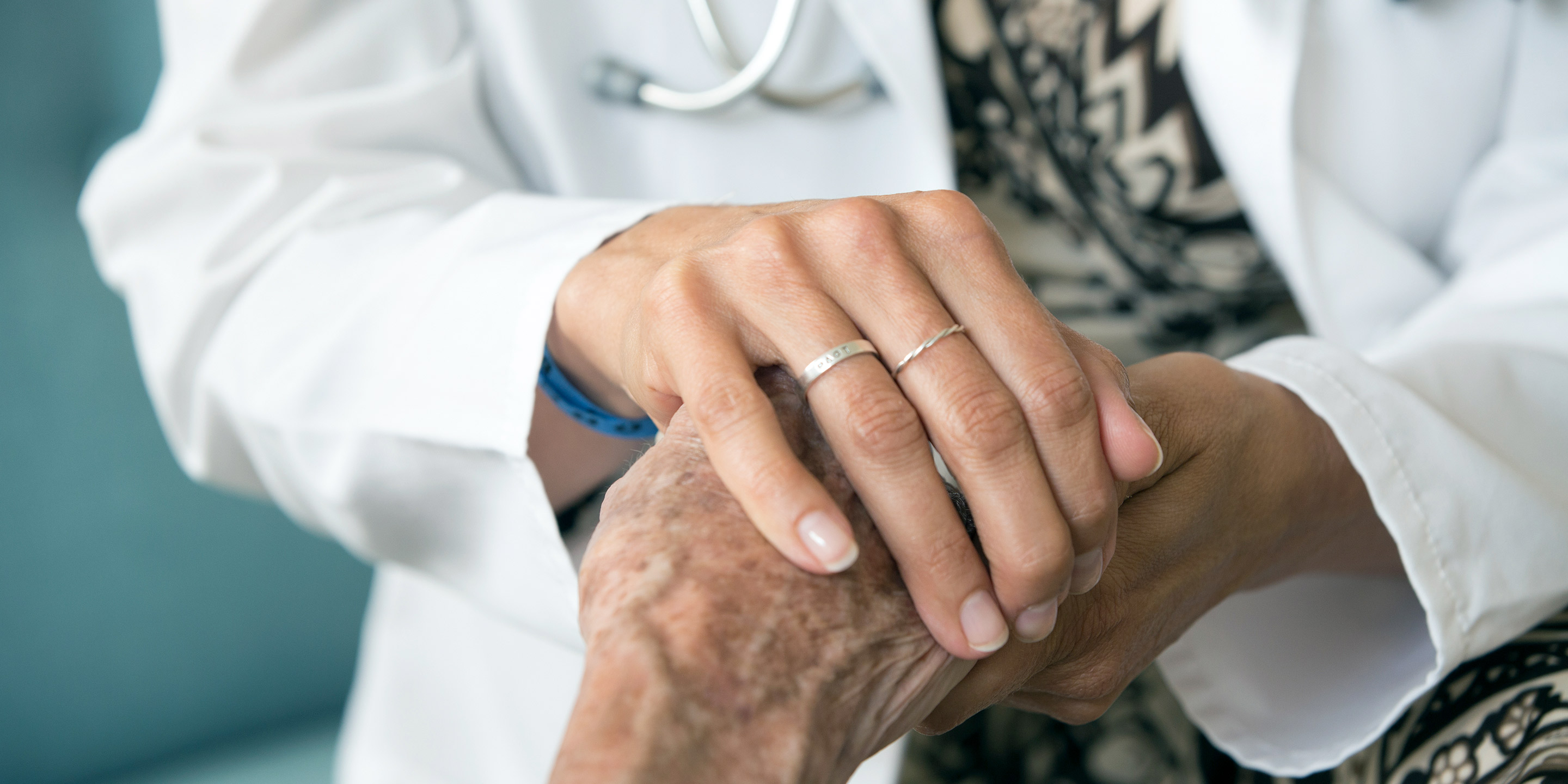 For more than five years, Hebrew SeniorLife Hospice Care has been providing end-of-life care that honors the dignity, comfort, and spiritual well-being of our patients and families. Our multidisciplinary care team honors the diversity of Jewish sensibilities and spiritual perspectives around life and death while caring for patients of all faiths. As HSL Hospice Care goes into its sixth year, we took some time to reflect on the last five years of exceptional care across the Boston area during the most important time of life for our patients.
Sara Smolover, volunteer manager, has been with Hebrew SeniorLife since 2013 and was one of the first people hired for HSL Hospice Care. "I go to work every day holding the people and families we serve in mind," said Smolover. She admits there have been some challenges along the way, but said it was exciting to be a part of a one-of-a-kind Jewish-centered hospice program in the Boston area. "With each new group of volunteers, our ability to serve a wider range of patients and families has grown," Smolover said. "In particular, I am proud of our 'ShalomCare' program, which provides increased volunteer presence during the final days of life for families who could use the extra support. I'm proud that over the past five years, we've created an opportunity through our volunteer program for so many generous-hearted people to change lives."
Marge Morton, RN, has been a case manager for HSL Hospice Care since 2015. She reflects on the job fondly and the work that has been completed with the hospice program. "There's a wonderful team that are caring and supportive of each other," Morton said. "Sometimes you're emotionally drained and feel like you're at the end of the road, but there are always people there to pick you up and support you." Marge says patient relationships are very important and over the years she's developed meaningful relationships with many patients. "You always know the outcome is going to be the same but the relationship you build… that is something you don't forget."
Helena C. Brady, is the office manager for HSL Hospice Care and has been with Hebrew SeniorLife for 20 years. "I care about the people that might not have anyone around at the end-of-life," said Brady. "It's a scary place to be." Brady at one time worked as a nurse. "Help can be needed in many ways and I like to make sure I try to assist in a way that will benefit our patients." Being with HSL for over two decades, Helena has seen many changes and progress within the hospice community. "Over the last five years, I believe we do a lot more education on end-of-life care and palliative care. We've expanded greatly and I believe people know a lot more about the care we provide and the great reputation HSL has."
Batya Greene is a medical social worker for HSL Hospice Care. She had only two patients when the program began. "The devotion to each patient remains the same," said Greene. "We are all like a big family and we treat our patients like an extended family." Batya helps support the families during hospice care. "I always tell my patients that a social worker is here to tend to your heart." She understands hospice care can be a hard time for a family.
Rabbi Joel Baron, Interfaith Chaplain, has been with Hebrew SeniorLife since 2013. "This job doesn't get more meaningful than when one is working with patients and families at the very end of life," said Rabbi Baron. He says in the more than five years of hospice care, there's one story that continues to touch him. "One of my patients, an Orthodox Jewish man, died at the age of 99. Every Shabbat someone from his family, one of his children or grandchildren, would come and spend Friday afternoon through at least Sunday morning with him," said Rabbi Baron. "I'm convinced that's what kept him alive so much longer than anyone had expected. Our nurses kept him out of pain and as alert as possible." Rabbi Baron visited him on the Shabbat before the day he died and asked if there was anything he could do for him. "He asked me to recite the 24th Psalm—not the 23rd!—a Psalm which begins, "The earth is the Lord's and the fullness thereof," and then goes on to ask, "Who shall ascend the mountain of the Lord?" There's no doubt in my mind that he did," said Rabbi Baron.
An important piece of the hospice care program is the volunteers. HSL is always looking for hospice volunteers who will visit with patients one to two times a week and provide assistance to patients and their families. Bill Shulman is one of HSL Hospice Care's longest-serving volunteers. He decided to take this on after a close family friend died from a rare form of Parkinson's disease. Bill made a commitment to his friend before his death that he would become a hospice volunteer. "Five years at HSL has been filled with tremendous growth and appreciation," said Shulman. "I feel like I have made an incredible difference in patients' lives. We sing, listen to music, and talk about their lives. Just being a presence can be life-changing for not only the patient but myself." Bill says he cherishes the time he has spent with every patient he's been with and knows something so little can go a long way. "I enjoy spending time with them knowing I can make a difference. It's the best part of my day."
Choosing hospice care can be a difficult decision. However, it is important to understand that hospice care focuses on life—not the end at end of life. The opportunity to enjoy extraordinary moments is still present.
 
Blog Topics
Learn More
Hebrew SeniorLife Hospice Care works to bring meaning and fulfillment during the final stage of life, in addition to providing comfort and management of symptoms related to a patient's illness.
Supported with training and mentorship, Hebrew SeniorLife hospice volunteers are the heart of our hospice program. Learn how you can become a hospice volunteer.