Spiritual Care of LGBT Elders
One-of-a-kind program educates chaplains to provide culturally competent care
Spiritual Care of LGBT Elders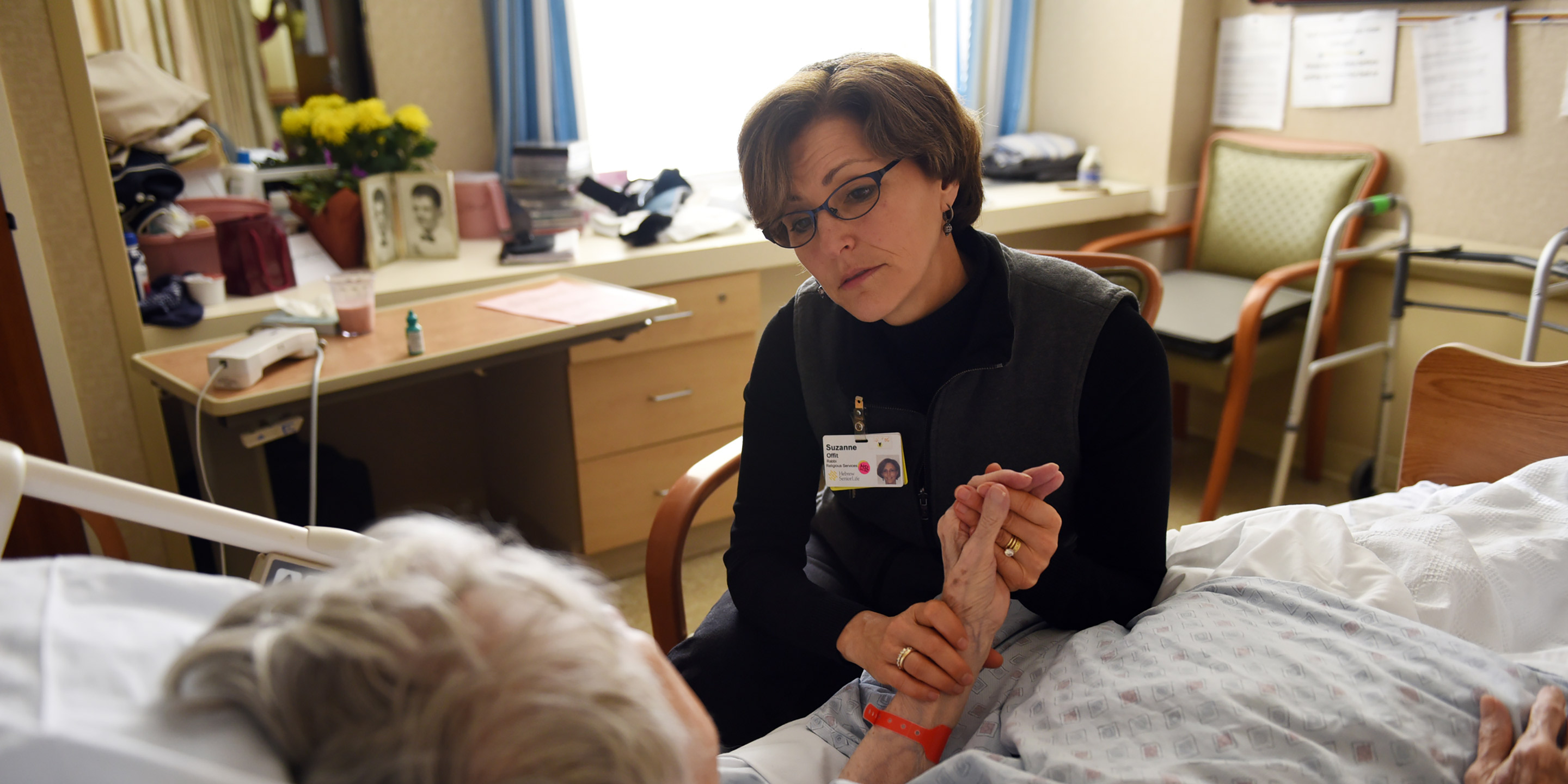 When it comes to LGBT elders, "most 90-year-olds have lived silent hidden lives." This is one of the reasons that Rev. Mary Martha Thiel created a one-of-a-kind chaplaincy education unit, Spiritual Care of LGBT Elders. It's part of the Clinical Pastoral Education (CPE) program she directs at Hebrew SeniorLife. "We're not aware of any other CPE program with a unit focused just on the needs of the elder LGBT community," says Mary Martha.
The CPE program helps rabbis, rabbinical and seminary students, leaders of many faiths, and qualified health care professionals become chaplains. Students learn to accompany seniors through difficult emotional and spiritual moments, support families in making complicated end-of-life decisions, and help people find peace, meaning and dignity in aging.
For many LGBT seniors, these concerns are colored by their life experiences. Some never lived openly, while others "re-enter" the closet as they age and move to nursing homes for fear of judgment from staff and fellow residents. Hebrew SeniorLife is actively working to create an informed, welcoming and inclusive community through staff training and other initiatives – an effort that was recently featured in The Atlantic.
"As chaplains, we are asked to meet the spiritual needs of people who come from many backgrounds," says Mary Martha. "We began this unit on the care of LGBT seniors because we need skilled chaplains who are prepared to accompany these individuals on whatever unique journey they're on."
Topics covered in the eight-month course include study of different religious and cultural approaches – positive and negative – to homosexuality, theological reflections on gender and sexuality, issues of coming out, violence against LGBT elders and the history of the gay rights movement. Students also hear from guest speakers from the LGBT senior community to learn their stories first-hand.
Spiritual Care of LGBT Elders is funded in part by generous donations from the E. Rhodes and Leona B. Carpenter Foundation. The Foundation supported program development, and is now funding Mary Martha's efforts to create a curriculum that can be shared with other CPE programs, either in whole or in part.
Five students are currently enrolled in the specialized program, and another five completed the pilot last year. An important part of the learning, in addition to completing clinical hours as chaplain interns, is that each student must have an immersion experience with an organization that serves LGBT elders.
"We want students to get the experience of being in an LGBT culture and see first-hand how it's different," says Mary Martha. "We want people to realize that when LGBT seniors are in a setting where they're not the majority, they're often passing, and this has real significant costs for them."
Ceceley Chambers, a current student, is working with SAGE - Rhode Island (Services and Advocacy for Gay, Lesbian, Bisexual and Transgender Elders). She is helping them plan conferences, most recently one about LGBT end-of-life concerns. "I've been hugely affected by my involvement with the organization," Ceceley says. "This will be a long-term commitment beyond just the requirements of this class."
Ceceley is animated about her experiences with HSL's CPE program. "It's intoxicating to be around people who are the very best at their jobs – not just in the chaplaincy program, but across the organization. And this is the only place in the world that I can do a unit focused on LGBT elders. It's given me a different lens through which to view my interactions with patients. As chaplains, we collect stories. When you work with seniors, they all have different stories and experiences that have gotten them to where they are – this adds a different stream of stories. And that's important in working with all seniors, not just those who are LGBT."
Learn more about Hebrew SeniorLife's CPE program, which is the only Jewish geriatric CPE program accredited by The Association for Clinical Pastoral Education, Inc. in the country.
 
Blog Topics
Learn More
Spiritual care programming is an important part of life on every Hebrew SeniorLife campus, with a full team of interfaith chaplains available to connect each resident, patient, and family member with the spiritual resources that resonate most for them.
Whether we're making discoveries or developing new teaching methods, HSL continuously works to improve the lives of older adults.