What Vaccines Do Seniors Need?
The five vaccines that are important for maintaining good health as you age.
What Vaccines Do Seniors Need?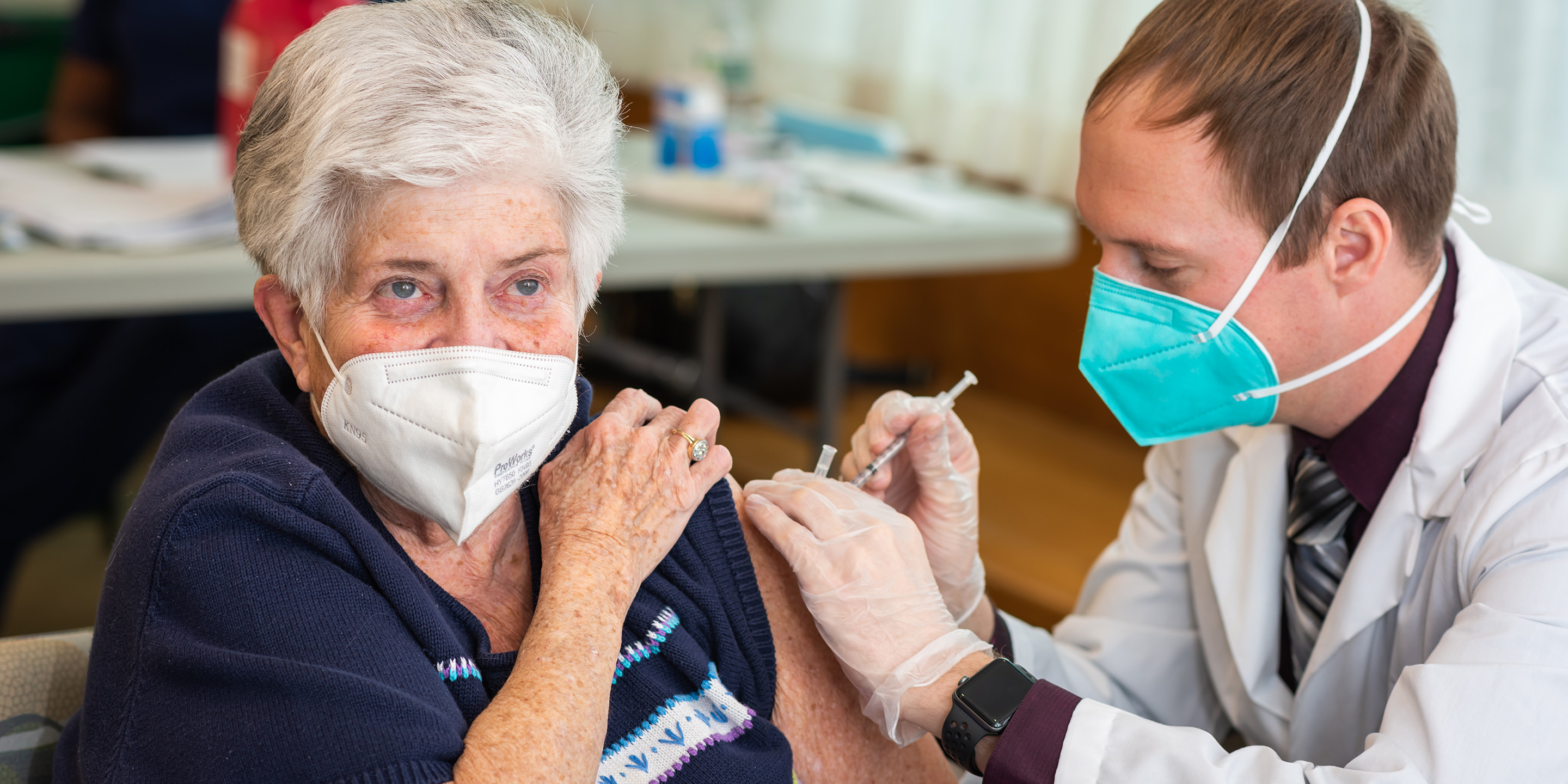 The COVID pandemic has had a huge effect on all of our lives and serves as a wake-up call in terms of understanding how important vaccines are to public health. As a geriatrician, vaccines are among the most powerful weapons in my arsenal to combat serious illness, which can profoundly impact quality of life for my older patients and their loved ones.
Why are vaccines important?
The Centers for Disease Control reports that each year, about 42,000 adults and 300 children in the U.S. die from illnesses that could have been prevented by vaccines. The development of vaccines has proved to be one of the most successful public health advancements to come along in the history of medicine.
Before vaccines, many people became severely ill or died from infectious diseases such as smallpox, polio, diphtheria, measles, and pertussis. Since the widespread use of vaccines, smallpox has been eradicated worldwide and polio, measles, and rubella have been considered eliminated in the U.S., though there have been measles outbreaks in communities with low vaccination rates.
Clearly vaccines are important to our health as individuals, but I would argue that in addition to self-protection, getting vaccinated is part of good citizenship. Vaccines empower all of us to reduce the spread of infectious disease within our families and circle of friends, as well as the community at large. Infants, older adults, and people with weakened immune systems (like those undergoing cancer treatment) are especially vulnerable to infectious diseases that are better controlled when everyone who can gets protected through vaccines.
As a Chief Medical Officer for Hebrew SeniorLife one of my goals is to help seniors avoid health complications that can happen as we get older – and vaccines are an important tool.
Why are older adults at greater risk for vaccine-preventable illness?
One of the barriers to ensuring all older adults stay up-to-date with their vaccinations is the false perception that vaccines are just for children, but this notion couldn't be further from the truth. Vaccinations remain essential to good health throughout life and are particularly important for older adults.
As you get older, your immune system weakens, and it can be more difficult to fight off infections. You're more likely to get diseases like the flu, pneumonia, and shingles and to have complications that can lead to long-term illness, hospitalization, and even death.
If you have a chronic health condition like diabetes or heart disease, getting vaccinated is especially important. Vaccines can protect you from severe illness or related complications.
Five vaccines every older adult should get
With age, immunity from vaccinations you had as a child may have faded, and new vaccines are becoming available. I follow CDC recommendations when advising my patients. Here are their recommended immunizations for adults ages 65 and older:
COVID-19 – The risk of severe illness from COVID-19 increases with age. Adults 65 and older are at the highest risk of getting severely ill from the COVID 19 and represent 81% of COVID-19 deaths. Getting all recommended doses of a COVID-19 vaccine is an important step to help prevent hospitalization or death from the virus.
Flu – An annual flu (influenza) shot is the best defense against the virus and the serious complications that it can cause. The best time to get vaccinated is in the early fall, before flu season starts.
Shingles – In some people, the virus that causes chicken pox recurs years later as shingles. Half of all cases occur in people age 60 and over. You can have shingles more than once, so even if you've had it, you should still get a shingles vaccine (also known as the Zoster vaccine).
Pneumococcal – The CDC recommends two types of vaccines depending on your medical condition. These vaccines protect against pneumococcal bacteria, which can cause pneumonia, blood infections, and meningitis. Anyone can get pneumococcal disease, but seniors are more likely to experience long-term complications or even death.

Pneumococcal polysaccharide vaccine (PPSV23, also known as Pneumovax 23), which protects against serious pneumococcal disease, including meningitis and bloodstream infections (recommended for all adults 65 years or older, and for adults younger than 65 years who have certain health conditions)
Pneumococcal conjugate vaccine (PCV20, also known as Prevnar 20), which protects against serious pneumococcal disease and pneumonia (recommended for all adults with a condition that weakens the immune system, cerebrospinal fluid leak, or cochlear implant)

Tdap – The Tdap vaccine protects against tetanus, diphtheria, and pertussis (whooping cough). Most people receive this vaccine when they're young, but immunity fades over time. The CDC recommends a booster shot every 10 years for all adults. Not only is this important for your personal health, but if you spend time with grandchildren or other infants, getting your own vaccine is a way you can help protect them from disease, especially if they are unable to be vaccinated.
Your doctor may recommend other vaccines based on your health history and other risk factors, including conditions like heart disease, diabetes, and cancer.
Vaccine hesitancy – still not convinced?
Despite the preponderance of evidence that vaccines improve health outcomes for older adults, vaccine hesitancy remains an issue. CDC tracking data shows that combined vaccination rates against preventable diseases that particularly impact older adults remain lower than health care providers would like to see. And I agree with the CDC's position that "substantial improvement in adult vaccination uptake is needed to reduce the burden of vaccine-preventable diseases. Increasing the proportion of adults who receive recommended age-appropriate vaccines and assuring equitable access to and uptake of recommended vaccines is a high-priority public health issue."
Although decisions around health care are rightfully personal, I urge all of my patients to ask questions and examine the evidence when making choices around whether or not vaccines are right for them. Open and honest communication with professional health care providers is key to determining the best vaccine regimen for you to keep you and those close to you healthy and safe.
Harvard Medical School-affiliated health care for seniors 
At Hebrew SeniorLife, we offer top-quality geriatric care provided by geriatricians affiliated with Harvard Medical School. Our continuum of care includes outpatient primary care practices for residents at NewBridge on the Charles in Dedham and Orchard Cove in Canton, inpatient post-acute rehabilitation and long-term chronic care at Hebrew Rehabilitation Center, and community-based hospice. At each step of the journey, our clinical team provides highly individualized care focused on what matters most to our patients and their families. Learn more about Hebrew SeniorLife's health care services or contact us today.
Blog Topics
Learn More
Hebrew SeniorLife is the only senior health care organization affiliated with Harvard Medical School. Members of our caregiving teams specialize in providing geriatric care, and they do so with care and compassion.