97-year-old NewBridge Resident Co-authors Book of Essays on Aging
A conversation with father-daughter co-authors of "Aging Wisely… Wisdom of our Elders"
97-year-old NewBridge Resident Co-authors Book of Essays on Aging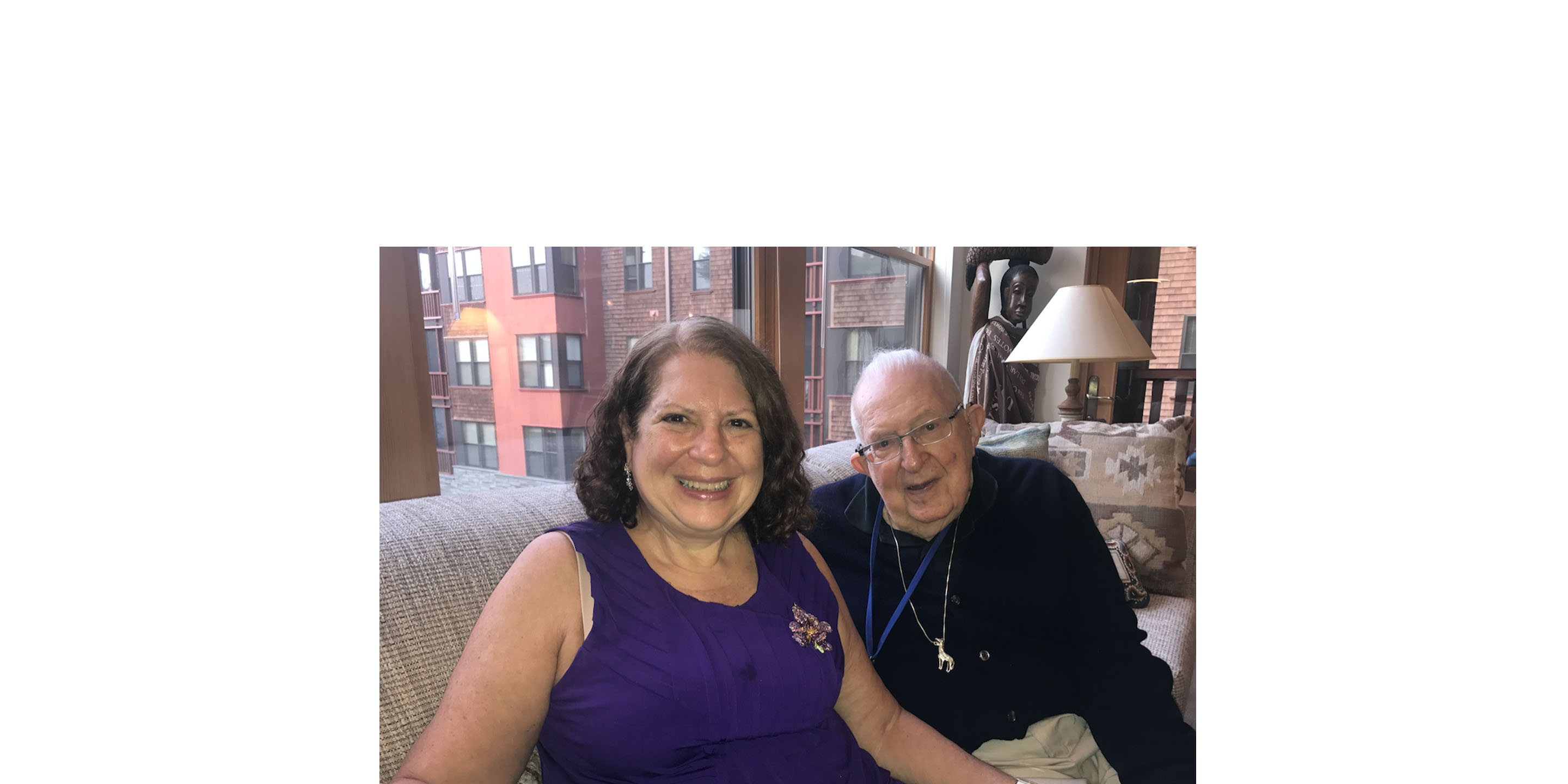 Be they age 75 or 95, residents at NewBridge on the Charles bring with them a lifetime of experiences upon moving into our independent living community in Dedham, Massachusetts. 97-year-old Irving Silverman is no exception. A devoted father and husband with a well-documented love for Jewish culture, Maine lighthouses, and giraffes—Irving recently made news again with the release of his anthology, "Aging Wisely…Wisdom of Our Elders," a collection of essays written by Irving, along with contributions from fellow NewBridge on the Charles residents, Hebrew SeniorLife staff, and his daughter, Ellen Beth Siegel, who assisted in anthologizing the collection and shares the book's byline.
We sat down with Irving and Ellen to have them share, in their own words, how this book came to be and what it means to them.
You're both very successful and prolific in your own careers. Is this your first collaboration?
Ellen: We've collaborated on life but never on a project of this nature. I used to help him with his business from time to time, but this is a more sustained effort together.
Ellen, what did you think when your dad first approached you about his idea for a book? Did he need to convince you?
Ellen: When he first talked about doing this, I thought this is a great idea for something to keep him busy. His thought was to collect essays from fellow residents of NewBridge on the Charles. My plan was to just cheer him on. As my dad began conversations with a book publisher, Jones and Bartlett, they repeatedly suggested he self-publish, but my dad didn't give up. And as my dad told me about this, I thought, "this is never going to happen." But he kept after them, and finally the publisher agreed to circulate the book idea to reviewers to see if they thought the idea was viable.
The feedback was twofold: first they thought it was a great idea, and second, they thought the book needed to include a larger and more diverse variety of contributors, elders and professionals, so that the book could also be used in academic settings. At that point, I became the facilitator of his really visionary idea.
Irving, how did you manage to contribute so many chapters?
Irving: I was having trouble doing my share of it, because I could no longer type. I spoke to Lynda Bussgang, the director of multigenerational programming for Hebrew Senior Life, who coordinates the efforts of NewBridge residents to volunteer in schools and that of school children to volunteer at NewBridge. She found a Needham High School student, Mariah MacKenzie, 16 years old, whose job initially was just to read to me. She did that for about 4 months. She's a very capable young woman. Then I asked her if she would be willing to help write this book. I had a list of 60 or so topics I wanted to include. Without Mariah I never would have been able to contribute so many of my own chapters to the book. Mariah even contributed a chapter herself describing her role in making the book possible.
Did you ever disagree on something important? How did you handle that?
Ellen: We managed to do this with very little in the way of disagreements. There were a few chapters that people had submitted that were wonderful, but didn't fit the theme of the book. And I think that it was hard for my dad to approach the authors to discuss this, even if he agreed with my opinion, so he'd advocate for keeping the chapters in.
Irving: Remember, I live with these people! So that became a problem. I want to get along with people!
Ellen: So we worked with the authors to tweak the chapters—but that wasn't exactly disagreement between the two of us. I think some of our ability to get through this so smoothly comes from a long pattern of the way the two of us relate to each other. My mother died when I was young, and he became my only parent. All my life I've tried to figure out what would make him comfortable and happy, and I've tried to do it. Even when there were times in this project when it was difficult for me. From about September to December, 2016 I was doing my regular job, and then I was going home and doing a second job, working into the night to get this done.
Do you have any advice for seniors and adult children on how to have a good relationship in this phase of life?  How can adult children and aging parents get along, and "age wisely" together?
Ellen: My dad has a chapter regarding the reversal of roles, in which he goes into how at one point he used to think he was right about everything and his children just had to listen and now's he's come to understand, accept, and maybe be ok with, that sometimes we know a little about what we are talking about too. He gives the example of when his kids and physical therapists thought he should use a walker. And eventually he decided maybe we were right.
Irving: As a matter a fact, at some point I realized that I have to accept the advice of other people too. And one of the chapters that I wrote is called "Accepting Help." I've been one of the very fortunate people who has learned to accept help from the time I was a youngster. I've been legally blind since childhood and have become significantly hearing impaired as I've aged. Under these circumstances, I've had to accept help continuously. I've had to learn to accept help, and not begrudgingly. I accept it willingly and courteously.
Ellen: And you developed the capacity to make good, strong friendships and that's so important. It's helped you find people who would be willing and comfortable helping you and you would be willing and comfortable as well.
Irving: I once participated in an activity here at NewBridge one evening, it was getting dark, and I started to be concerned about how to get back to my apartment. I had lost my bearings. I turned to one of my friends, and said "Look, I need some help." And that's the sentence that I used continuously. I said "steer me in the direction" of the corridor of my apartment. And instead of my friend telling me, he just took me home. And by the way, among older people, that's one of the incredible things that takes place. They don't tell you, they take you. This willingness to be helpful means so much.
Yes, but we know you are also a force of nature. It's not like Irving is passive; he's the most persistent man most of us have ever met.
Ellen: My father is a person who makes things happen. And, about this book, we had a sense of urgency about getting it published within a tight timeframe. That was largely a function of his age. I didn't want to take a chance that this book could come out posthumously. I wanted him to see it and to enjoy the success of it. We both pushed hard in order to get the book out in June, for his 97th birthday.
Irving: The book would never have happened without her involvement and encouragement. You see, there were many times when I began to feel this was beyond our ability to accomplish; that it couldn't be done. And she was the one who said "we can make it happen." As a matter of fact, that was the basis for the way in which we got along. I've never really had in all the years she's been my child, 70 years now, I've never had any kind of disagreement with her about anything.
Ellen: Not true. Once my brother and I came to him separately insisting that the other was the favorite child.
Irving: But that was really inconsequential.
In addition to elders and professionals from across the country, over twenty NewBridge on the Charles residents contributed essays to this book. How do you think this book has impacted your community?
Ellen: In my observation of the people around here in the weeks since the book come out, I'm seeing people who look livelier than they did before, a bounce in their steps, a brightness in their eyes, a sense of pride and accomplishment that they have been part of something really stupendous.  
Irving: And the book did that. Without a doubt.
Aging Wisely...Wisdom of Our Elders is now available for purchase on Amazon, or contact your local book seller to find a copy near you!
Interested in learning more about our NewBridge on the Charles community? Come visit us. Schedule a tour today. 
 
Blog Topics
Learn More
At NewBridge on the Charles in Dedham, MA, you'll find modern senior living on a 162-acre intergenerational campus. We offer a complete continuum of care to support your best life, as you define it.