Meaning through the Arts: Expressive Therapy at Assisted Living NewBridge
A conversation with Leticia Prieto Alvarez, longtime Hebrew SeniorLife music therapist and Memory Care Program Manager at Assisted Living at NewBridge on the Charles
Meaning through the Arts: Expressive Therapy at Assisted Living NewBridge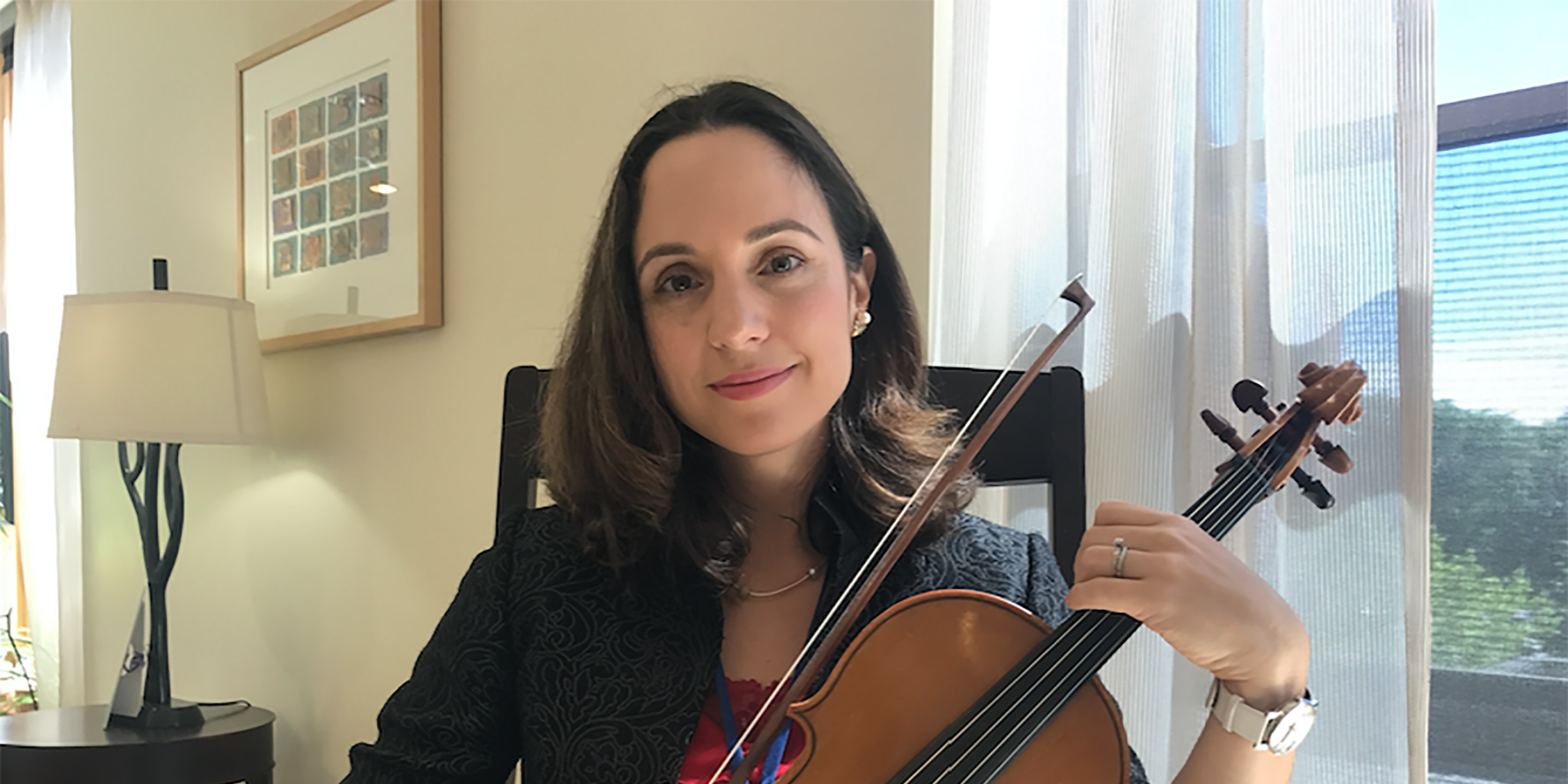 You've been with Hebrew SeniorLife for several years. Can you share a little about your background and your career at HSL?
I came to Boston from Spain on a Fulbright scholarship to do a masters-level viola performance degree at New England Conservatory. In Boston, I discovered the incredible world of music therapy and the field fascinated me. I found that the combination of science and art was a calling and a home for me in a way I never experienced as a performer or teacher. I then earned a second master's degree in expressive art therapy at Lesley University and became a licensed mental health counselor.
My first-year internship was with Hebrew SeniorLife at Hebrew Rehabilitation Center in Boston. NewBridge on the Charles was just being built then. One of my mentors at HSL was the first music therapist at NewBridge and, through her, I got to learn about this novel and innovative campus. After graduating, I joined the expressive art therapy team at Hebrew Rehabilitation Center as a music therapist, ultimately splitting my time between Boston and Dedham.
What will your focus be as Program Manager for Memory Care Assisted Living at NewBridge on the Charles?
My goal is to find the most effective approach to psychosocial engagement for our residents with memory loss by providing emotional support and sensorimotor, multi-sensory, and cognitive stimulation. Our team includes a variety of disciplines including expressive therapists and life enhancement specialists. I'll be guiding and supporting this incredible group of professionals to create programs that foster fulfilling and meaningful experiences for our residents with Alzheimer's disease or related dementia, at every stage of their life.
I'm now pursuing my doctorate in health sciences through Rey Juan Carlos I University in Madrid. I'm interested in looking at data scientifically to guide our work and design evidence-based interventions that will enhance our residents' lives. I'd like to study our outcomes and see how and when we make the most difference. How are our resident's moods being affected? Why are people's wellbeing and quality of life improved?
You seem to relish working at the intersection of several fields.
That's who we are as expressive therapists. Yes, as a neurologic music therapist, my focus has always been music. But the core of the work is harnessing the power of creativity for change. And that means creativity through movement, music, art, drama, writing, poetry–all those components that give people an outlet for expression, particularly when verbal expression is no longer at the core of how a person can communicate.
What do you say to family members who say, for example, "Sounds nice, but my dad doesn't like art. He's not into that. He likes golf."
A wonderful question. We look at each individual's interests and strengths to customize the best way to build rapport. So if the person likes golf, for example, we might create discussion groups around a particular tournament, reminisce about that person's past experiences with the sport while looking at photographs, newspapers and magazines, encourage movement by exercising with a ball, create an event where the sport's decorations, music, and even food bring positive associations and memories. We find the best way to connect at a social level. There are a thousand ways we can create meaningful interactions around something a person loves.
It's also important that we connect each resident with others living in our community. The more we know about our residents, the better we can assist them to relate to others who have similar interests. When people are new, they have to go through a period of adjustment. No matter how beautiful this new home is, it is difficult to adapt to all the changes that aging brings and cope with the loss of the home you've known before. One essential aspect of our work focuses on building a sense of community, creating venues that facilitate friendships. The arts give our residents an outlet for self-expression and a way to communicate with others.  That to me is the essence of what we do because I believe we need inter-personal connections to thrive.

For those living outside of community like NewBridge, do you have any suggestions for ways to use the arts to connect with loved ones dealing with memory loss?
Thankfully we have the internet, which is rich in resources such as the Alzheimer's Association. Their website offers concrete and achievable activities anyone can do at home. The American Music, Dance, and Art Therapy Associations also provide publications with interesting information.
My biggest recommendation is to come from a place of love and respect towards your loved one. We should bring appreciation for everything they've done before and understand that, even though there have been some changes in their behavior, the same light exists at the core of who they are.
It is very difficult to see our loved ones change, but we can focus on what matters to them. Let's say a person loved to cook, but he or she is unable to do it anymore. Bring them to the table with you, have them reminisce about their favorite recipes, put some music they love and cook for them while they smell the aroma of the food. Have them teach you and if they can't remember it all, don't make a big deal out of it. This is a way to convey your love and focus on their strengths.
What is the best part of your work?
Our residents are amazing. I've worked with various populations, but my first passion is my work with older adults. The rewards are hard to quantify: the way the residents care for you, their wisdom and mentorship, their level of empathy—you get triple back of what you give. I learn something new after every session and interaction. I am a better person because of them. 
 
Blog Topics
Learn More
Using music, dance, and art, our expressive art therapists provide psycho-social support to seniors experiencing a wide range of issues, including adjustment to aging, health status changes, depression, and anxiety.
NewBridge on the Charles Assisted Living in Dedham, MA offers a choice of one-or two-bedroom rental apartments, along with the peace of mind that comes with knowing you have the support necessary to maintain an active lifestyle.