New Research to Prevent Falls
Examining the Use of Non-Invasive Brain Stimulation to Improve Mobility
New Research to Prevent Falls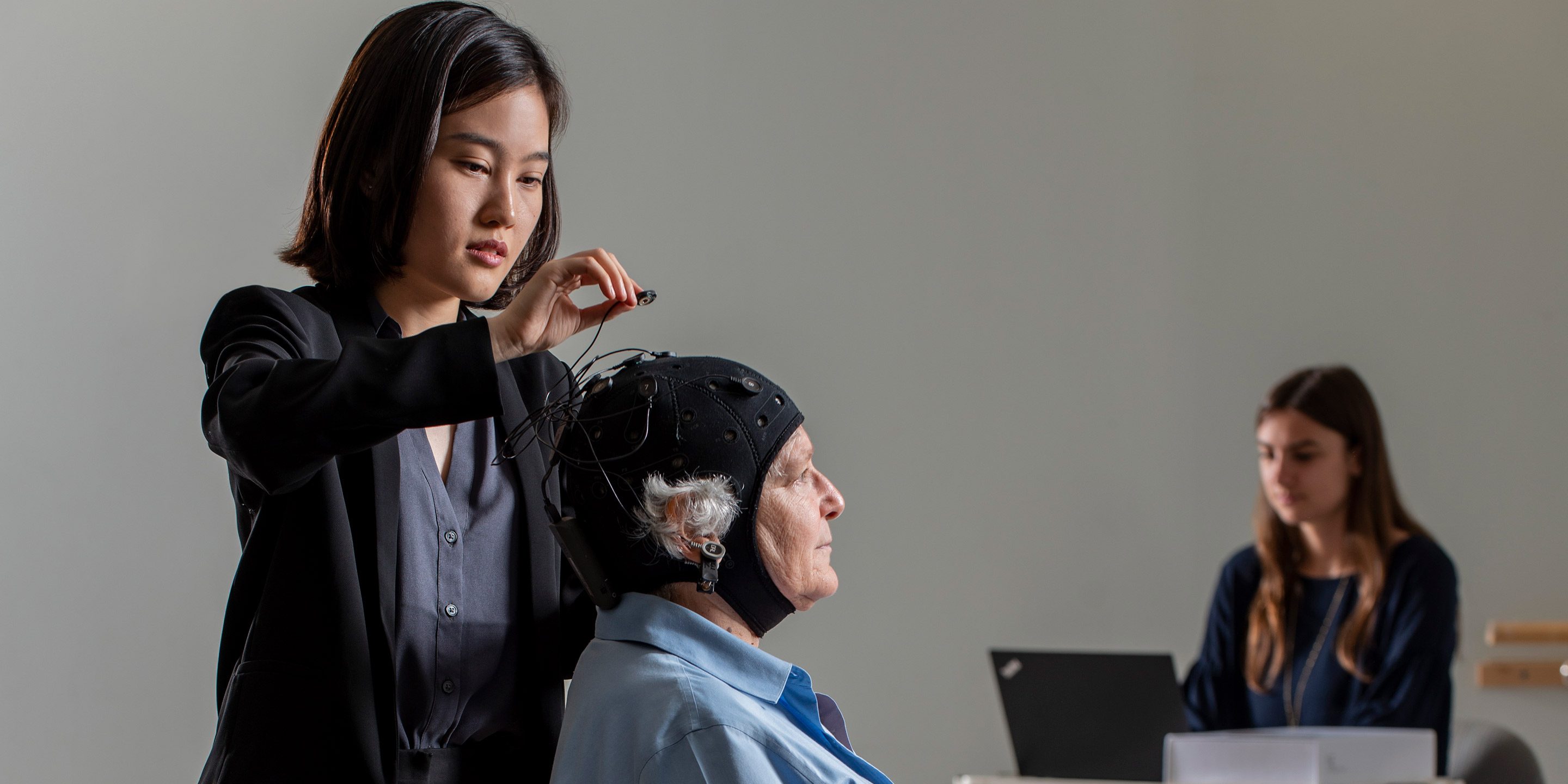 Hookie Darack knows no limits.
The tennis-playing centenarian is the oldest subject in the tDCS and Steady Gait Study at Hebrew SeniorLife's Hinda and Arthur Marcus Institute for Aging Research. Her participation is proof that there's no age when curiosity stops.
Hookie eagerly volunteered for the study, where investigators are seeking to reduce the risks of falls and promote safe, independent mobility for older adults through transcranial direct current stimulation (tDCS). This type of non-invasive brain stimulation holds promise as a novel intervention for improving walking, balance, and even cognition among older individuals. 
"I've reached 100 and I am going downhill in some ways, and I wanted to keep my mind active. This research intrigues me," explains Hookie, who is a resident of Hebrew SeniorLife's Orchard Cove continuing care retirement community. "And I want to give back to the community as much as it has given to me."
Making inroads into falls prevention is critical. "Falls are the leading cause of death from injury among seniors, and the risk increases with age," says Dr. Brad Manor, associate director of the Marcus Institute's Center for Translational Research in Mobility and director of the Mobility and Brain Function Lab. "In fact, the statistics are staggering: One in three seniors falls each year and a quarter of those who fall will suffer moderate to severe injuries, including hip fractures."
Dr. Manor, who also serves as an assistant professor of medicine at Harvard Medical School and Beth Israel Deaconess Medical Center, is currently spearheading multiple efforts exploring the enhancement of mobility via tDCS. "Balance is not only dependent on the muscles in our bodies, but also on cognitive function. We have the exciting opportunity to focus on those brain networks influencing balance. Ultimately, tDCS may serve to diminish the risk of falling by helping people gain more reliable balance and gait."
But before the intervention can be widely implemented, Marcus Institute researchers are studying tDCS under various conditions to validate its efficacy and feasibility. The different studies are designed to answer questions such as:
Does one tDCS session result in benefits?
Can a spouse or other caregiver be trained to administer the tDCS to someone at risk for falls in their own home?
Can the stimulation sessions be personalized to an individual's brain activity to result in greater improvements to mobility and cognition?
Will individuals with mild Alzheimer's disease be good candidates for the tDCS?
Does tDCS enhance the physical therapy treatments a person receives for mobility issues?
With subject volunteers like Hookie, the researchers continue to gain greater understanding of tDCS and mobility … one step at a time.  
Are you interested in being part of research studies relating to the use of tDCS? The Marcus Institute is recruiting qualified volunteers. Most studies are open to those over age 65, with some opportunities for younger people. Learn more about these and other related studies, and whether you might be able to participate.
 
Blog Topics
Learn More
At the Hinda and Arthur Marcus Institute for Aging Research, Harvard Medical School-affiliated researchers are working to uncover answers to some of the most pressing challenges of aging.