Vitalize 360 Inspires Orchard Cove Enhanced Living Residents to Live Full Lives
Personalized wellness program adapts to residents throughout the continuum of care
Vitalize 360 Inspires Orchard Cove Enhanced Living Residents to Live Full Lives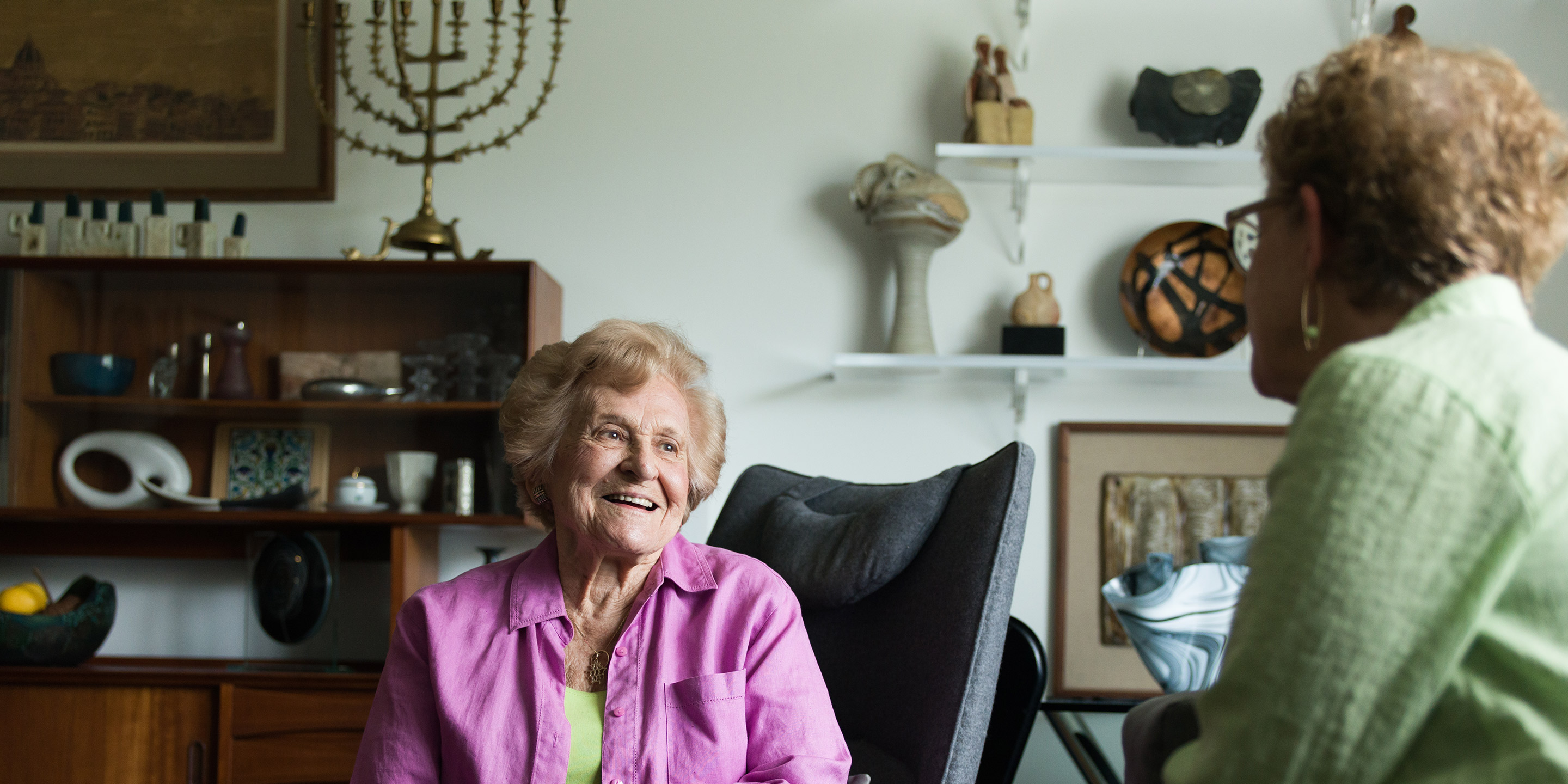 A resident who is part of our Enhanced Living environment at Orchard Cove, Hebrew SeniorLife's continuing care retirement community in Canton, MA, loves to read, but found that retaining the contents of a whole book was no longer possible for her. Through her participation in our Vitalize 360 wellness program, she was encouraged to join a community book club that reads and discusses short stories to help prompt her memories and share her impressions of what she read. She is now a regular attendee and finds she can retain enough to have a meaningful discussion with others in the club.
Another Enhanced Living resident had ill-fitting clothes and wanted to donate his old clothes he no longer fit into. Through Vitalize 360, he found the emotional and logistical support he needed to part with his old clothes and take a shopping trip to invest in better fitting shirts and slacks. While seemingly simple, his sense of self-confidence gave him a tremendous boost and with some support, he was more willing to organize a new wardrobe.
A resident whose health problems made her feel isolated also missed her connection to her family overseas and the world at large. Vitalize 360 programming in Enhanced Living provided lessons on operating an iPad and using the video chat feature. She was successfully supported in using video chat to connect with her family in Israel and to read news from around the world as well. She now feels more connected with her family and up to date on current events.
The innovative Enhanced Living environment is designed to maximize personal independence for residents even when they may require slightly increased assistance. And through HSL's groundbreaking Vitalize 360 wellness and exercise program, we are also supporting them  to live their best lives possible.
Using a household model and a resident-centered approach, Enhanced Living nurtures a sense of community among a small group of residents and dedicated staff attuned to the specific physical, emotional, and spiritual needs of each individual. Orchard Cove's resident-centered care philosophy encourages residents to be actively involved in their care within a supportive environment that revolves around what is best for each resident.
Vitalize 360 is Orchard Cove's comprehensive wellness and exercise program that promotes healthy aging for all residents. It's designed to help make lifestyle changes that not only lead to improved health, but to a richer quality of life. Its holistic approach encourages our residents to consider the quality of all aspects of their life including health, nutrition, physical and mental fitness, community connections, lifelong learning and spirituality.
"Orchard Cove believes that setting and achieving goals with all residents provides a foundation for living their best lives throughout our community including, Enhanced Living. Using our Vitalize 360 program, we focus on these personal goals throughout our continuum of care," said Ilana Klarman, Enhanced Living Manager.  
Goals are modified for one's individual wishes and abilities, and while the challenges residents face in Enhanced Living often involve seemingly simple objectives, keeping residents fulfilled, connected, and appreciated has a major positive impact on their health and wellbeing.
Many residents also are guided daily in achieving their fitness goals through regular exercise in our fitness center located in our Enhanced Living community. Through simple walking, stretching, and light strength training, they become more vigorous, engaged in the community, and fulfill their other Vitalize 360 goals.
Vitalize 360 engages, challenges and inspires all Orchard Cove residents, including Enhanced Living, to live full, healthy, vibrant lives and enjoy successful aging at all stages of our lives.
 
Blog Topics
Learn More
We empower seniors to meet their wellness goals using Vitalize 360, an innovative health and wellness platform that combines one-on-one coaching with research-based tools.
Whether we're making discoveries or developing new teaching methods, HSL continuously works to improve the lives of older adults.