When Is It Time for a Cane or Walker?
Learn about the types of assistive devices, and why you might consider using one.
When Is It Time for a Cane or Walker?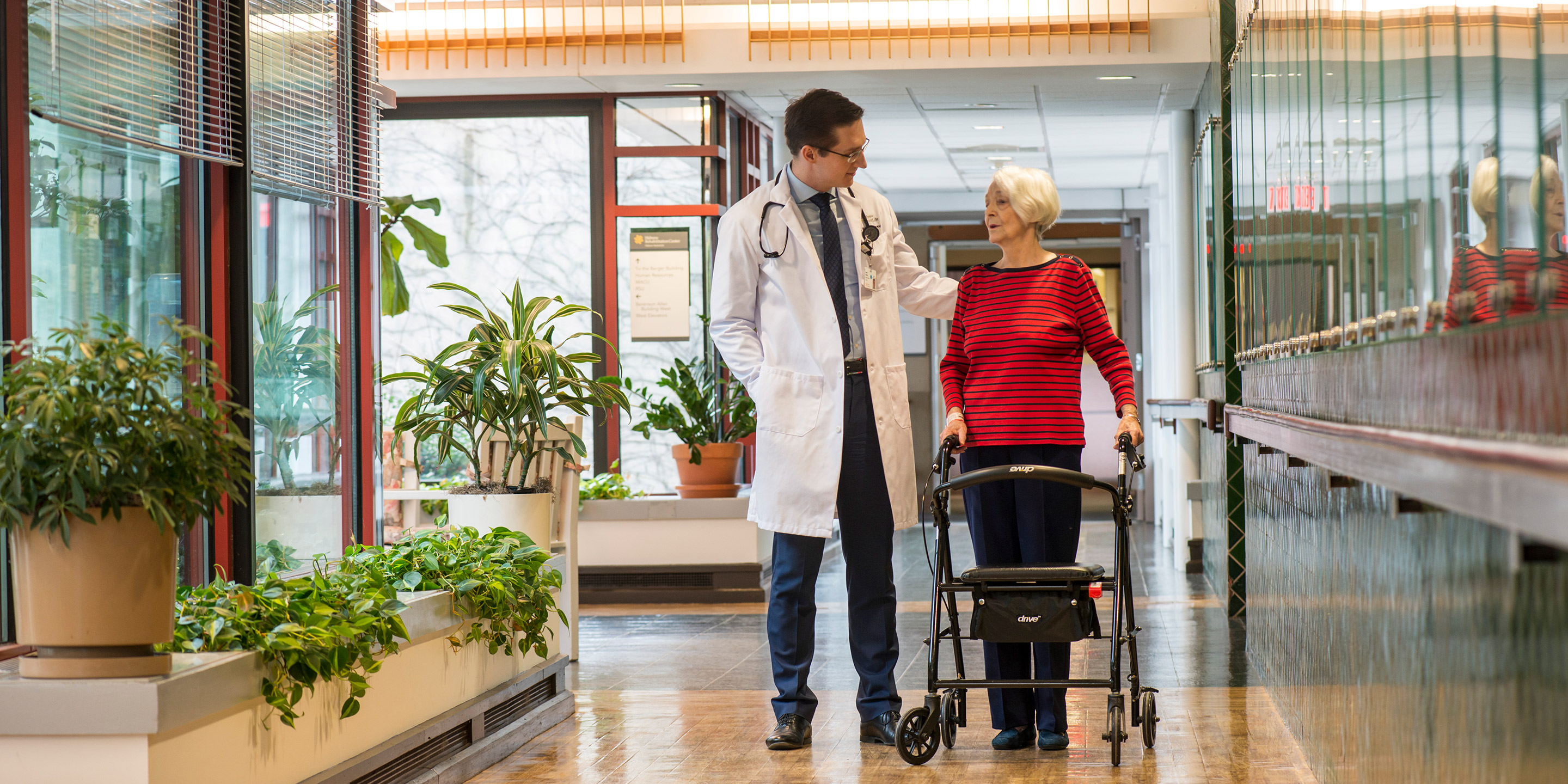 When older people are surveyed, a number of concerns about aging rise to the top. Remaining independent, which in turn supports aging in place, is chief among them.
A 2019 AARP survey showed that three out of four adults age 50 and older want to stay in their homes and communities as they age. At the same time, research also reveals that many people worry about not being able to move around as well when they get older and fear they won't be able to continue their favorite activities, visit places they love, or even keep up with everyday tasks.
Mobility and falls in seniors
Mobility is key to maintaining independence and one of the greatest threats to mobility in older adults is a fall.
 
Each year, millions of older people—those 65 and older—fall. More than one out of four older people falls each year (but less than half tell their doctor). Falling once doubles your chances of falling again.
One in five falls causes a serious injury such as broken bones or a head injury.
The psychological and functional consequences of falls can also be severe whether or not an injury occurs. Feeling unsteady or an actual fall can lead to fear of falling and anxiety about normal activities on the part of the older person at risk, as well as among family members and caregivers. In response the older person may limit their activity, which decreases mobility, and increases dependence on others.
The good news is assistive devices – like canes, walkers, wheelchairs, and many more that you might not know about – can help prevent falls and keep you safe in your home and when you are out and about. As an occupational therapist specializing in the care of older people, my job is to help you with your job of daily living.
Signs you should consider a cane or walker
If you feel unsteady, hold furniture, counters, or walls when you walk, or have had any falls or near falls, it might be time to consider using an assistive device such as a cane or walker. Some of the situations that might make an assistive device helpful include:
Loss of strength – certainly in this past year we've all been moving around less and are a bit more deconditioned than we would have been if COVID-19 had not come into our lives 
An injury or joint replacement
Any kind of pain – low back pain is very common
Balances issues such as vertigo
The best way to think about using an assistive device is to think about it like medication. You would never take your neighbor's pain or high blood pressure medication. It's the same thing with an assistive device. You shouldn't just take a cane or a walker from a friend. You should talk to your physician and get a referral to a physical therapist who will:
Assess your walking, balance, and strength
Recommend the right device for you – not every device is right for every person
Adjust the device to your height and weight 
Train you in appropriate use of the device 
Types of Assistive Devices for Mobility
There are quite a few options available to help you navigate in both home and outside environments. Which one is right for you depends on your special needs. This is a good time to remind you once again to make sure you consult with an occupational or physical therapist before choosing a device. Each of these devices comes in a number of shapes and styles, some with special features and optional accessories.
Canes
Canes with feet/base 
Rollators  
Folding walkers
Walkers with two wheels
Transport wheelchairs for longer distances (e.g. medical appointments)
"Rollator" is a term you might not know, but you've definitely seen one. A rollator is a metal frame with handlebars and four wheels that stay in contact with the ground at all times as you walk. It may have a seat and basket. Rollators can be helpful for balance.

You can learn more about the features and benefits of these options in a webinar I recently recorded.
Devices that help keep you safe after an illness, injury, or hospitalization
After an illness or hospital stay, you may find that basic tasks become a bit more challenging. As an occupational therapist I use a variety of techniques, education, and equipment to teach people how to make adjustments that allow them to perform activities of daily living.
Getting in and out of bed
There are several devices available. Some attach right to the bed frame and some go underneath the mattress. These help you pull yourself up and stand without having to adjust the height of the bed.
Bathroom safety
The bathroom is a place where a lot of falls happen due to wet surfaces. The best solution is a walk-in shower for safety and energy conservation. But if you don't have one, there is a wide variety of inexpensive tub chairs and benches available, which you can use to outfit your existing tub or shower. 
Grab bars are important in the bathroom. We recommend them to everyone. Keep in mind that there's a difference between a grab bar and a towel bar. Grab bars are anchored into studs and towel bars usually aren't, so they're not interchangeable.
Removable grab bars, which are a good option if you're visiting family.
Toilets - Elevating the height of your toilet seat will make getting on and off the toilet much easier. Consider a bedside commode if walking to the bathroom at night is risky for you. 
We're here to help
If you or a loved one could benefit from using an assistive device, we can help you make the right choice for you. Hebrew SeniorLife has both in-home and outpatient therapists who can assess your situation, make recommendations, and train you in the proper use of assistive devices that will make your life easier and keep you safe. Our outpatient clinics are conveniently located at Hebrew Rehabilitation Center in Boston and Dedham – contact our therapy team today to get started. 
Rachel Kardon, DPT, also contributed to this post.
Blog Topics
Learn More
At Hebrew Rehabilitation Center in Boston and Dedham, MA, we offer adult physical therapy, occupational therapy, and speech therapy using state-of-the-art mobility and treatment equipment.