Why Getting a Flu Shot This Year is More Important Than Ever
Why Getting a Flu Shot This Year is More Important Than Ever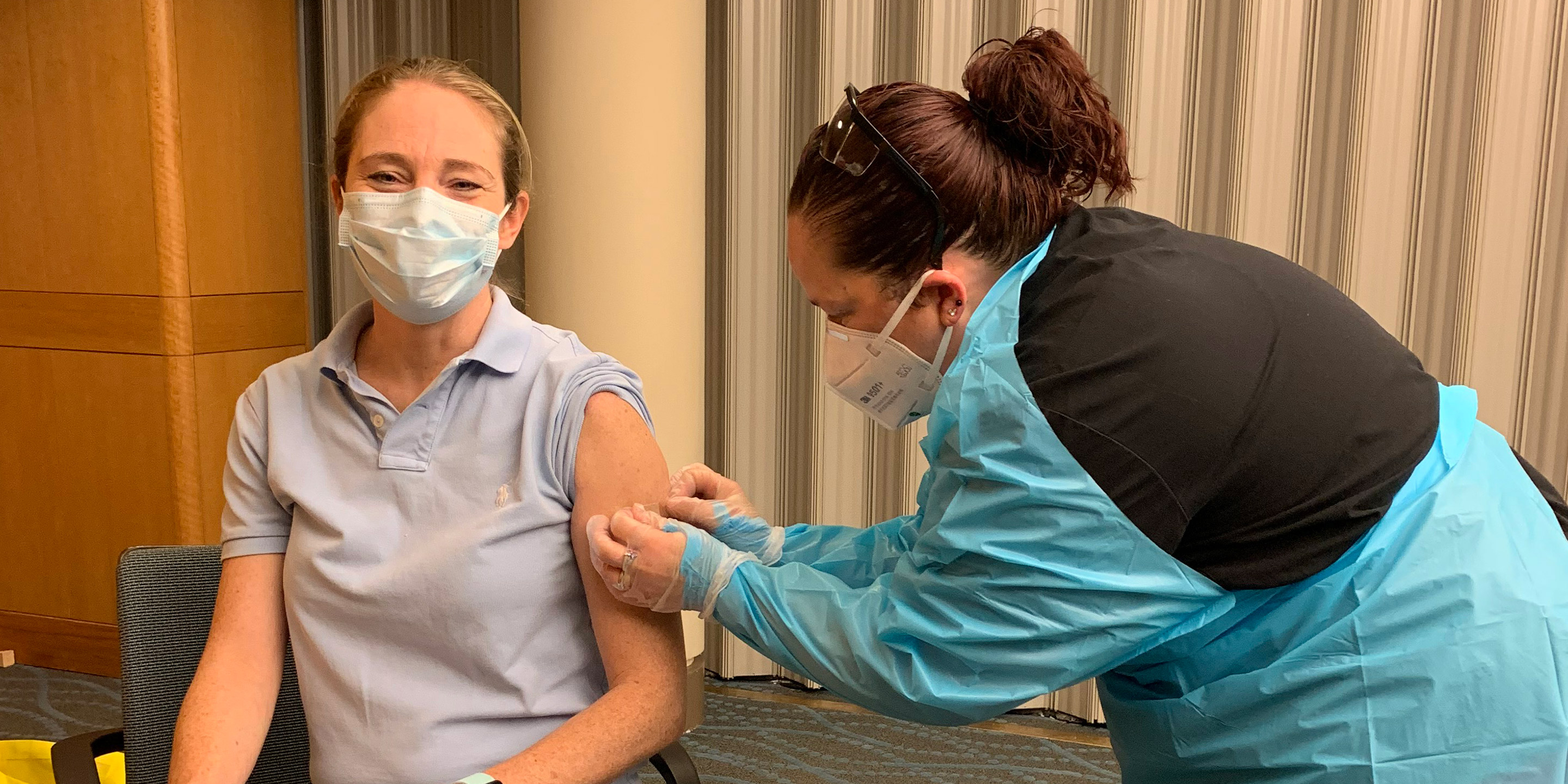 As summer comes to an end and we transition to fall, many people are preparing for the colder weather and getting a flu shot. Many medical experts and doctors are closely watching the data for this flu season, which usually begins sometime in October. While there is no way to predict how bad this season could be, many people are concerned about the upcoming flu season and ongoing COVID-19 pandemic - particularly since it may be difficult to distinguish between the two viruses. 
Who should get the flu shot?
"I always recommend people, especially older adults, get the flu shot," says Dr. Helen Chen, Hebrew SeniorLife's chief medical officer. "The flu disproportionately affects older adults and with the unknowns about the coronavirus, I highly recommend you talk to your health care provider about getting vaccinated right now." While it's important for everyone to get vaccinated, Dr. Chen suggests that it's especially critical for adults over 65, people with underlying health issues like asthma or heart issues, anyone who is pregnant, caretakers exposed to vulnerable groups, and essential workers. 
When I should get the flu shot? 
Dr. Chen recommends getting the flu shot in late September into October. The effectiveness of the shot can typically start to wane after about six months and in Greater Boston, flu season typically peaks from December to March. "As you start to make any plans for the fall, I urge you to call your doctor and get vaccinated to make sure you're getting it while you can and while doctors and pharmacies have it in stock," she says. Dr. Chen also suggests that adults over 65 and those with compromised immune systems wait until at least mid-September, so that the vaccine's protection lasts the entire season without wearing off. The Centers for Disease Control and Prevention recommends everyone be vaccinated by the end of October. That said, it's never too late - it takes about two weeks after vaccination for your immunity to build, so getting your flu shot at any point during flu season will still provide important protection. 
Why is this season especially important to get vaccinated?
This flu season, many health care facilities could be overwhelmed treating patients with the flu, COVID-19, and other viruses, using more resources and filling hospital beds quicker. Getting the flu shot is shown to not only reduce the risk of getting the flu, but also the severity of illness in people who get vaccinated but still get sick with the virus. This, in turn, reduces your risk of needing more advanced care in a hospital setting. 
It's important to realize that the flu shot cannot give you the flu. "You could feel lethargic and get a low-grade fever, for example, but it's not from the flu shot itself. It's a safe vaccine and it's as important as ever for people to get vaccinated this year," says Dr. Chen. 
What are the symptoms of the flu vs. COVID-19?
The flu and COVID-19 can cause similar symptoms. According to the Centers for Disease Control, both viruses range in severity and can cause symptoms including:
Fever or feeling feverish/chills
Cough
Shortness of breath or difficulty breathing
Fatigue
Sore throat
Runny or stuffy nose
Muscle pain or body aches
Headache
Vomiting and/or diarrhea
One key difference between the two is that COVID-19 can sometimes cause a loss of smell or taste. Regardless of the cause, if you have any of the symptoms listed above, it's important to stay home and contact your doctor.
Will COVID-19 precautions help with flu transmission?
It's hard to say right now how severe the flu season could be but many doctors, including Dr. Chen, are hopeful that the measures we're taking to prevent the spread of COVID-19 could help with the flu. "We need to continue to be vigilant and not let our guard down," says Dr. Chen. Already, most people are reducing their travel, increasing hand-washing, physical distancing, and wearing masks which is hopeful in reducing the spread of the flu, too. "Now is not the time to be relaxing and easing up on what you've been doing all year," she says. 
 
Blog Topics
Learn More
Hebrew SeniorLife is the only senior health care organization affiliated with Harvard Medical School. Members of our caregiving teams specialize in providing geriatric care, and they do so with care and compassion.