The Benefits of Eating Local Fruits and Vegetables
Even during a New England winter, you can find seasonal produce that's both healthy and delicious.
The Benefits of Eating Local Fruits and Vegetables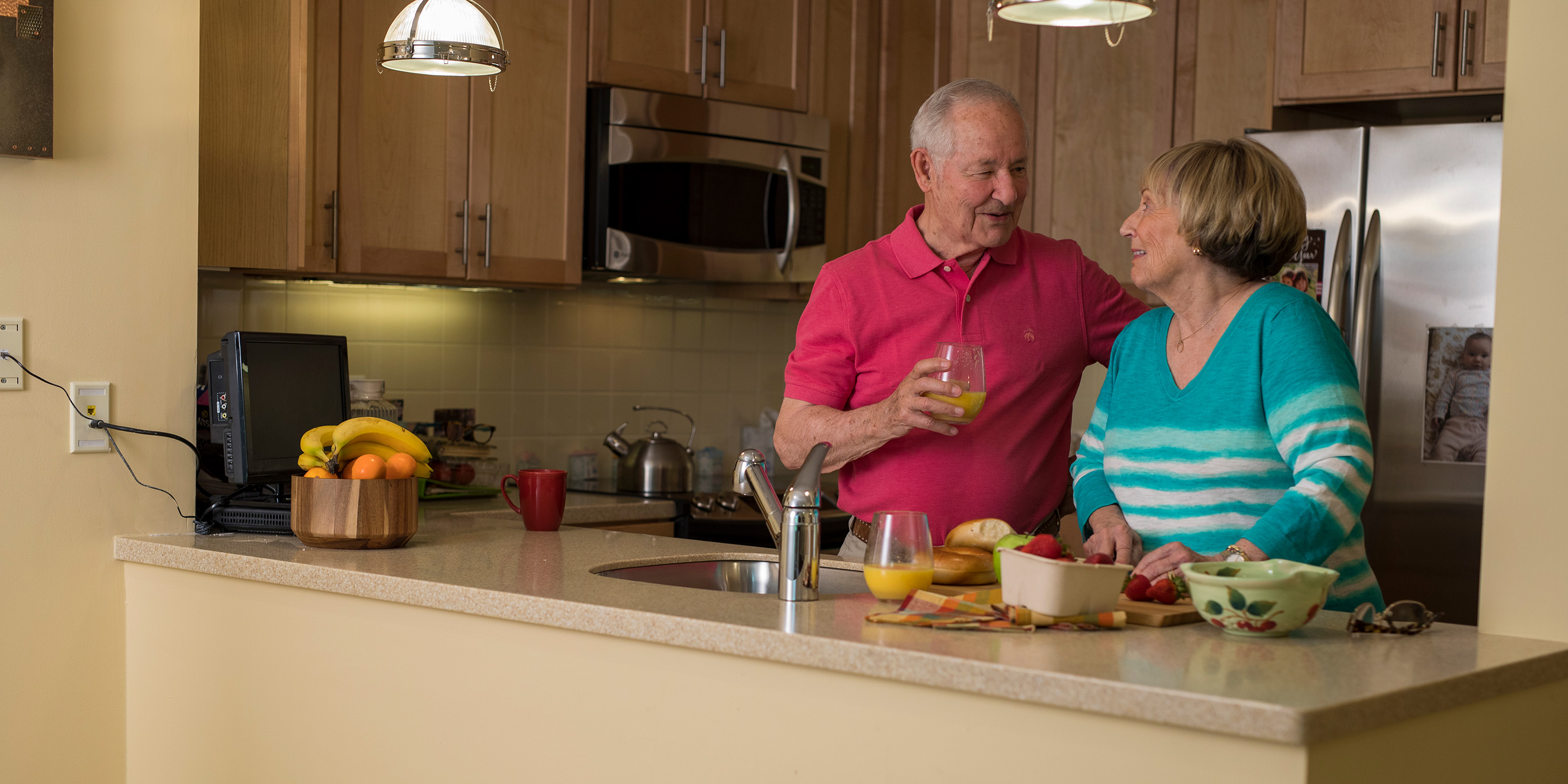 Eating locally has become a big trend in recent years for health and environmental reasons, and to support small businesses and farmers. Local food hasn't had to travel as far meaning that it's fresher, higher in nutrients, and reduces your carbon footprint. 
At Hebrew SeniorLife's outpatient nutrition clinic, one of the ways our registered dietitians partner with the older adults we work with is to brainstorm ways they can incorporate a variety of fresh produce into their diets. In New England, we don't really think of winter as a time when local produce is readily available - but think again! There are lots of delicious and nutritious fruits and vegetables available in Massachusetts during the winter. Keep reading to learn the benefits of local, seasonal produce.
Local produce has more nutrients and better flavor
When fruits and vegetables are grown locally and in season, they are harvested right when they're ready to eat. That means they are the best possible quality when you buy them. 
If produce needs to be shipped a far distance, however, the crop is harvested early so it doesn't spoil before it makes it to its final destination. A side effect of taking vegetables out of the ground before they're fully ripe is that they don't develop a full spectrum of vitamins and minerals. Additionally, produce starts to lose what nutrients it has every day, even under refrigeration. 
After the food has been transported to where it will be sold, it may need to be heated in a hothouse to ripen artificially. This process changes the texture and taste, while reducing the flavor. While pre-chopped produce is convenient, it also loses some nutritional value due to oxidation breaking down the nutrients. 
While local is best, it's not always possible or accessible. A good alternative is frozen or canned vegetables, which retain most of their nutrients because they're harvested closer to peak ripeness and preserved quickly. Once they're frozen or canned, fruits and vegetables don't leech nutrients as quickly as under refrigeration.  
The environmental benefits of eating locally
Eating locally-grown foods takes less energy and fewer resources. Vegetables grown nearby consume less fuel to transport them to your nearest store or farmer's market. It also requires less refrigeration and cuts back on the energy consumed to accelerate the natural ripening process. In fact, close to 20% of carbon emissions in the food system are because of food relocation. You may also be less likely to find produce sold in plastic packaging at your local farmstand or farmer's market. 
Eat a variety of nutrients for full body health
While we often like to talk about "miracle foods" or "super foods," the reality is that no single food—no matter how healthy—can supply us with all the nutrition we need. It's important to have variety in your diet to get a full complement of nutrients. Purchasing in-season produce means you have a rotating and varied menu year-round.
Our bodies evolved to eat what was growing in-season so the natural cycle of crops and produce is meant to support our health and nutritional needs. High water content foods like watermelon, berries, and cucumber keep us hydrated in the summertime heat. Winter squashes and root veggies are great ingredients for hearty stews and soups that offer comfort during the long winter months, while leafy greens in the spring are nutrient dense and lighter on calories.
Save money by buying local
In-season produce is more likely to be available in higher quantities. According to the concept of supply and demand, that means it will be cheaper.  Also, when produce is in season, local farmers won't have extensive travel or storage costs. All of these factors drive down the price we see at the store.
Plus, through the Massachusetts Health Incentives Program, you can use your SNAP benefits at farmer's markets, farm stands, and community-supported agriculture (CSAs). Supporting local farmers and saving money—that's a win-win!
In the area around near NewBridge on the Charles in Dedham and Orchard Cove in Canton, there are a few local options: Volante Farms in Needham, Langwater Farm in North Easton, and Ward's Berry Farm in Sharon are open year-round and have a selection of local produce. Also, Dedham has a winter farmers' market on Saturdays at Dedham Town Hall. Check out your local area to see if your town has one - one place to start is the Massachusetts Department of Agricultural Resources' online map of local winter farmer's markets.
Seasonal winter fruits and vegetables local to Massachusetts
New England isn't just a frozen tundra in the winter! There's plenty of local produce to be found in grocery stores and farm stands that are open year-round.
 
| | | |
| --- | --- | --- |
| Produce | Nutrients | Health Effects |
| Cranberries | Manganese, copper, and vitamins C, E, and K1 | Can prevent urinary tract infections and ulcers; promotes heart health |
| Butternut Squash | Magnesium, potassium, and vitamins A and C | Improves heart and brain health; low in calories |
| Pumpkin | Fiber, minerals, antioxidants, and vitamin A | Boosts immunity and metabolism; improves eyes, skin, and heart health |
| Apples | Fiber, potassium, and vitamin C | Increases blood sugar control; improves cholesterol; fights heart disease |
| Bell Peppers | Folate, potassium, and vitamins C, K1, E, and A  | Helps prevent anemia; improves eye health |
| Dates | Fiber and vitamins B-complex and C | Good for digestion; high in antioxidants |
| Figs | Magnesium, potassium, calcium, iron, and vitamin K | Promotes healthy skin; vascular and heart health; digestive health |
| Grapes | Copper and vitamins B-complex and K | Benefits eye, heart, and memory health |
| Persimmons | Tannins, flavonoids, potassium, manganese, and vitamins A, B, and C | Improves digestion; increases heart, and eye health; reduces inflammation |
| Sprouts | Protein, folate, magnesium, phosphorus, manganese, and vitamins C and K | Regulates blood sugar levels; promotes digestive health |
| Mushrooms | Copper, selenium, phosphorous, potassium, and vitamin B-complex | Boosts immune system; lowers cholesterol; encourages brain health |
| Dark leafy greens like kale | Calcium, potassium, magnesium, beta-carotene, antioxidants, and vitamins K and C | Lowers cholesterol; promotes weight loss; good for eye health |
| Root vegetables like potatoes and turnips | Antioxidants and vitamins A, B, and C | Balances blood sugar levels; lowers cholesterol; improves digestive health; reduces inflammation |
The best cooking methods for vegetables
How you cook your vegetables can affect the nutrient content. Roasting, steaming, and sauteeing retains the most nutrients.
However, boiling helps soften vegetables, which makes them easier to eat and digest. This can be good for seniors who may have difficulty with raw or crunchy vegetables. One thing to be aware of is that some of the nutrients are lost during the boiling process. For example, you'll notice if you boil broccoli the water will be green—that's the nutrients from the broccoli leaching out. 
Though it's better to eat a slightly less nutritious vegetable than no vegetable at all, if you are concerned about getting all the possible nutrients, you can drink the water once it's cooled down. Or, use it as stock to make a hearty soup - all the nutrients will go into the broth. Steaming vegetables in the microwave or on the stovetop can retain their vitamins and minerals while still being easier to eat and digest. 
One of the most important things to remember is that the best fruits and vegetables are the ones you'll eat. So regardless of whether you're buying canned, frozen, non-organic, or pre-chopped; boiling, baking, roasting, steaming, or topping with cheese; you're still doing something good for your health!
Winter salad recipe
Are you hungry yet? If you're ready to start cooking with some winter produce, here's a recipe for you to try.
Honeyed winter salad
Recipe from BBC Good Food
Ingredients:
1 butternut squash, cut into thin wedges
2 red onions, halved and cut into wedges
4 parsnips, cut into wedges
3 tbsp olive oil (try garlic- or basil-infused)
1-2 tbsp honey
1 small loaf ciabatta bread, roughly torn into pieces (tomato and olive ciabatta works well)
1 tbsp sunflower seeds, optional
1 cup spinach
2 tbsp white wine vinegar
1 tsp Dijon mustard
Directions:
Heat oven to 400oF. Put the vegetables into a large roasting pan, drizzle with half the oil and season to taste. Roast for 20 minutes, turning once in a while until softened. Drizzle with the honey. Scatter the torn ciabatta and sunflower seeds over the top and return to the oven for an additional 5 minutes or until toasted.
Put the spinach into a large bowl and add the vegetables and ciabatta. Whisk the vinegar, mustard, and remaining oil together; season to taste; and toss into the salad until the spinach wilts slightly. Serve immediately.
One-on-one nutrition counseling for seniors in Boston and Dedham
As a part of Hebrew SeniorLife's multidisciplinary approach to health care, we consider nutrition as a key component of managing or preventing serious health issues. If you or a loved one have any nutritional concerns, Hebrew Rehabilitation Center offers an outpatient medical nutrition therapy program for older adults, including one-on-one individualized education and treatment plans developed by our Registered Dietitians. To learn more, contact us online or call our outpatient therapy program at 617-363-8539.
Learn More
As part of our specialty outpatient care, we offer one-on-one nutrition counseling at Hebrew Rehabilitation Center in Boston. Our Registered Dietitians, who specialize in the needs of older adults, will help you stay in overall good health or provide suggestions to manage or prevent specific health concerns.