The Difference Between Nursing Homes and Skilled Nursing Facilities
What are the requirements, cost differences, and where can you find them.
The Difference Between Nursing Homes and Skilled Nursing Facilities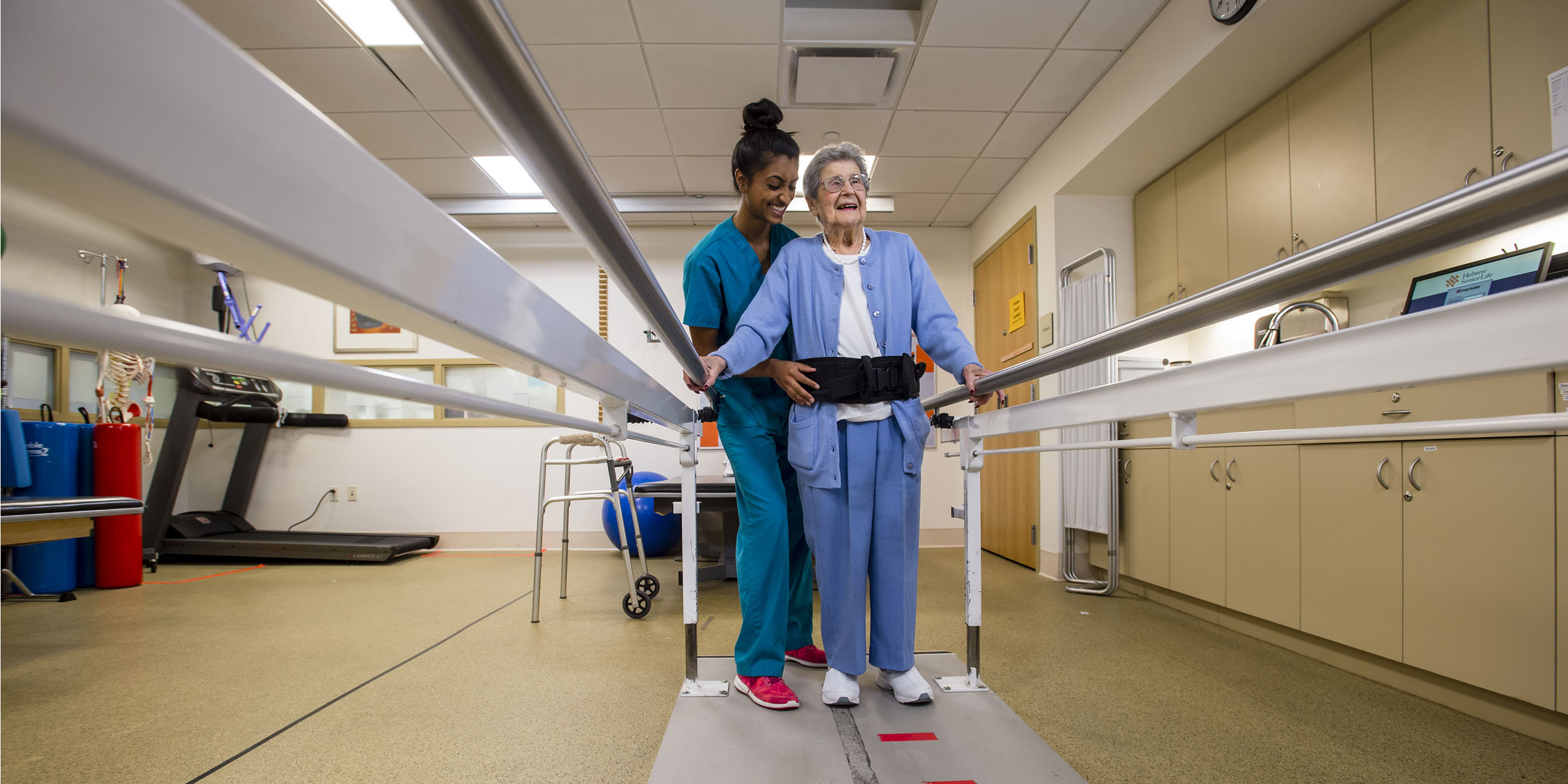 Medical emergencies can reveal more than just a new or worsening medical condition. They often expose more general problems with your living situation and whether or not it will meet your current and future needs. Especially for seniors, recovering from serious emergencies often requires a short-term stay at a rehabilitation center. From there you might be discharged back home or make the decision to move to a senior living community. 
Either way, the process can be very stressful, and researching your next steps can be confusing. You may have been told that you should seek care at a skilled nursing facility. If you are going to require ongoing care should you move to a nursing home or can you stay at this skilled nursing facility? What is a nursing home and what is a skilled nursing facility?
The essential difference can be summarized this way: a nursing home is more of a permanent residence for people in need of 24/7 care, while a skilled nursing facility is a temporary residence for patients undergoing medically necessary rehabilitation treatment. We will cover this in more detail below.
Despite the distinct differences between what qualifies as a nursing home vs. a skilled nursing facility, most of the confusion comes from the medical definition of skilled nursing. 
What is skilled nursing and what are some examples of skilled nursing care?
Skilled nursing is a high level of care requiring advanced training and certifications. Skilled nursing care must be provided by or under the direct supervision of licensed health professionals, such as registered nurses (RNs), licensed practical nurses (LPNs), speech/language pathologists, and physical/occupational therapists.
Examples of skilled nursing services include physical, occupational, and speech therapy, wound care, intravenous (IV) therapy, injections, catheter care, continual monitoring of medical signs, and the use of medical equipment to support the patient's care needs and monitoring of vital signs and medical equipment. 
It is helpful to consider that skilled nursing is a description of the type of service that is offered. Accordingly, skilled nursing is offered at both skilled nursing facilities as well as nursing homes. It can also be provided in a senior's home as part of home health services.
What is a skilled nursing facility?
A skilled nursing facility (SNF) is an inpatient rehabilitation and medical treatment center. They're often utilized for care after a hospital stay following an accident, severe illness, or surgery to help a patient regain their ability to do activities of daily living such as bathing, dressing, cooking, personal hygiene, walking, and getting into/out of a bed or chair. Similar to a nursing home, SNFs provide 24/7 care. Hebrew SeniorLife offers skilled nursing facilities at Hebrew Rehabilitation Center in Boston and at NewBridge on the Charles in Dedham. Our goal is to restore function following an illness or injury so older adults can get back to the people and activities that they love. 
It should be noted that the need for skilled nursing services does not automatically mean that you need a stay in an SNF since skilled nursing is available in a variety of settings including a senior's private home. A number of factors will go into the decision about where to receive skilled nursing care, including your living situation, whether there is someone at home who can help you while you recover, the severity of your illness, and the types of rehab services you require.
Skilled nursing is mostly regulated by the Department of Public Health and the Centers for Medicare & Medicaid Services (CMS). To be certified by CMS and the DPH, skilled nursing communities must meet strict criteria and are subject to periodic inspections to ensure quality standards are being met. We are proud to say that the skilled nursing facilities at Hebrew Rehabilitation Center and Orchard Cove consistently receive five-star ratings from CMS and DPH.
What is a nursing home?
In short, nursing homes are residential centers for seniors who are medically stable but can't be cared for at home due to chronic conditions or a lack of mobility. They are places where residents can receive the care they need in order to maintain their health. 
Moving to a nursing home is typically thought of as a more permanent move, as opposed to a temporary stay in a skilled nursing facility for rehab and recovery. Nursing homes provide nursing care, assist residents with activities of daily living (also known as custodial care), and offer a calendar of activities to promote resident engagement and build community.
How is a skilled nursing facility different from a nursing home?
The biggest difference is that a SNF provides a higher level of specific care. Nursing homes are designed around providing more generalized care which doesn't necessarily require a higher level of certification or training. Of course, facilities that offer a high level of care will have staff that received some form of professional training.
However, nursing homes can have staff with the skills and certifications that qualify under skilled nursing in order to provide general, ongoing care and medical monitoring. In other words, a nursing home has the option of employing skilled specialists while SNFs absolutely require skilled specialists. 
Without the advanced training required by an SNF, nursing homes are often less equipped to deal with recovery from an acute illness, or restoring function that was lost after a hospital stay. Specialized services available at a SNF such as physical rehabilitation, cardiac care, pulmonary rehab, post-stroke recovery, wound care, and speech therapy will not likely be available in a nursing home.
Some of the same services performed at SNFs can also be done at nursing homes such as assistance with activities of daily living (bathing, feeding, etc.), dialysis, medication management, blood sugar testing, and insulin injections. Again, the difference is that nursing homes perform these services where the senior lives full-time, while SNFs perform those services in a more medically intensive, short-term setting. 
Are there cost differences between skilled nursing facilities and nursing homes?
In general, nursing homes tend to be more expensive to the consumer as insurance is less likely to cover the service. 
Medicare will cover a skilled nursing facility as long as there is a need for skilled service, meaning oversight by a professional medical team. Skilled nursing care provided in any setting for any duration must be ordered by a doctor to be covered by Medicare, Medicaid, the U.S. Department of Veterans Affairs, or private health insurance.
Medicare does not cover custodial care, which is what a nursing home would fall under. In the state of Massachusetts, paying for a nursing home requires either private funds, Medicaid, or long-term health insurance.
Long-term health insurance can help pay for many types of long-term care, including skilled and non-skilled care. Coverage can vary greatly depending upon the provider and whether or not they cover pre-existing conditions. Some policies may cover only nursing home care, while others may include coverage for a range of services, such as assisted living, medical equipment, and informal home care. Make sure to do your research to find the best policy to suit your needs.
Looking for a skilled nursing facility in the Boston area?
Overall, there is a fair degree of overlap between skilled nursing facilities and nursing homes. The differences between them can be especially confusing considering that skilled nursing is available in a nursing home setting. In general, a SNF is a short-term facility with medical specialists dedicated to various forms of rehabilitation, while a nursing home focuses on long-term care. 
Meeting certification and licensure requirements is very important but is just one part of effective senior care. No matter the type of facility, the emphasis should be on meeting your mental and physical needs as well as your emotional wellbeing. 
Hebrew SeniorLife offers two skilled nursing facilities in the Boston area, in Boston and Dedham. We help seniors with a variety of health conditions and specialize in cardiovascular, orthopedic, and neurological recovery. Each patient receives an individually crafted plan from our integrated team of Harvard Medical School-affiliated experts. If you're looking for a skilled nursing facility for yourself or a loved one, contact us online or at 617-363-8372.
Learn More
Hebrew Rehabilitation Center in Boston and at NewBridge on the Charles in Dedham offers five-star skilled nursing care and rehabilitation after a hospitalization, surgery, or other illness, so you can return to the people and activities you care about most.