The Health Benefits of Pets for Seniors
Pets provide a variety of physical, mental, and emotional benefits. Learn why pets can be great companions for older adults, and how to find the best fit.
The Health Benefits of Pets for Seniors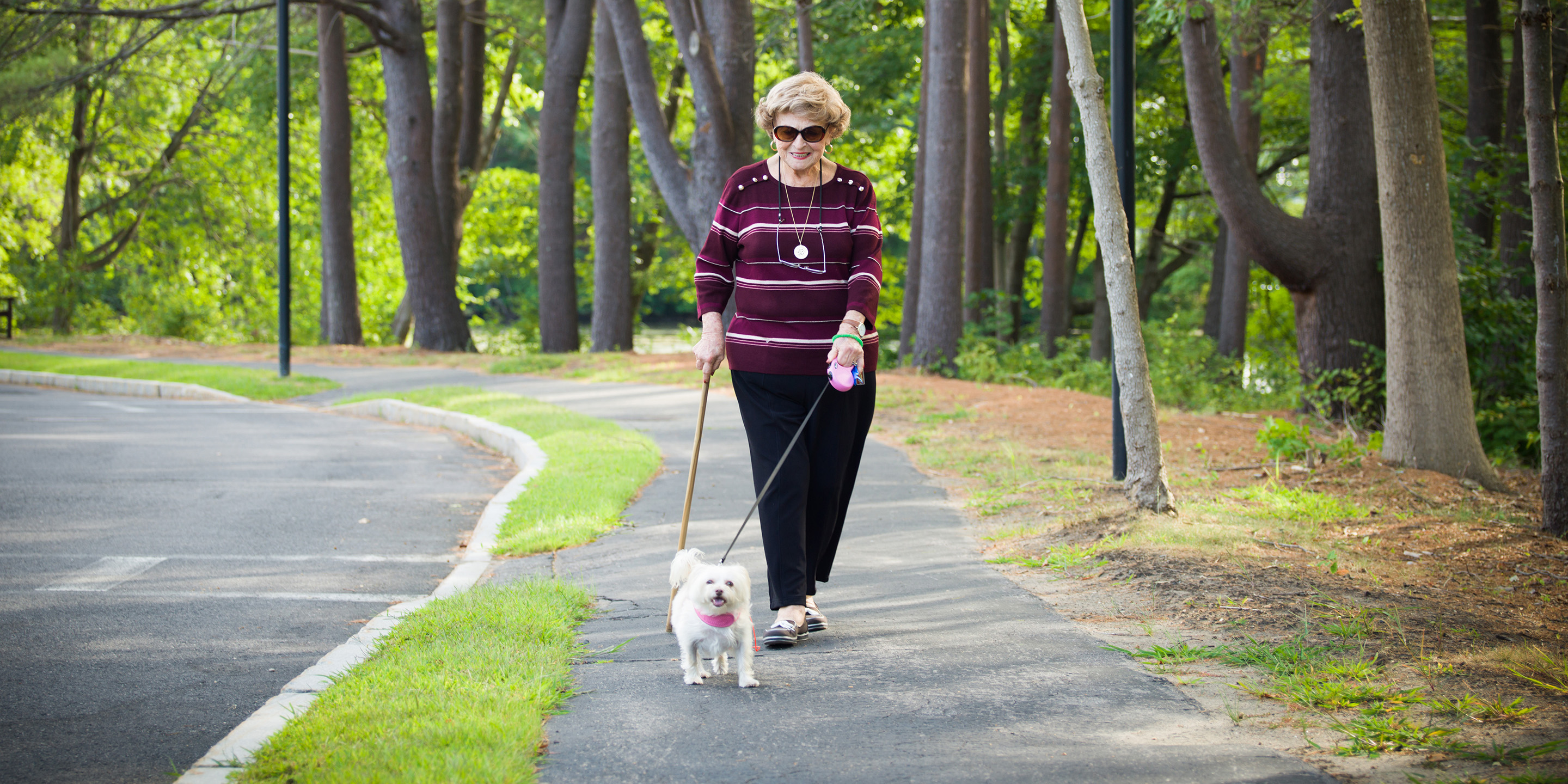 Cute pictures of pets are a guaranteed way to make us smile. But did you know that there are demonstrable health benefits to pet ownership as well? Especially for seniors, the responsibility of caring for a pet offers a multitude of benefits. Pets help keep their owners active and provide mental health benefits. 
In fact, a study has revealed that pet owners over the age of 65 visit the doctor 30 percent less than people without pets.   
Of course, there are the obvious benefits of specially trained service animals. This post, however, will focus on standard pet ownership. It will also help you pick the right kind of pet depending on your lifestyle.
Physical health benefits of pet ownership
There are physical health benefits to pet ownership. Simply petting a dog can decrease the level of the stress hormone cortisol and increase the level of the mood-regulating hormone serotonin, resulting in lowered blood pressure and heart rate. Positive interactions with dogs also increase the "feel good" hormone dopamine, which can elevate your mood. 
Pets encourage their owners to move around. This is especially true when it comes to dogs, whether that's playing with them in the house, taking them for potty breaks, or going for a walk. Walking is a great way to improve cardiovascular health and muscle strength. In general, exercise helps with weight control, and reduces risk of chronic conditions such as heart disease, stroke, cancer, and diabetes. 
The responsibility of caring for a dog will keep you active every day, even if it's raining or snowing, as dogs will always need to go out. And research shows that multiple shorter periods of exercise throughout the day - like you might get if you take your dog out for 15 minutes at a time, a few times a day - is just as effective as one longer workout.
Mental health benefits
Furry companions are good for our minds as well. Having another living being to care for can help seniors, especially those that are retired, add structure to their day, such as the daily routines of feeding or playing with a pet, or taking a dog outside. Research has shown that having a routine offers improvements in mood and cognitive functioning while also decreasing the chances of developing major depression. 
Additionally, going outside with a dog might encourage you to explore different places, such as parks, different neighborhoods, or nature areas. Senior communities such as Orchard Cove or NewBridge on the Charles feature walking trails and natural areas. 
Dogs can be great ice breakers so going for walks with them can be a great way to meet new people. A study has shown that pet owners are significantly more likely to meet their neighbors than non-pet owners. 
Just ask NewBridge resident Bonnie Rosenberg who often walks the two miles of walking trails through its 100-acre nature preserve with her dog Blake Shelton. "It's been a really, really sweet way to get to meet people. Everybody knows Blake. It made it very easy to move in because everybody loves Blake. The other dogs like him and the people like him," says Ms. Rosenberg.
The calming influence of pets is beneficial to our health overall. Pets help you live in the now and increase mindfulness.They help reduce anxiety, and can increase a sense of security leading to improved sleep. The fact that pets can help seniors stay active means that they can help decrease the risk of cognitive decline.  
There's also the companionship provided by pets. Knowing that your pet relies on you can provide a sense of purpose. Also, animals can sense our moods and some might say they know you better than you know yourself. They pay very close attention to their owners and know when they are feeling down. This emotional support can be a consistent boost for seniors who may feel lonely, isolated, or just need a little distraction from everyday troubles. 
Lower-maintenance pets have benefits, too. Researchers have found that people with Alzheimer's disease who are exposed to fish tanks appear more relaxed and alert. It's likely that anyone could benefit from the meditative nature of spending a few minutes observing colorful fish swimming around.
Finding the right pet for a senior
Of course, all these benefits can only be felt if the pet is a good fit. Otherwise, a pet might be a burden and a source of stress, rather than a stress reliever. Depending upon your lifestyle, certain pets might be easier for you to care for than others. Here are some questions you should think about when determining what kind of pet will work best for you or the older adult in your life
How often will you be away from home for work or travel? 
A cat might be a better choice for someone who likes to travel, since they can be cared for by a pet sitter simply stopping by every day or two. If you're gone from the home for long stretches of time during the day, cats or an older dog could be a good fit. Dogs that need a lot of attention, whether due to their age or personality traits, are better for those who spend more time at home.  The good news is that older adults who no longer work full-time are likely to have more flexibility to spend time with a pet than they did when they were working and raising a family.
What's the financial commitment and does that fit your budget?
Ensuring that your pet is healthy and happy requires a financial commitment. Before you take on the responsibility of caring for a pet, you should make sure that its care will fit into your budget.
On top of regular check-ups to the vet for check-ups, and vaccinations, you may be hit with large unexpected costs if your pet gets sick or injured. One option to consider is pet insurance to help with those costs. 
The bigger the animal, the more their food, medication, and supplies they need. The additional costs of a 100-lb dog versus a 20-lb dog can add up.
You might need to set up your space to be more pet friendly with things like pet gates, a bed, toys, and cleaning supplies.
If you're not inclined to bathe your pet or trim their nails at home, you will need to consider grooming costs.
For those who travel — frequently or otherwise — you will need to pay for boarding your pet or petsitters.
How much energy can you devote to your pet?
Make sure you will be able to give your pet the attention it needs to flourish and be happy. Older adults should take into consideration their own health needs when deciding what type of pet is the best match.
How active is your pet going to be? A rambunctious puppy or kitten is going to want to play even if you are unable to. Plus you will need to train your pet. Do you have the patience or inclination to housebreak a puppy?
High-energy dog breeds require frequent walking or a large yard to run around in. If you're someone who loves hiking and walking several miles a day, a high energy pet might be a good fit and a fun companion to share your outings with. On the other hand, a slightly older dog might not need quite as much exercise and could be a good choice for someone who isn't quite as active. Do some research or talk with a shelter to see what would be most realistic for you.
Though senior dogs are more likely to spend their days napping beside you, keep in mind that they can have medical issues of their own which make caring for them a little more involved. 
Certain breeds like labradors are notorious for chewing on furniture. This might not be a good fit if you have lots of priceless antiques around. 
You also need to train your dog to walk properly on a leash and return to you if let off the leash. Adopting a dog that is already trained or is naturally slower could be a good idea. If you have mobility issues, a big dog pulling on a leash might not be a good fit.
Is there anyone who can help you? 
Potentially, an illness or an injury might hamper your ability to take care of your pet. You'll need a backup plan. Do you have friends or family members who can take care of your pet? If not, do you have other options like boarding with short notice or a reliable pet sitter?
For seniors, pet ownership encourages positive health outcomes in many ways; improving mental health, providing physical stimulation, and reducing stress. Whether it's a dog, cat, fish, hamster, or another animal, take a moment to consider what you are looking for in a companion and there's bound to be one that fits your needs. 
Pet-friendly senior living in Boston
Once you've found your new friend —or if you already have one— feel free to bring them with you to the pet-friendly campuses of Hebrew SeniorLife's continuing care retirement communities, Orchard Cove in Canton and NewBridge on the Charles in Dedham. There, you'll find communities of fellow pet owners ready to welcome you and your companion, along with plenty of outdoor spaces to enjoy. Reach out to Hebrew SeniorLife for independent and assisted living options for you and —potentially— your pet.
Blog Topics
Learn More
At NewBridge on the Charles in Dedham, MA, you'll find modern senior living on a 162-acre intergenerational campus. We offer a complete continuum of care to support your best life, as you define it.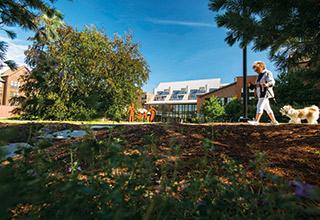 Orchard Cove, in Canton, MA, offers living options that span the full continuum of care, including independent living. The community is bustling with activities, from life-long learning to entertainment.