The Health Benefits of Having a Daily Routine
How and why you should incorporate healthy and sustainable habits every day.
The Health Benefits of Having a Daily Routine
Throughout the last year, we've all had to adjust our daily routines in many ways - like working from home or going to the grocery store during "senior hours," and figuring out how to maintain mental and emotional stability. It's caused us all to pause and take a step back and realize the way we are living now is so different than we used to. This shift has been quite hard for some but easier for others, depending on their mentality and perspective. Disruptions to our routines can be difficult at any age. 
People are supported by structure and routine in their life and can feel lost without it. This can be even more pronounced after retirement, when the natural rhythm of a workday is gone. A daily routine helps set your mind up for success and helps make sure important tasks get done such as taking medications, eating healthy, and daily hygiene. As executive director of Vitalize 360, I have witnessed first-hand that older adults who live with a sense of purpose and practice self-care ﹘ like having a daily routine ﹘ flourish as they age. 
Vitalize 360, which was created by Hebrew SeniorLife in partnership with Kendal, is a program in 23 nonprofit senior living organizations nationwide that fosters individualized well-being by supporting older adults in remaining focused on what matters most as they progress through life. It's part of life in every Hebrew SeniorLife community, at no additional cost to our residents of all income levels. 
Here are a few of the tips we share with Vitalize 360 participants about how and why a daily routine is so important, and some ways that you can add structure to your days if you're feeling a bit lost.
How a Daily Routine Can Help
Maintaining a consistent daily routine may sound a little boring to some people, but it actually has many health benefits.  
Our bodies like to know what's going to happen. Our nervous systems constantly take in sensory information so they can respond to what's happening around us. Routine allows the body to get used to what's going to happen next. We don't have to use as much energy to scan the environment, and we can relax into the rhythm that has been established through our routine. 
There are three things a consistent daily routine can help with:
Reduced Stress and Anxiety ﹘ a daily routine will help with decreased levels of stress and anxiety because you can plan for what's ahead and know exactly what the day can bring. Our brains actually require most of our energy, and having routine reduces the number of decisions you make in a day. Fewer decisions can reduce stress and anxiety, which can lead to poor health and decreased energy levels.
Sleep ﹘ a daily routine will greatly help your quality of sleep each night. This benefits your mental sharpness, emotional well-being, and energy levels throughout the day. It's best if you can maintain a consistent time for waking and going to bed. Read more about ways to get a good night's sleep.
Safety and Security ﹘ a daily routine lets you predict your day. It can allow you to feel safe and secure. It can be more challenging for older adults to adapt to surprises in their day, so a predictable framework can be a good coping strategy.
How to Maintain a Routine
You'll need to find a routine that works for you and your lifestyle. If something doesn't seem to be working, you can adjust and consider a new routine.
Here are six tips to help you create the most successful daily routine: 
Align with nature's daily cycle. It's a good idea to align major physical activities with nature's 24-hour cycle. This will give your mind and body the gift of predictability by creating rhythm. It's beneficial to aim to keep your wake time, meal time, and sleep time consistent every day. Notice when your energy peaks and dips throughout the day and plan accordingly.
Mindfully bookend your day. You should begin the day intentionally. Plan how to use your energy budget for your day and then if possible, end the day reflectively. Find a space to digest the day's activities and events and process what went well throughout your day.
Move, move, move. Not long after waking, and throughout the day, try to get up and move as much as you can. This helps support blood flow, oxygen, and nutrition to bodily tissues: muscles, organs, and the brain. It also helps support the detoxification that our lymphatic system needs to keep pumping. Exercising in the comforts of your home can help, too. Try these three bodyweight exercises that you can do at home with only a chair, as demonstrated by Chris Young, fitness director at Orchard Cove in Canton, MA.
Get outdoors. It's important to get outside, no matter the weather or temperature. Being in nature helps our bodies to effortlessly "reset." We benefit from fresh air, sunlight, and the chance to align our system to the season's elements. Daylight also helps set our body's natural rhythms of sleeping and waking.
Make time for meaningful moments. Every day, realize moments that are meaningful to you. That can consist of many things, like connecting with a loved one, prayer, writing in a journal, daily acts of kindness, reading a book, or just doing something that makes you happy.
Restore and renew. Make sure to make a mental note of what depletes you and what restores you or "recharges your battery." Sleeping is not the only way to restore our bodies and minds.  When we engage in activities that bring us calm, pleasure, or a sense of flow, such as a creative pursuit, we can actively renew our energy. Taking small breaks in the day to practice gratitude, take a 10 minute walk outdoors, or do some mindful breathing can recharge us. 
A daily routine can bring peace, predictability, and calm to your life, reducing stress and anxiety and creating a better, healthier lifestyle. I hope these tips help you or your loved one establish a daily routine that is beneficial, healthy, and safe.
Vitalize 360 is a proven way to improve the health and quality of life of older adults and it empowers participants to direct their lives and their health care. At Hebrew SeniorLife, it's offered exclusively to residents of our five senior living communities as part of our mission to help seniors think, dream, and achieve life goals at any stage of life.
Blog Topics
Learn More
Hebrew SeniorLife offers a variety of senior living options, including independent living, assisted living, and enhanced living. There are options for every lifestyle and budget.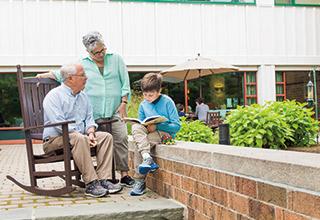 We empower seniors to meet their wellness goals using Vitalize 360, an innovative health and wellness platform that combines one-on-one coaching with research-based tools.