How to Prevent Malnutrition in Older Adults
Know the signs to look out for and how to help an older adult avoid poor nutrition.
How to Prevent Malnutrition in Older Adults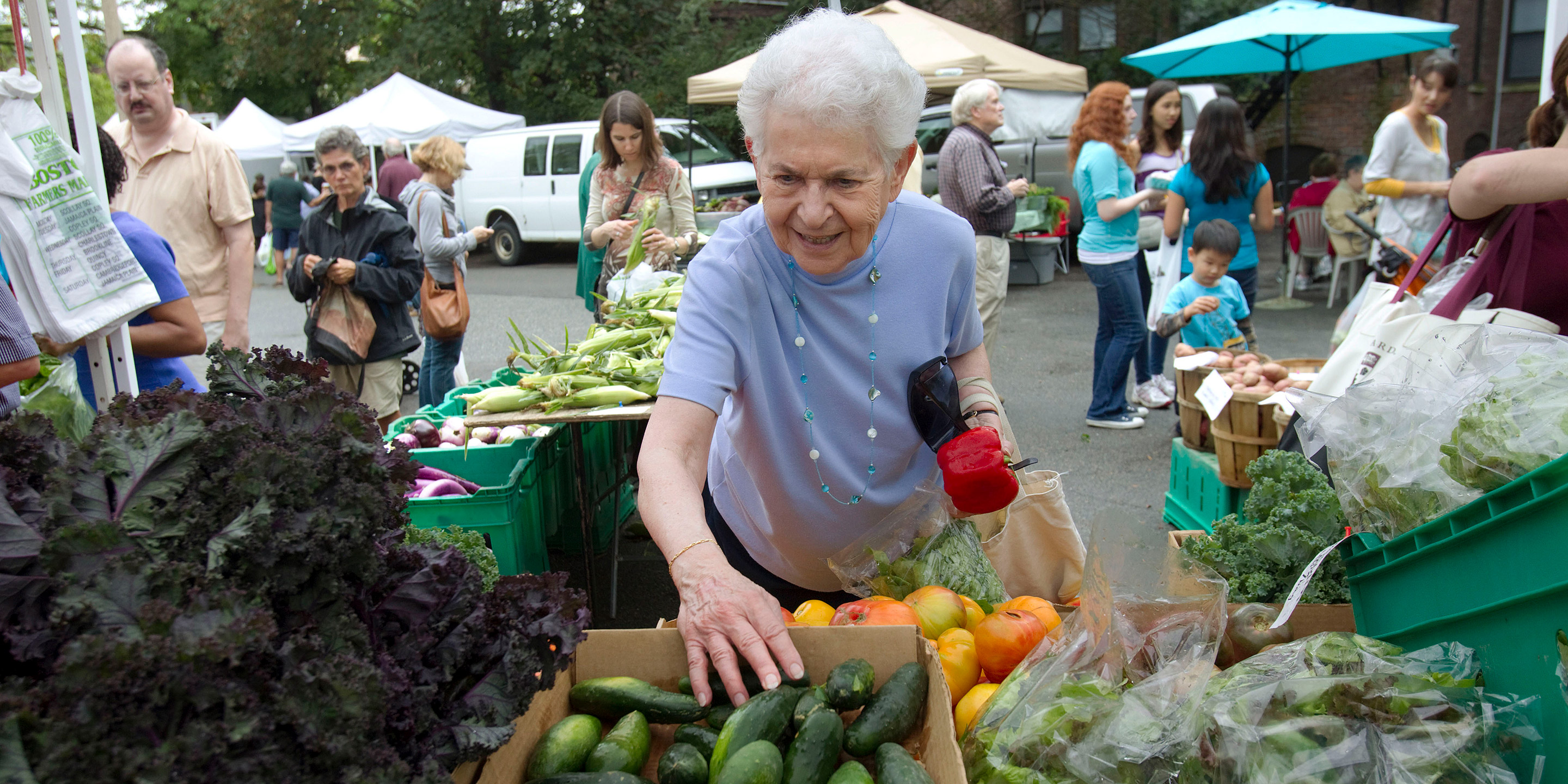 Malnutrition is defined as the lack of proper nutrients for someone to function. It can be a combination of many different factors, including an imbalance of protein, calories, vitamins, and minerals. According to the National Council on Aging, senior hunger and nutrition are significant issues in the U.S., with more than 10 million older Americans at risk of hunger and about 10% of adults experiencing malnutrition.
As we get older, it can be more difficult to make sure your body is getting the proper nutrients it needs. As a clinical nutrition manager at Hebrew Rehabilitation Center, my job is to make sure the patients and residents we care for have proper nutrition every day. In this environment, we can closely monitor patients to make sure they're getting what they need, and adjust their personalized nutrition plan as necessary.
Seniors living independently in the community can face more challenges to ensuring proper nutrition. There are some signs and symptoms of not getting the proper nutrients that have serious consequences.
Causes of Malnutrition in Seniors
Although malnutrition can happen to any population, older adults are at a higher risk for many reasons. Seniors may experience decreased appetite, weight loss, decreased mobility, and limited access to healthy food, among other challenges. Older adults may not be able to absorb nutrients as quickly, they may have difficulty swallowing, dementia, or taste changes. As we age, it may become increasingly harder to shop or cook by yourself, which can cause a person to lack the nutrients and fresh foods that are so important to staying healthy. 
Another cause of malnutrition among seniors that can't be overlooked is poverty. According to Feeding America, 5.3 million seniors aged 60 and older - or 7.3% of the senior population - are food insecure, meaning they lack adequate access to food. Too many seniors on a fixed income are forced to make difficult choices between paying for food, rent, heat, medical costs, and other basic expenses.
Potential Health Complications 
Not getting enough vitamins, nutrients, and supplements can have lasting effects on your body, especially in older adults. Several health complications can potentially be related to malnutrition - some are more serious than others. 
Increased mortality.
Immune suppression, which makes it difficult to fight infection or recover from surgery or illness.
Muscle wasting, which affects being able to conduct activities of daily living like bathing, dressing, and feeding.
Increased risk of falls as an older adult becomes weaker.
Longer length of hospital stay, complications, and readmissions after discharge.
Higher health care costs. 
In fact, disease-associated malnutrition in older adults costs the U.S. more than $51 billion in increased health care costs each year.
Tips to Help Prevent Malnutrition
What can you do to prevent malnutrition in seniors you love? The most important thing is to be observant. If you notice that your loved one is losing weight, gaining weight, seems weak, or has wounds that are slow to heal, speak up. Ask your loved one about their daily eating habits, and take a peek in the kitchen to see what kinds of foods are in stock. 
Here are some ideas to help stimulate your or your loved one's appetite, and to maximize nutritional intake:
Consider easily-prepared, nutrient-dense, high protein foods with a longer shelf life such as peanut butter, canned meats, eggs, yogurts, cheese, milk, nuts, and seeds. 
Consider frozen or canned fruits and vegetables for the longest shelf life.
Many stores offer pre-cooked meals or entrees. This saves you energy for eating.
When your appetite is poor, it is best to maximize each bite! Add extra toppings such as peanut butter and jam on toast or butter and brown sugar on sweet potato; add gravies, sauces, or butters to potatoes and vegetables.
Have high calorie protein snacks at night: Ice cream or yogurt frappes, instant breakfasts, greek yogurt, puddings, nuts and seeds, peanut butter, or cheese and crackers with milk.
Stimulate senses and appetite by setting a table with a place mat and flowers. Listen to music or watch television with meals. You could even set up FaceTime or Zoom to eat with extended family.     
When Should You Start to be Concerned?
Many older adults live alone and children or a friend may notice signs that something may not be right. If you're not able to visit in person, just talking with your loved one may help you realize something could be wrong. 
Malnutrition can become serious quickly. Contact a doctor immediately if you notice any of the following:
Sudden loss or decrease in appetite.
Eating less than 75% of a meal for more than a week. 
Episodes of nausea, vomiting, or diarrhea for more than three days.
Unexplained weight loss of more than 10 pounds.
A decrease in activity level.
Doctors and dieticians can screen for malnutrition and food insecurity to identify when there's a problem.
Screening for Malnutrition
The Malnutrition Screening Tool (MST) - which is used by Hebrew Rehabilitation Center dietitians - can help identify people who have or are at risk of malnutrition. This initial screen helps to identify patients at Nutritional Risk who need more consultation with a dietitian. 
The Malnutrition Screening Tool asks two simple questions to identify if your loved one is at nutritional risk for malnutrition.
Have you recently lost weight without really trying?
If yes, how much weight have you lost?
| | |
| --- | --- |
| Response | Points |
| 2-13 pounds | 1 |
| 14-23 pounds | 2 |
| 24-33 pound | 3 |
| 34 or more pounds | 4 |
| Unsure | 2 |
Have you been eating poorly because of a decreased appetite?
| | |
| --- | --- |
| Response | Points |
| No | 0 |
| Yes | 1 |
To determine your score, add weight loss and appetite to determine your MST score. An MST score of 2 or more indicates your loved one is at risk and it is time to intervene with nutritional support.     
Health care providers also screen for food insecurity, which can lead to malnutrition, especially among older adults. A quick way to assess if your loved one lacks access to enough food is to utilize the Hunger Vital Sign. It's a series of questions and steps that allows dietitians and health care providers to assess how severe the situation is: 
In the past 12 months have you been worried that the food would run out?
In the past 12 months, have you bought food that didn't last?
If the answer is true or sometimes true to EITHER STATEMENT, your loved one is food insecure.  
Step 1: If food-insecure, assess for co-existing risk factors for poor nutrition.
Poor food access (limited ability to travel to stores)
Frailty or cognitive decline
Dental problems
Social isolation (the risks have increased because of the pandemic)
Lack of appetite
Limited ability to complete the physical activities of preparing food or feeding oneself
Lack of cooking or storage equipment
Step 2: Track your weight over time.  If you're unable to, you can monitor the fit of your clothes.
Step 3: Refer to resources.
There are many resources for you or your loved one if they're struggling with malnutrition or food insecurity. 
Food pantries for free food or grocery items for people of all ages.
Home delivered meals (in the Boston area, for example, Springwell, Empath, Ethos, Meals on Wheels) for those aged 60 and older. Call the Office of Elder Affairs at 617-727-7750 or visit Meals on Wheels online and click "find a meal."
Medically tailored meals (e.g. Community Servings) can meet the needs of those with specific health conditions such as diabetes, kidney disease, and diabetes.
Enroll in all eligible household benefits, such as Medicaid, utilities/transportation assistance, and SNAP benefits (formerly called food stamps).
Patient assistance programs for support with medications so a senior does not have to choose between food and medications.
Grocery and meal delivery services can be ordered online or by phone by many grocery stores.
Regional elder care agencies in Massachusetts, known as ASAPs (Aging Service Access Providers), can help you coordinate care and understand which services your loved one may be eligible for.
Lizzie Russo also contributed to this blog post.
Learn More
Hebrew Rehabilitation Center provides skilled care and support after illness or surgery and offers long-term chronic care and specialized care for those with memory loss.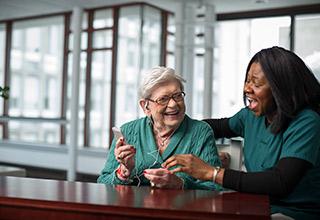 Hebrew Rehabilitation Center provides person-centered extended medical care in a homelike setting for patients with chronic illness. As a licensed long-term chronic care hospital, we provide higher-level, more comprehensive medical care to older adults than a traditional nursing home.