How to Support a Friend Who is Living with Dementia
Learn ways to show compassion and support after a diagnosis
How to Support a Friend Who is Living with Dementia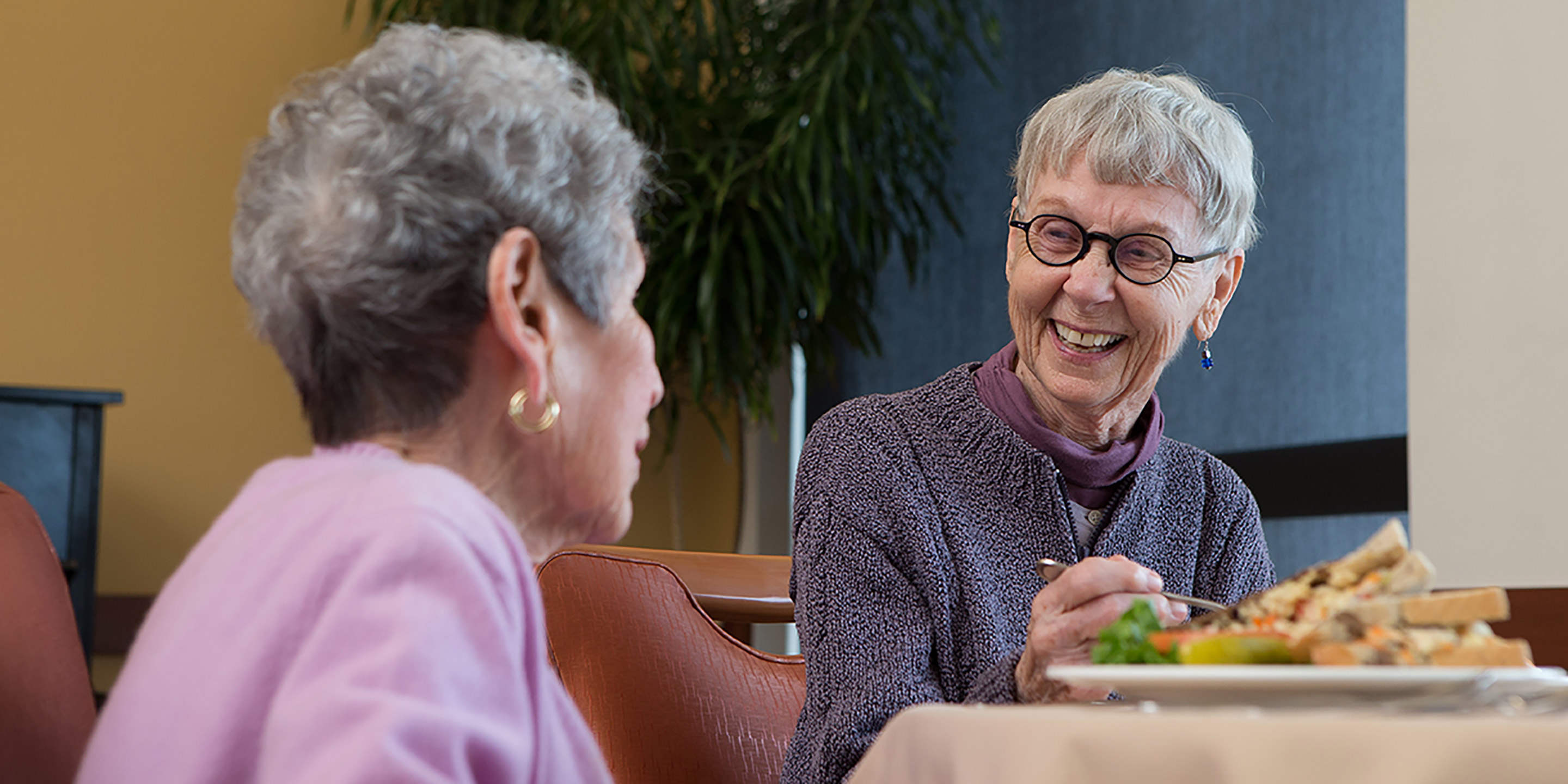 Receiving a diagnosis of dementia including Alzheimer's disease and other diagnoses can trigger a cascade of emotions. Many people diagnosed with Alzheimer's disease or dementia still fear stigma and experience confusion over how to maintain their life, particularly during the early stages of the disease. At a time when a person most needs support, they may feel very isolated from their friends and community.
If it's your friend who's been diagnosed, you may also be faced with uncertainty and fear associated with the diagnosis. This can include concerns about the future of your friendship, how you can help, and how you can be helpful to your friend or their family. Educating yourself on potential signs and symptoms of dementia can help you feel more prepared for interactions with your friend. 
Although it's an uncertain time, you can still maintain your friendship and support the person you care about through their dementia diagnosis. It's important to remember to have patience, flexibility, and open communication to show your friend that you're there to help them through this difficult time.
Here are a few tips for maintaining a friendship after a dementia diagnosis.
Communicating with a person with dementia
While you might be afraid of saying the wrong thing, the worst thing you can do is say nothing at all, avoid your friend, or act as if nothing happened. It's crucial to continue to communicate with your friend throughout their journey. You don't want them to feel like you're excluding them from any conversations around them.
Ask your friend if they want to discuss their diagnosis. By talking about dementia, we can work to reduce the stigma. Your friend is likely having some emotional response to their diagnosis, and offering a friendly shoulder to cry on or ear to listen is a great role for a friend. 
Use body language and gestures as you communicate to help your friend better understand what you're trying to say if their cognition is starting to decline.
Use trial and error when communicating with each other and spending time together. If you find something that works – an activity or a way of explaining something – keep using it until it doesn't work or isn't useful anymore.
How to spend time together
While your friendship may change over the course of the disease, your consistent presence in your friend's life can be incredibly beneficial for both of you. Try to remember what first brought you together and focus on what still remains, as opposed to what's been lost.
Monitor for changes in behavior, or any signs that safety is becoming an issue, and be in touch with your friend's spouse or family.
Keep doing the activities you typically like to do together, until they are no longer able. Maintaining their hobbies and routines is helpful.
If the activities you enjoy together involve a lot of stimulation or multiple steps, monitor your friend to make sure they don't become overwhelmed or confused. The activity may require some modification over time.
Ensure that they are getting enough social contact. You can even enlist other friends to check-in frequently.
Ask their primary caregiver (e.g., spouse or child) if there are any tasks that you could take on for them. There is a direct correlation between the mental health needs of the caregiver, and those of the care recipient. It may be that simply spending time with your friend so their caregiver can take a break is the biggest help you can offer.
Help your friend focus on the abilities that they still have, rather than the ones they are losing. If you used to enjoy sewing together and your friend no longer has fine motor skills to sew, having them pick out colors and make suggestions could be a good alternative.
Stimulate their memory by reminiscing about old memories; they are more likely to recall them well, and will enjoy the trip down memory lane! Listening to music you've enjoyed together can be a helpful trigger. 
Resources to help a friend with dementia
Dementia is a progressive illness that requires continual adaptation by your friend, their loved ones, and friends like you. If your friend gets frustrated or upset, try to give them support by letting them know you are there for them. There isn't always a solution to the problem but being present and supportive can go a long way in getting through a difficult moment.
There are various resources to help you show comfort and compassion to your friend during their journey.
Becoming a Dementia Friend is a way to show support, learn more about dementia, and end the stigma around the disease. 
You can create a CaringBridge account (or other similar apps) for your friend's caregiver. It can help that person assign tasks, provide updates, and more to their friends and family.
You can help your friend start recording their most special memories and stories through different sites like StoryWorth or StoryCorps.
If you or a loved one is experiencing symptoms of memory loss, you need a place to  turn for diagnosis, education, treatment, and services. The specialized staff at Hebrew SeniorLife's Deanna and Sidney Wolk Center for Memory Health helps individuals with cognitive impairments—and their caregivers and family members—get the information and care they need. Interested in learning more? Call us at 617-363-8600 or contact us today.
Lori Feldman, Rachael Falk, and Nathaly Lopera also contributed to this blog post.
Blog Topics
Learn More
The Deanna and Sidney Wolk Center for Memory Health at Hebrew SeniorLife provides outpatient memory care services, in person and virtually, for people living with cognitive symptoms — and for their families and caregivers.