A Nonagenarian's Thoughts on Love
Chapter 42 of "Aging Wisely…Wisdom of Our Elders"
A Nonagenarian's Thoughts on Love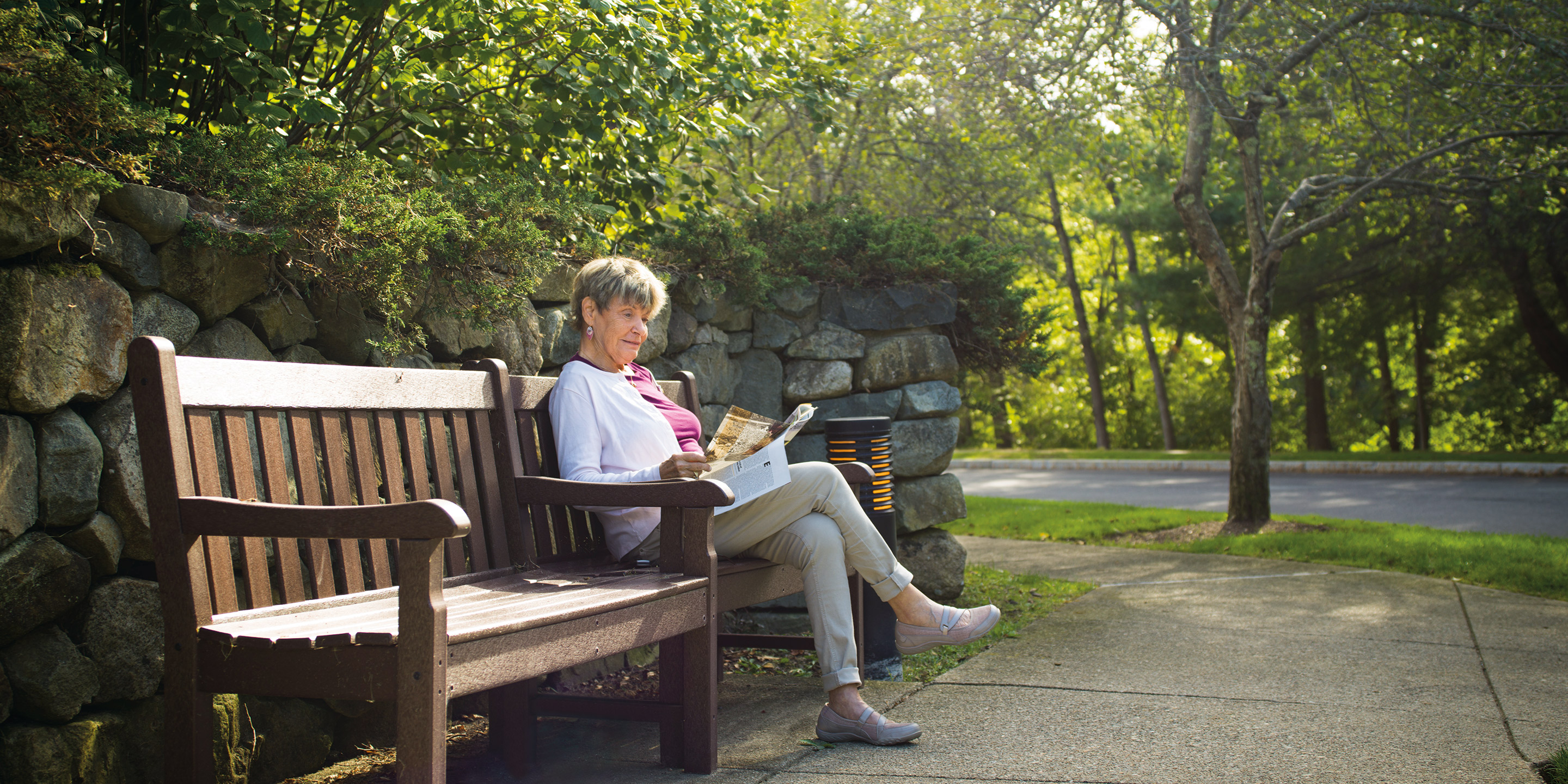 In July 2017, 97-old-year NewBridge on the Charles resident Irving Silverman published a collection of essays on the experiences of aging titled Aging Wisely…Wisdom of Our Elders, co-authored with his daughter, Ellen Beth Siegel. The anthology features essays from Irving and his daughter, as well as fellow residents at NewBridge on the Charles senior living community in Dedham, MA, and Hebrew SeniorLife staff.
With gratitude to the contributing authors, Irving, Ellen, and their publisher, Jones & Bartlett Learning, we are featuring select chapters on the Hebrew SeniorLife blog. Below is Chapter 42, written by Irving and excerpted in its entirety.
Aging Wisely…Wisdom of Our Elders is now available for purchase on Amazon, or contact your local book seller to find a copy near you!
Love and Loneliness in Older Age
Irving I. Silverman
Visually handicapped since birth, Irving I. Silverman graduated from the City College of New York's Baruch School of Business and enjoyed a 45-year career at the National Knitwear Association. His many other accomplishments include establishing the Long Island chapter of Parents Without Partners following the death of his first wife Henrietta; serving as the President of the New York Region of United Synogogue, the governing body of the Conservative Jewish movement; creating the Kosher Food and Jewish Life Expo; and designating his lighthouse in Maine as a wedding chapel, officiating 35 weddings there. Irving's previous book, "A Triology…Three Hearts…One Soul," contains his autobiography and tributes to both Henrietta and his second wife Nancy. He now lives at NewBridge on the Charles in Dedham. "Aging Wisely…Wisdom of Our Elders," is his second book.
I have always been a very independent person, and from the time I was married, at age 23, I lived in my own home. After the death of my second wife and some health issues of my own, my children suggested that I move to a retirement community, preferably near at least one of them. At the time, I was moving seasonally between homes in Tucson, Arizona, and Mount Desert, Maine, neither of which was near any of my family. Initially I resisted their suggestions, but I eventually decided I would accept their suggestion. I therefore agreed to move to NewBridge, near two of my daughters.
When I arrived at NewBridge, I was greeted by many of the female residents with platters of cookies and other treats. I was not interested at that time in forming any new relationships, and I let that be known, gently, to the women who had welcomed me. However, as time went on and I became acclimated to living in a retirement community, I began to notice that several other unattached men had found companions among the female residents.
I was jealous! Why did they have the good fortune to find new companions in later life, while I was alone? I didn't like having dinners with no one to talk to. I missed the closeness of someone to go to the opera with, someone to share projects with. I learned, only too well, that loneliness was painful.
But, the other side of things was, forming a new relationship would be taking a risk. Could I, a person who had been widowed twice, bear it if I let myself love another person and she were to become ill? Could I manage the pain and strain of taking care of her? Could I handle yet another bereavement?
No matter what our stage of life, being open to a relationship means being open to loss. That's the trade-off for having love and closeness. I wanted the love and closeness but was afraid of the possible pain.
I tried to understand my feelings better. If I were to become attached to someone else, who would I want that person to be; what would be important to me? Both of my wives had been attractive women; I would want a new love to be attractive too. Both my wives were educated, and that was important to me also; it deepened the kinds of conversations we could have. Given my fears, it made sense to me that I wouldn't want to start a relationship with someone already ill; and it also made sense that I would want someone willing and able to help and take care of me.
I looked again at the men I knew who had found new companions. I thought my upset was that they started these new relationships soon after their wives had died. Were they being disrespectful to their wives' memories? That was something that might have deterred me in my early years of widowhood, but it didn't apply to me at NewBridge; my wife had died in 2002, and I didn't move to NewBridge until 2010. But as I thought about it, I realized that my upset was more about jealousy than it was about feeling that they were being disrespectful. They had achieved something I wanted but did not have.
I next had to look at how those other men felt about the possibility of loss. By and large, they seemed not as concerned about this as I was, therefore more willing to take the risk . . . and maybe happier in their couple-state than I was in being alone. Maybe the fact that I had lost two wives made me more fearful than someone who had had one long marriage. Maybe having traveled through life with a visual handicap made me more concerned that a partner would have to take care of me, and being vulnerable to the loss of a helpmate, as well as the loss of a partner, just seemed like too much to me.
I still am alone, and I still suffer pangs of loneliness. Not all the time, and I am grateful for that, and also for the strategies I have found to minimize the pain. Keeping busy helps. Helping others helps. Those are not merely distractions, but also ways to feel that I have accomplished something, ways to be recognized by others as a worthwhile person.
My recommendation to others who find themselves alone and lonely in their later years is to look deep inside themselves, to determine how best to balance possible love and possible loss. This is a very personal and individual decision. If you decide that you are willing and able to risk love again, look for a new partner, and remember, there are a lot of lonely people out there who are possible mates or companions for you. If you decide that there is too much risk of pain in giving your heart to another person, find comfort for yourself in being busy and in doing as much good for others as possible.
© Jones & Bartlett Learning, An Ascend Learning Company, LLC. I. Silverman, Aging Wisely...Wisdom of Our Elders (2017)
Interested in learning more about our NewBridge on the Charles community? Come visit us. Schedule a tour today. 
 
Blog Topics
Learn More
At NewBridge on the Charles in Dedham, MA, you'll find modern senior living on a 162-acre intergenerational campus. We offer a complete continuum of care to support your best life, as you define it.