What is an Age-Friendly Health System?
How we provide effective health care that meets the specific needs of seniors.
What is an Age-Friendly Health System?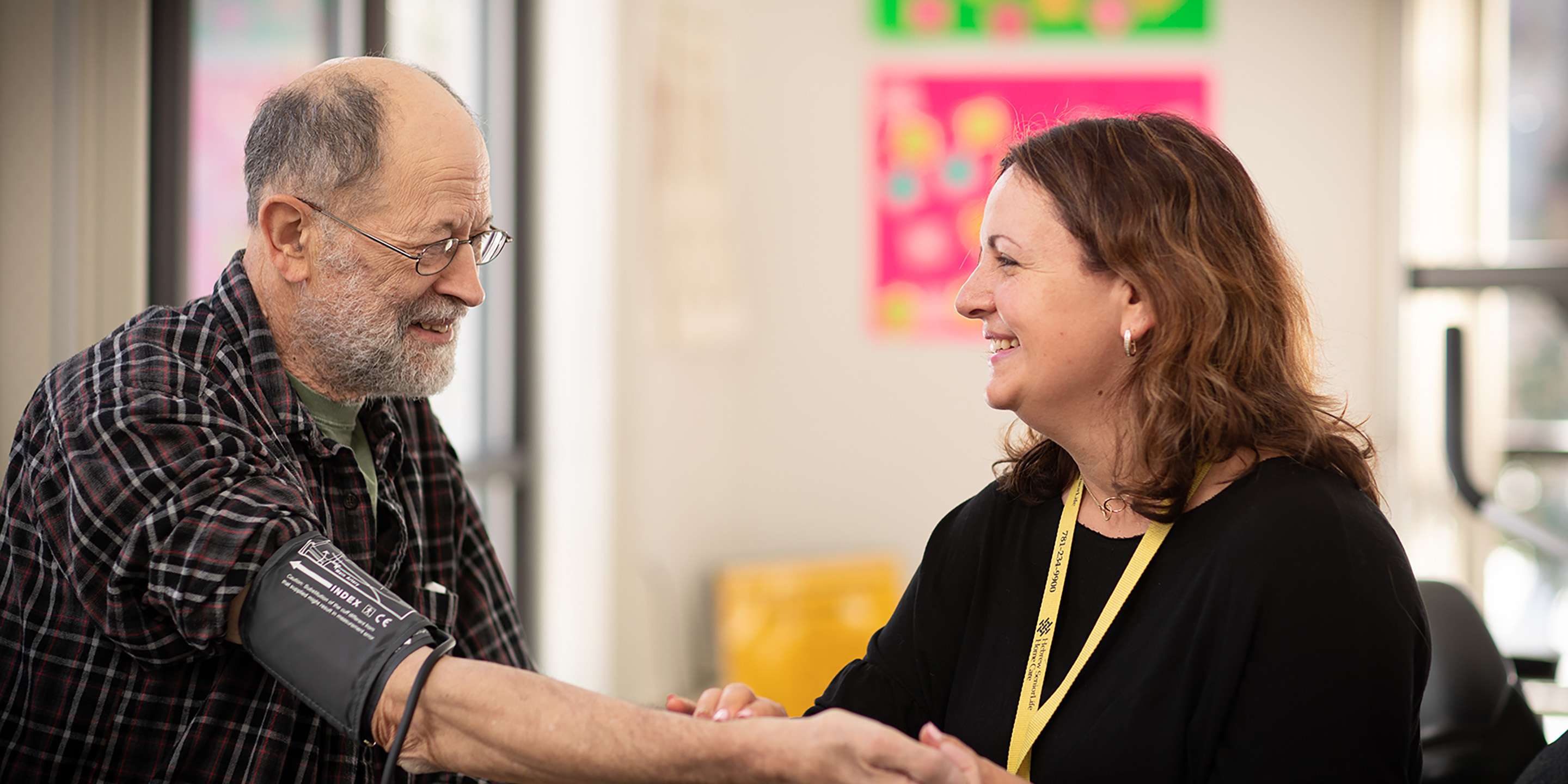 You want the best care for yourself or a loved one and often go to specialists to receive treatment. Generally, you would take your child to see a pediatrician over a general practitioner. The care provided to our older adults should be given equal respect and individualization. How do you know which places are already doing that?
The Age-Friendly Health System is a way to distinguish the organizations that provide exceptional care for seniors. Designated by the Institute for Healthcare Improvement, organizations that meet the criteria—such as Hebrew Rehabilitation Center—have expertly designed care for older adults, addressing each patient's needs, values, preferences, and beliefs as they age.
Why we need Age-Friendly Health Systems
If all patients are given good care, wouldn't that cover older patients as well? Do we really need a separate designation?
"Aging is a complicated process that impacts every part of the human body," says Jennifer Wall, Hebrew Senior Life's Chief Quality Officer. "Seniors require comprehensive care that fully considers all their specific needs. With the baby boomer generation growing older, health systems are caring for increasing numbers of older adults like no other time in history."
As we age, we often accumulate more conditions that have the potential for negative health effects, including chronic conditions such as heart disease, mobility issues, diabetes, or cognitive decline.
The traditional approach to medicine is to focus on one condition at a time. Oftentimes, each condition will be treated by different specialists who are not necessarily coordinating care. If all those specialists are not on the same page, they might miss something.
Symptoms from one condition may—in fact—be related to another condition rather than separate concerns. And the more medications you take, the greater the chance they could interact with each other or cause undesired side effects, including a higher risk of falls.
Another factor that can complicate the care of older adults is that the presence of cognitive decline or dementia can change how a person should be cared for—everything from the physical environment to how information is presented to them.
Our health system, in general, focuses on diagnosing and treating ailments. This can have the unintended effect of sidelining the wishes of the patient themselves. An important aspect of an Age-Friendly Health System is keeping in mind what is most important to each individual patient so they can live according to their goals and values. 
How does an Age-Friendly Health System work?
Based on existing geriatric care models, the framework behind an Age-Friendly Health System shapes health care to the needs of seniors. Many aspects of Age-Friendly Care are part of regular nursing and medical practice designed to assess and address concerns at every point of care. 
While the emphasis is on each patient, support for family caregivers is an essential part of an Age-Friendly Health System as well. The more that family can be educated about medical conditions and how to assist with their treatment, the more it spreads the responsibility of care. 
Learn the 4Ms
The Age-Friendly Health System operates on a set of four evidence-based standards—the "4Ms":
What Matters
Decisions around medical care should be shaped according to the preference of every individual patient. Exploring "what matters" to each older person determines their specific health outcome goals and care preferences and ensures the medical team puts together an appropriate care plan. Individualization is important: we all have different values, priorities, living situations, and health concerns that grow more important as we age. Health care providers shouldn't assume anything about a person's goals of care just based on their age.
For instance, one common concern for older adults is pain management. One person may prefer to avoid the drowsiness that could come from stronger medication, while another just wants to feel as little pain as possible. Learning the patient's priorities will help the clinician adjust their treatment plan accordingly.
The process of finding out what's important starts conversations between everyone involved in the care of an older adult, including family members and medical providers. Ideally, these conversations start when a person is healthy and able to voice their preferences, so family members who are tasked with decision-making later in life can still be guided by their loved one's wishes.
Medication
Medication should not affect what matters. The 4M framework involves reviewing the medical necessity of all prescribed medications and identifying any deemed high risk for older adults—opioids, benzodiazepines, long-acting diabetes medications, anticoagulants, anticholinergics, and others.
The aim is to deprescribe high-risk medications and the overall number of medications when appropriate. This simplifies the medication regime and reduces the potential for negative side effects that could interfere with achieving what matters.
Mentation
Mentation involves the cognitive and mental health of the older adult. Identifying and managing conditions such as delirium, depression, and dementia is a major component of an Age-Friendly Health System. Maximizing cognitive function can help an older person extend their independence and maintain quality of life. For family caregivers, knowing the signs to look out for and what to do if concerns arise helps them provide better care.
Mobility
Mobility is an important indicator of overall health. Assessing overall mobility and functional status goals, as well as fall risk, is important for all older adults at every fitness level. Any older adult, regardless of their mobility status, can improve their level of functioning with the right supports and exercises. 
Age-Friendly Care in Boston
The goals of an Age-Friendly Health System are to follow key evidence-based practices, cause no harm, and align with "what matters" to seniors and their caregivers. These goals parallel the mission and cultural beliefs of Hebrew SeniorLife.
Thus it comes as no surprise that Hebrew Rehabilitation Center's long-term chronic care and rehabilitation services units in Boston and Dedham were recently recognized by the Institute of Healthcare Improvement as an Age-Friendly Health System. The designation came after a full assessment of Hebrew Rehabilitation Center's practices where we demonstrated through the use of data how our approach aligns with the 4M quality framework. 
"Being named an Age-Friendly Health System is a national honor and validates what we have known all along: We are a leader in the Age-Friendly Health System movement," said Jennifer Wall.
At Hebrew SeniorLife Rehabilitation Center, we offer short-term and long-term inpatient care for a variety of conditions. If you or a loved one is discharged from the hospital but not ready to go home, we can provide skilled nursing care in the days and weeks following the surgery or illness. And if your loved one requires more care than can safely be provided at home, our long-term chronic care provides person-centered extended medical care in a home-like environment. Contact our Admissions Team or call 617-363-8372 to find out how we can help your family.
Blog Topics
Learn More
Hebrew Rehabilitation Center provides skilled care and support after illness or surgery and offers long-term chronic care and specialized care for those with memory loss.