Palliative Care and Dementia
What is palliative care and how can it help you cope with dementia?
Palliative Care and Dementia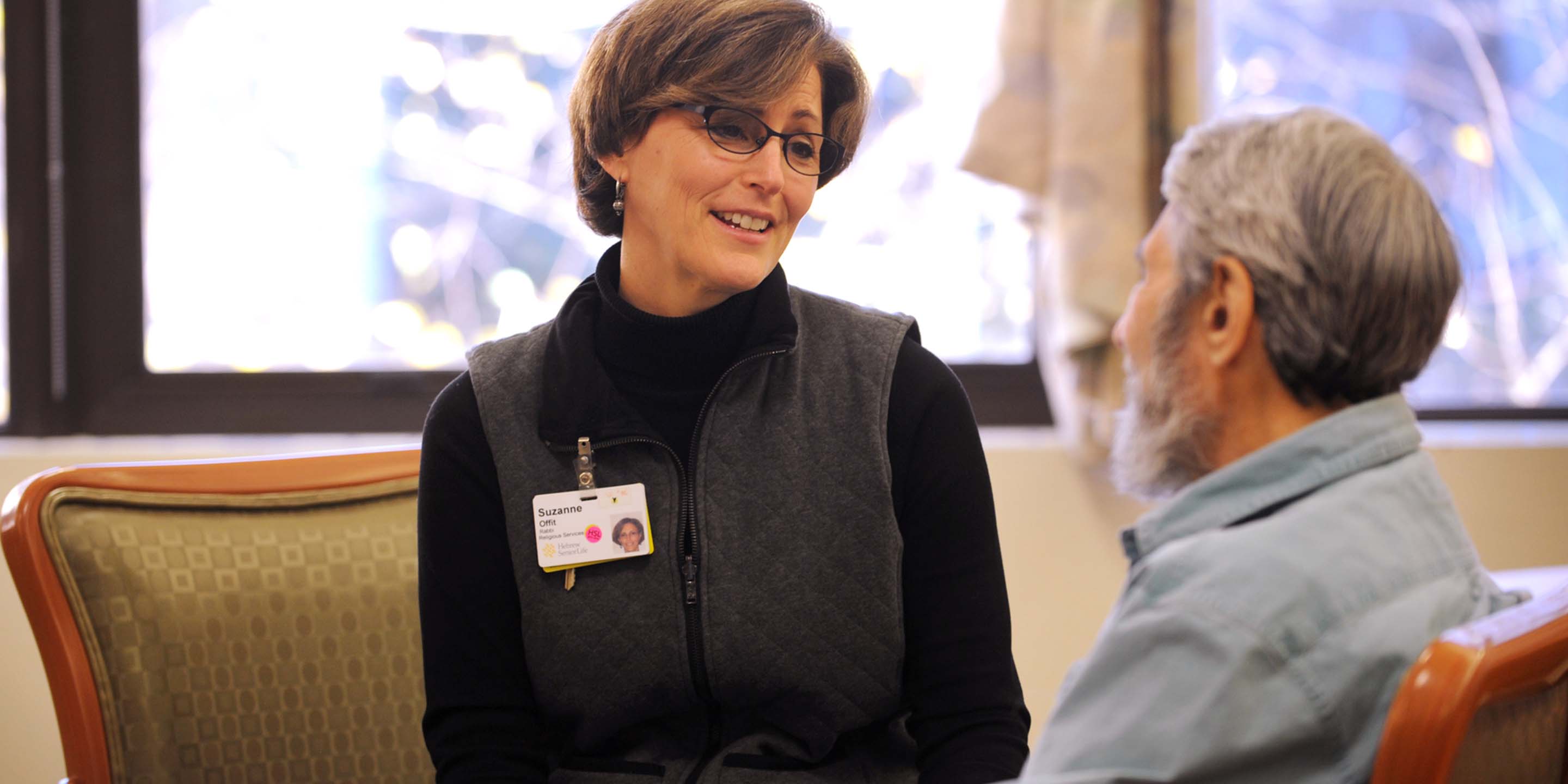 As anyone who has loved someone with dementia knows, many aspects of life are disrupted by such a confounding disease, impacting well beyond the affected individual to their family and community. The fact that dementia currently has no known cure means that every treatment option will—at most—slow down its progression. 
As a person advances through the different stages of dementia, their physical, psychological, social, and spiritual needs will change.  Therefore this kind of multifaceted illness requires an approach and treatment plan that addresses every angle of living.
Palliative care is specialized medical care that anticipates the natural trajectory of a disease and helps you put together a roadmap that can be used to navigate your healthcare in the future. As a palliative care specialist at Hebrew SeniorLife, I've seen how this can have a huge impact on the quality of life of those with dementia, and their family of caregivers.
What is palliative care?
Palliative care is specialized medicine for people who have a serious illness, such as dementia. The goal is to foster a holistic approach that addresses the different aspects of a person's well-being: physical, practical, emotional, and spiritual. It is suitable for any age and at every stage of disease. 
Specialty palliative care providers can include physicians, nurse practitioners, social workers, and chaplains, who have completed special training, and often work as a team, to provide an additional layer of support to patients, caregivers, and their regular medical team.
When it comes to dementia, the focus of the palliative care specialist is on providing the patient and their family with easily digestible information about their serious illness and its natural trajectory.  Palliative care specialists can help patients and families navigate difficult conversations and decisions that come along with serious illness, reviewing the pros and cons of different treatment options, and what each course of action looks like in the future. 
Importantly, this process identifies the patient's own values, goals, and priorities.  When accessed early enough this provides an opportunity for patients with dementia to guide their families and medical providers allowing for a degree of sustained control over the impact of this disease on their loved ones and ensuring the provision of a truly patient-centered plan of medical care.  
As dementia progresses through moderate to severe stages, palliative care also focuses on providing relief from symptoms such as pain. The palliative care team connects patients and caregivers with appropriate resources while continually collaborating with the rest of a patient's care team to help connect the dots between different providers.
Understanding the patient as a person
As a geriatrician who also specializes in palliative care, my first concern is to fully understand the person sitting before me. This approach moves beyond narrow data points like "How is your pain level today?" Rather, I ask open-ended questions that might be surprising coming from a doctor: "What was important in your life? What do you like spending your time on? Are you a get-out-and-go kind of person, or more content in your favorite reading chair?"
Understanding those questions leads to a better idea of what a person would like their life to look like. Exploring the answers helps me understand how to define what's acceptable and unacceptable living. From there, we set realistic goals and benchmarks for a good quality of life.
Of course, these questions might be difficult for a person with dementia to answer. The cognitive decline associated with dementia can affect the process of getting to know someone as they lose access to memories and their ability to communicate. The personality changes that can accompany dementia also pose a particular challenge. 
However, people affected with dementia often retain long-term memories which can provide insight into how they lived their life. Someone who enjoys reading might not remember what book they read yesterday, but they can probably describe one of their favorite books and how it affected them. 
Exploring these experiences can give me a better understanding of who the person is and what they value.  This process also involves family members or caregivers so that I can get to know the patient as a person from many perspectives.
Providing information
Another element of my role as a palliative care specialist is ensuring that the patient and their family have all the information they need about dementia and presenting that information in a way that is easy to understand.
Dealing with dementia can of course be incredibly stressful. While embarking upon a treatment plan, the vast amount of medical data and terms can easily become overwhelming. Sometimes you might have different specialists advocating for one course of treatment or others advocating for another, a reflection of our often fragmented provision of medical care. In that confusion, it is all too easy to just follow the recommendation of the last doctor you spoke with.
As a palliative care doctor, I aim to break down the options, help patients and families weigh the benefits and drawbacks, and customize the overall treatment plan by incorporating the goals and values of the person and family.
In the case of dementia, another important part of the conversation I have with families is helping them understand the general progression of the disease. By understanding what the future may look like, we can help patients and families build the support system they will need for the future. It makes it a little less surprising and scary when a new symptom or behavior appears.
Inviting family to difficult conversations
A dementia diagnosis brings up a wide range of emotions in the person with the disease and their loved ones. Emotional conversations are really hard but are necessary to anticipate the many decisions that will need to be made over the course of the disease. Bringing patients and families together to clarify the wishes of their loved one unburdens those family members from agonizing if they made the right choice.
With dementia it is particularly important to have these discussions early, recording the person's wishes before the ability to clearly communicate is lost. It can provide some comfort to the person with the disease to feel as though they're leaving clear guidance for their families to follow, or at least communicating their values so children and other loved ones can be helped in their decision-making when the time comes. (In fact, it's good advice for all of us, regardless of our health status, to have conversations about how we would wish to be supported if our health were to significantly decline). 
Depending upon the viewpoint of the person with dementia, there might be resistance to adopting certain lifestyle changes or medical interventions/ medications to optimize their health. As a palliative care professional, I can help moderate discussions and ask difficult questions like, "What if you were to become critically sick through a stroke? What would our priority be in caring for you? Could you see yourself ever living attached to a ventilator for a short time or the rest of your life?" Another common decision with dementia is whether or not to use a feeding tube when the person can no longer swallow. If it's your loved one with the disease, it's a valuable opportunity to hear things from their voice and learn how to support their wishes.  
As such, I have found it is important to keep in mind that family members need to listen to their aging family members. Adult children will obviously be concerned for their parent's safety, but can sometimes have preconceived notions of the "right" way forward that might clash with their parent's treatment goals and their quality of life desires.  Often I have found that adult children appreciate being part of this conversation and receiving this guidance.
Planning for the future
Discussions at the early stage can also center around thinking ahead about how your loved one's living situation might need to change as the disease progresses. This is another topic that can bring up difficult emotions. Plans can be put into place to add care at home, or you and your loved one could begin to visit assisted living or long-term care environments to see what they're like and begin to create some options.
As difficult as this process may be, we know that people want what is best for their loved one with dementia. Ensuring that consequential medical decisions are made according to personal wishes helps eliminate any second-guessing and alleviates the guilt of not knowing if the best decisions were made.
If you weren't able to have these conversations with your loved one before their cognitive decline became more advanced, as a palliative care doctor I can help you think about the values they previously expressed and what was important to them over the course of their lives to help you make the best decisions at that moment.
Outpatient palliative care for people with dementia
I work with patients and families across the Hebrew SeniorLife continuum, including at our Deanna and Sidney Wolk Center for Memory Health in Boston. The Wolk Center offers comprehensive outpatient care related to brain health, cognitive and behavioral problems, and memory loss. We provide patients and families answers, hope, and personalized interventions to minimize disability and maximize quality of life at every stage of the disease.
At the Wolk Center, I meet with patients and families to take a holistic view of their cognitive loss, to understand how the disease impacts all areas of their life, and to suggest medical and non-medical ways to cope. I also help patients and families think through their goals of care and align treatment plans accordingly.
Interested in how palliative care could help your loved one with dementia? Contact us online or call us at 617-363-8600.
Blog Topics
Learn More
The Palliative Care Research Program for Older Adults at the Hinda and Arthur Marcus Institute for Aging Research is focused on improving the quality of care provided to older patients and their families.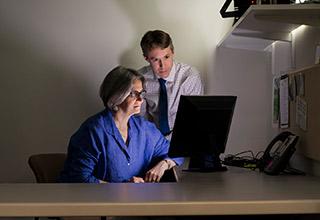 The Deanna and Sidney Wolk Center for Memory Health at Hebrew SeniorLife provides outpatient memory care services, in person and virtually, for people living with cognitive symptoms — and for their families and caregivers.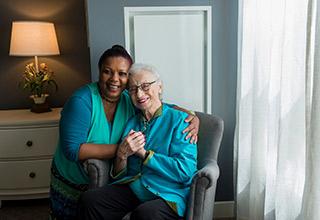 Hebrew SeniorLife offers palliative care to homebound seniors through Hebrew SeniorLife Home Health and as a specialty to patients at Hebrew Rehabilitation Center. Palliative care providers focus on treating the symptoms of illness that may be standing in the way of living your best life.