Smart Devices and Mobile Apps That Every Senior Should Know About
Second in a two-part series about how technology can promote healthy aging and support the care of an aging loved one.
Smart Devices and Mobile Apps That Every Senior Should Know About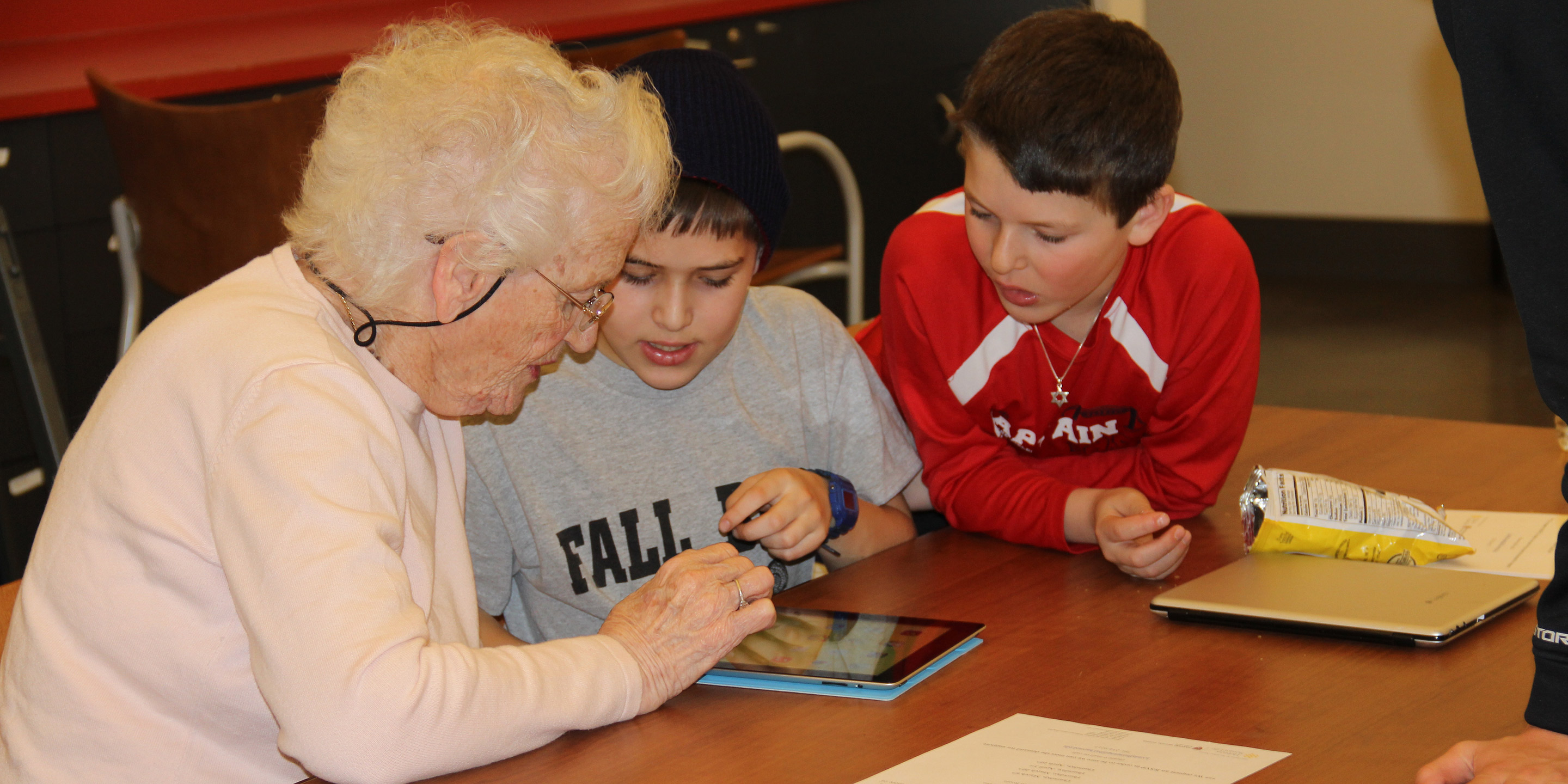 Technology has never been more present in our lives, including the lives of seniors. While there's a stereotype of a gray-haired person struggling to figure out the remote control, today's seniors are using mobile devices and other technology to connect with the world around them. In fact, 70% of those in the U.S. over age 70 own a smartphone.
As a neuropsychologist and researcher at Hebrew SeniorLife in Boston, I'm fascinated by the ways that technology can support overall wellness and behavior change. In part one of this two-part series about seniors and technology, I discussed the ways that using smart devices can empower seniors to take control of their health, improve safety in the home, support caregivers, and provide doctors with more information about chronic conditions.
In part two, we'll talk more about smart devices specifically, and I'll share some resources and apps that you might want to explore.
Why should seniors use a smart device?
Smart devices are electronics that can connect, share, and interact with their users and with other devices. For example, if you wear an Apple Watch, it connects to your iPhone or other device via Bluetooth, allowing for a whole host of interactivity between the two devices, from tracking your steps to listening to music and reading text messages.
For seniors, there are several reasons why you should consider using smart technologies. Beyond promoting physical and mental exercise, these devices can help you find the answers to questions such as: 
Are my activity, mobility, energy, mood, and cognition improving, remaining the same, or declining? 
How is my health in connection with chronic conditions? Are measurements of body signals such as blood pressure, blood sugar, heart rate showing that all is well? 
What is happening to my loved one? Are they adhering to their doctor's instructions following a hospital stay? 
How is my environment affecting my health?
Talking with an aging parent about technology
If you're providing care for an aging parent or loved one, you may be interested in trying some of these technologies out but are unsure about how to open a discussion about their use. This conversation is important, because you should never use technology to track or monitor another person's activity without their knowledge and consent.
Acknowledge your loved one's needs related to these devices and take the time to explain how each choice can support their wellness, health, and happiness. Ask about their goals and activities so together you can figure out how technology might help support them. 
Here are some real-life examples of how smart devices can help seniors improve their health and well-being: 
Smart devices can foster social connections. For example, they can tell the user when an event is going on that their friends are participating in. If your loved one is usually unwilling to leave the house, they may be more interested if they know friends or others they've met through social networks are there. 
Most smart devices include a pedometer and accelerometer, and weather monitoring technology. Through these two simple pieces of information, the smart device could suggest a walk, in case your loved one has not done so for a few days, with a message like, "Today is a beautiful day, it's a great opportunity to take a walk."
If your loved one has diabetes and hasn't monitored it for some time, by geo-localization, the device knows when they've left the house, where they are, and which are the closest pharmacies that offer blood glucose measurement services. In this case, the nudge could be like this: "You haven't measured your blood sugar for some time, the pharmacy 150 feet to the right offers this service and is open now. Why don't you take advantage of it?"
Smart devices can measure calories, carbohydrates, protein, and fat to help you balance your diet, provide valuable nutrition information, and support proper nutritional intake. And we all know the importance of a healthy diet in our overall well-being! 
Smart devices could also become a coach to train the cognitive abilities of older adults and people with dementia to prevent more rapid decline. For example, cognitive training could be sent to your loved one's smart devices to keep their brain active. They might get a nudge to start brain games, receiving a text like, "Is now a good time for some cognitive exercise?"
Smart devices can also monitor and control the home environment, providing valuable insight on the air quality and comfort of your loved one throughout the day. You can also set up smart control devices to adjust their thermostat or lighting remotely.
Smart devices for seniors
The newest devices are engaging, informative, and can transmit and share information innovatively and differently than in the past. Below are some devices that seniors should consider:
Smartphones and Tablets 
These are the most widely used, and now there are models designed specifically for seniors. For example, the GrandPad allows users to download apps that promote healthy aging. Most smartphones can also track your activity, such as your step count.
Wearables 
Smart watches, smart rings, fitness trackers, and other wearables are small, mobile, and easily transportable objects that can monitor you or your loved one in real-life situations and track information about how your body is functioning. They can be connected to other devices such as smartphones, wireless networks, or Bluetooth technology, allowing for an easy exchange of data. Wearables have many uses: for example, they can track heart rate, physical activity, quality of sleep, adherence to a healthy diet, level of cognitive deficit, and more. Popular brands include Apple Watch, Garmin, and Fitbit. 
Health monitoring
Digital scales connect to Wi-Fi to monitor your body weight and composition, transmitting the data to an app that monitors your weight and other indicators over time. Internet-enabled blood pressure monitors can do the same. Devices such as the Apple watch and UnaliWear can detect a fall and contact a 24/7 response center.
Smart furniture 
Mattresses incorporate sensors to analyze your sleep patterns, sleep quality, and, in some cases, actively improve your sleep. Digital toilets can detect dehydration, urinary tract infections, irritable bowel syndrome, and other gastrointestinal and urinary issues.  
Smart home technologies 
These devices monitor and regulate everything in the home from temperature and lighting to appliances. They can enable older adults to remain independent and in the home, and reduce the need for outside care. Smart speakers and voice assistants interact with residents and allow them to control the environment with just their voice. 
They can be categorized into devices that monitor environment using passive sensors, devices that control environment such as thermostat or smart light switches, and devices that interact with the resident and connect them with the devices in the other two categories. The most popular smart speakers and voice assistants are Google Home and Amazon Echo.
Sensory hearing aids 
More affordable hearing aids have been developed for certain people with mild to moderate hearing loss. These devices allow the user to adjust the settings using an app on their phone, so they can adjust to real-world conditions without the assistance of a health care professional. 
Essential apps for seniors  
Apps can be quickly installed on your smartphone or tablet or are integrated into wearables. They can capture many different kinds of information to promote overall health. Below are some essential apps that every senior should consider for their smartphone or tablet:

Many of these and other mobile apps can be visualized together by connecting them to either the Google Fit app (for Android phones) or the Apple Health app (for iPhones). These tools are particularly empowering because the immediate feedback they can offer provides direct control over one's own health.  
What about privacy concerns?
Because many of these apps and devices gather personal data about their users, including health information and location, it's important that you read privacy policies carefully to understand how the data may or may not be shared by third parties, and what you may be able to opt out of if you choose. Most companies are now trying to address privacy concerns with clearly described protections and easy to understand permissions.
Other tips to safeguard your privacy:
Apps that track a user's location or behavior should never be placed on anyone else's device without their knowledge and consent.
Only download apps from a trusted source, like the Google Play Store and the App Store on Apple devices.
Some apps or devices feature social sharing – for example, so you can cheer on friends or see another person's location. Check the app's settings to understand what information you're sharing publicly, and how you can restrict it for your own use if that's what you prefer.
If you're sharing data with a doctor or health care provider, make sure they are following all HIPAA regulations. You have the right to ask to review their privacy policies.
Using technology in dementia care
At the Deanna and Sidney Wolk Center for Memory Health in Boston, we offer care for those who are concerned about possible memory loss, for seniors with Alzheimer's disease and other forms of dementia, and for family members caring for a loved one with memory loss. Part of the comprehensive care we provide is recommending strategies for maximizing quality of life and cognitive function. We often suggest technology and devices that people can use in their homes, or app-based games and exercises to help regain cognitive function.
If you'd like to schedule an in-person or telehealth visit for a memory assessment, treatment, or family support at the Wolk Center for Memory Health, we'd love to hear from you. Call us at 617-363-8600, or contact us online.
Sean Lorenz at Linus Health also contributed to this blog post.
Blog Topics
Learn More
The Deanna and Sidney Wolk Center for Memory Health at Hebrew SeniorLife provides outpatient memory care services, in person and virtually, for people living with cognitive symptoms — and for their families and caregivers.