Treating Depression with TMS: A Story of Success
John Bengel, 78, suffered from depression all his life. Transcranial magnetic stimulation at the Deanna and Sidney Wolk Center for Memory Health gave him a new start.
Treating Depression with TMS: A Story of Success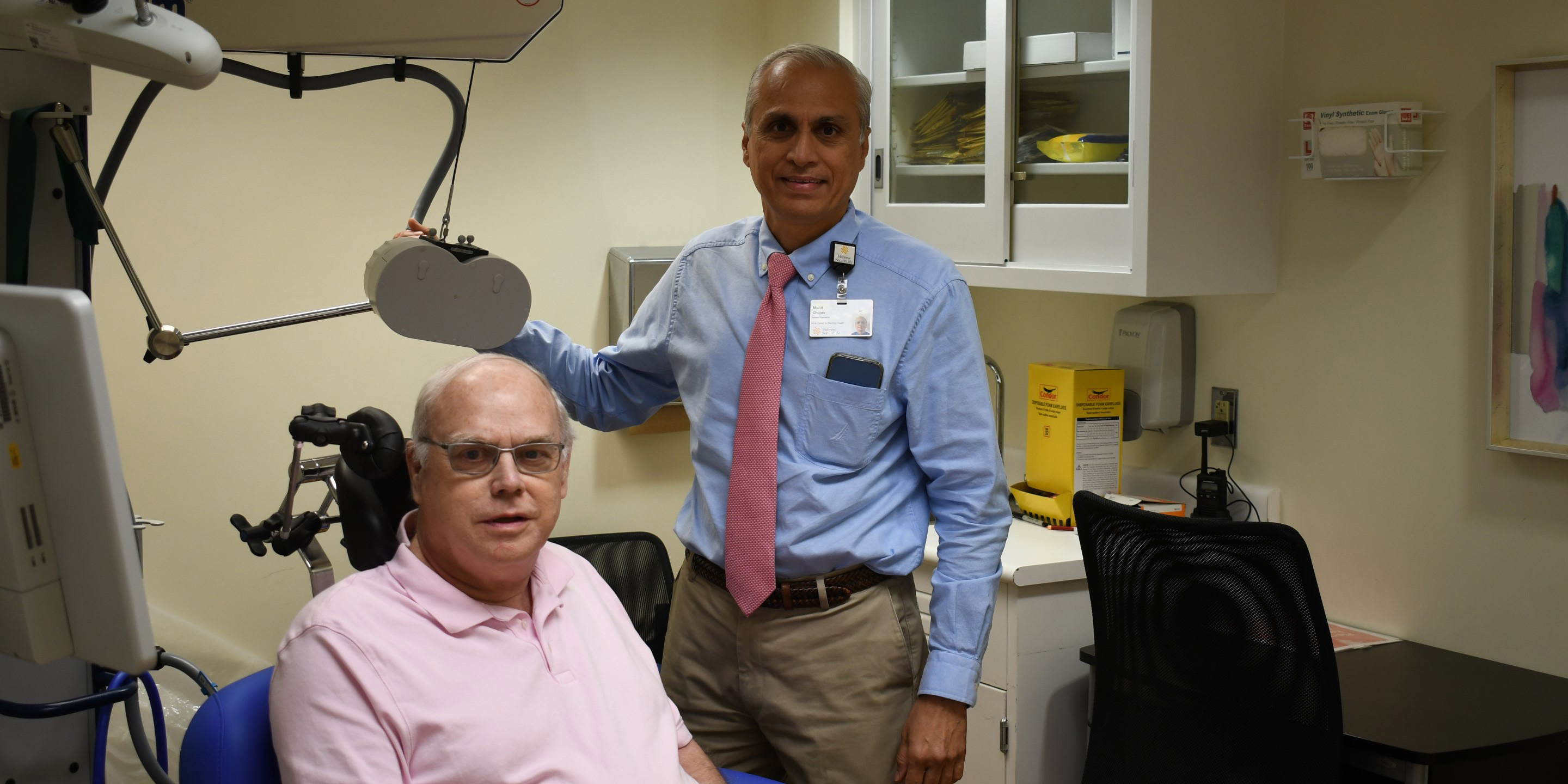 John Bengel, 78, has been battling depression for most of his adult life, and much of that battle has been fought in silence. "It took a long time to discover that being depressed wasn't the way life was for everyone all of the time. I grew up in Texas, and I don't think I'd even heard the word 'depression' before going to college," says John.
He uses vivid imagery to describe his experience, saying depression felt as if he had fallen down a well and was clinging to a little ledge. "People talk about falling into the abyss, existentially, and you just keep falling," says John. "You keep trying to figure out who you are and what you're going to do, and you just feel clueless. I managed to land on this small ledge with my blanket and a few pieces of fruit, and I stayed there all the time. I used this image because it kept me functioning in my life." He says that, as his depression worsened, he felt confused and desperate about getting better. He felt pressure and chaos, and was silent and moody, or sleeping most of the time.
He first sought treatment in the early 1990s, seeing a succession of psychiatrists who prescribed talk and pharmaceutical therapies. He has also worked with a therapist for years, and he credits this long-term relationship with providing badly needed solace as he struggled to understand and cope with his condition.
Treating depression in older adults
Treating depression in older adults can be more complicated than in younger people, because medications for depression can interact with other treatments, are often less effective and take longer to work, and are more likely to cause side effects. Medication interactions can make it more difficult to choose the appropriate antidepressant or the optimal dosage. 
New approaches to treating geriatric depression are desperately needed. That's why Hebrew SeniorLife's Deanna and Sidney Wolk Center for Memory Health offers transcranial magnetic stimulation (TMS). Under the direction of medical director and cognitive neurologist Dr. Alvaro Pascual-Leone, a pioneer in non-invasive brain stimulation, it is the only TMS program in New England that specializes in treating depression in seniors. 
Discovering the Wolk Center for Memory Health
In December, 2022, John learned that his long-time psychiatrist was retiring. Faced with a new referral, his wife, Elsa, decided to look into the Wolk Center. 
John agreed to meet with the Wolk Center team with trepidation. He had been evaluated six years earlier in a large hospital setting and found the experience to be unpleasant. But he and Elsa thought the smaller and more comfortable environment of the Wolk Center might be better for him.
At their first appointment, they were impressed by how much time everyone spent with them.  "Everyone was generous with their time," says John. "Dr. [Mohit] Chopra asked me a lot of questions about my history. The whole time I'd been going to psychiatrists through my primary care practice, I don't think I was asked much beyond 'on a scale of 1-10 where are you this week?'"
Step one: Sorting out the meds
The first thing Dr. Chopra did was review the medications John was taking for his depression. He discovered that they had been prescribed for the wrong time of day—he was taking medication designed to increase energy at night and medications that could have a sedative effect in the mornings.
Dr. Chopra also ordered a blood test for venlafaxine, which John had been taking for many years to treat his depression, and discovered that he had toxic levels of the drug in his body. No one had ever assessed him for this issue. 
Could transcranial magnetic stimulation help with John's depression?
John knew that Wolk Center Medical Director Dr. Alvaro Pascual-Leone was conducting research on transcranial magnetic stimulation as a support for brain health in older adults. He realized that he would be treated by one of the leaders in the care of older adults with neurological and mental health disorders.
Although the Wolk team couldn't promise success (efficacy is estimated at 60%), John decided to take the plunge and try TMS in the hope it could bring relief where other treatments had failed. 
"The way Dr. Chopra explained it, this is a standard part of what's available to psychiatrists for patient treatment. It's not an experimental treatment. It's fully approved," says John with confidence. 
He began treatment in March of 2023. The regimen included visits Monday through Friday for an hour each day over a four-week period, followed by three weeks of visits tapering off to twice a week.
John has an interesting way of describing the TMS experience. "The expert technician, Ike, sat me in a big blue chair, which is focused up. He would then position the magnets to target, in my case, the part of the brain that controls mood. Although nothing is touching you--just space between magnets and your head--it feels like a little metal bird made of flexible aluminum hops on top of your head. Suddenly the imaginary little bird starts tapping for four seconds, and then rests for 26 seconds, and this repeats for about 40 minutes. I usually fall asleep after the 2nd sequence."
John reports that the treatment is not unpleasant, and he hasn't experienced any side effects. He didn't mind the frequent visits saying, "I felt so bad prior to treatment that I had no problem going every day. It was like taking medicine and it worked like a charm." 
After treatment: Out of the well
John can be counted among the 60% whose depression was alleviated by TMS. He's now able to cope with minor trials and irritations that used to throw him into despair. Anxiety no longer dictates his mood and emotions.
He reports,
After TMS, it felt like someone scraped all the despair, heaviness, and depression from my body. I felt and feel so much lighter and better. People tell me that I smile a lot more than I used to.
He goes on to say, "The results of TMS were better, stronger, and deeper than I could ever have expected. It felt transformational. I've climbed out of the well onto dry land. At least I no longer feel like I'm falling into the unknown. I still get a little bit depressed, but I can handle it. Before treatment, if, for example, my grandkids were scheduled to come for a visit and something came up that kept them from coming it would throw me for a loop. Now that would just be a little problem, and rescheduling would be fine."
So far John has not required further treatment, but it is available should he and the Wolk Center team decide he needs it.
Getting the word out 
John has become a bit of an evangelist for TMS. 
"I'm so impressed with how I did. I want that for other people who are depressed. I've had close to 15 conversations about TMS with people, and I've yet to meet one person who knows anything about it. People think TMS is some kind of fringe treatment and not part of mainstream clinical treatment. But I want everyone to know that it can completely transform you without the adverse effects of other treatments, like electric shock treatment," says John.
John also provides a strong endorsement for the caliber and special nature of care he received from his physicians in the Wolk Center. "Dr. Chopra and Dr. Pascual-Leone know a lot about brain health. They're very scientific but also highly intuitive. What they provide in terms of care and treatment is so different from what other doctors offer. Their treatment heals, and it's helping regular people like me."
Both John and Elsa felt cared for by the entire team. Elsa echoes John's endorsement, adding, "One of the things that I really appreciated about our experience with the Wolk Center was that Dr. Chopra and Dr. Pascual-Leone talk to each other."
She concludes, "We try to tell people whenever we get the chance about TMS treatment. Even though it might not work for everyone, it's worth a try for anyone suffering with long-term serious depression."
TMS therapy for seniors in the Boston area
If you think transcranial magnetic stimulation may be right for you or a loved one, the Wolk Center for Memory Health can help. We offer New England's only TMS program specifically created with older adults in mind. We're happy to coordinate with your care team, including your psychiatrist and/or primary care physician. Contact us online or call us at 617-363-8600.
Blog Topics
Learn More
If you've tried to treat your depression using medications and are still experiencing symptoms, Transcranial Magnetic Stimulation might be right for you. Learn more about this non-invasive treatment offered at the Wolk Center for Memory Health.