Understanding the Role of a Hospice Care Team
Learn about the different people who make up a multidisciplinary hospice team, and how they can help you and your family.
Understanding the Role of a Hospice Care Team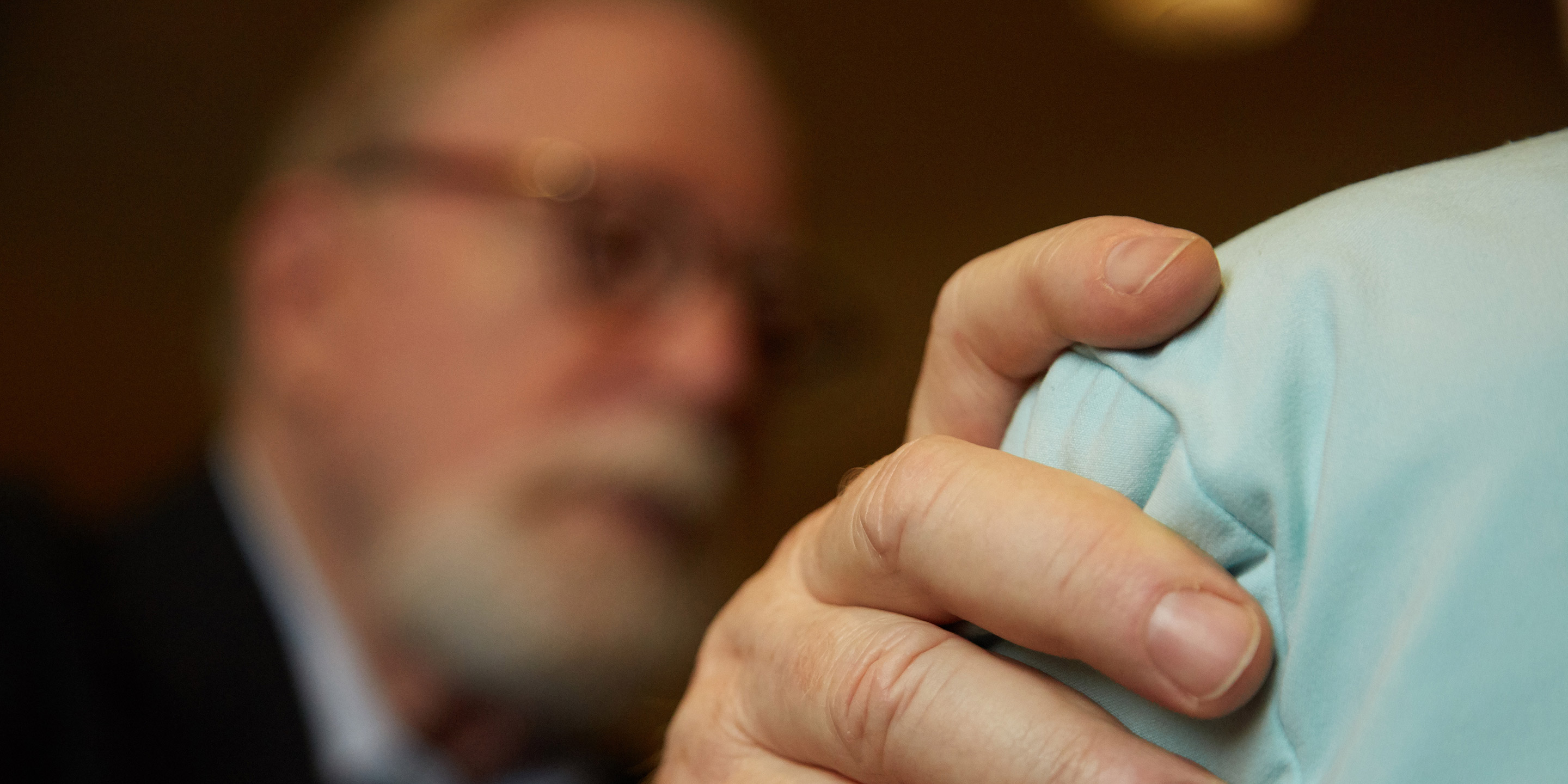 Being with a loved one at the end of their life is one of the most emotional experiences we go through as humans. For some people, the fear of dying or of death itself can loom large and cause a lot of uneasy feelings. For most others, the impending loss of beloved relationships generates deep sadness. This can also be a lonely time when both patients and their families tend to shy away from honest and open discussions about what is happening. The presence of the proverbial "elephant in the room" intensifies the loneliness. This is when hospice care can help, by providing a team that is dedicated to helping ease these inevitable difficulties and burdens placed on a family or caregiver.
What is Hospice Care?
Hospice care is a specialized kind of care that focuses on quality of life for people with an advanced, life-limiting disease. It can be provided in a person's home, or in a specialized inpatient facility, and encompasses medical, social, and emotional support. Care is provided for the whole family, not just the person with the illness.
Hospice care treats conditions and symptoms to increase patient comfort; it is not curative in nature. Hospice is fully covered by Medicare as well as most other insurance plans. If the terminal condition improves, the patient can be discharged from hospice and return to curative treatment, or resume daily life without any medical intervention. If need be, patients can return later to hospice care. 
At Hebrew SeniorLife, we believe that it's best to start hospice care early in the progression of a terminal illness, in order to maximize quality of life and so the family can receive support through the entire final chapter of life.
Who Is Part of a Hospice Team?
The collaborative hospice team works to bring meaning and fulfillment during the final stage of life, in addition to providing comfort and management of symptoms related to a patient's illness. The goal is to create a safe and comfortable environment for your loved one and simultaneously help the family grieve the loss. 
Once you or your loved one decides it's the right time for hospice care, a team of medical professionals will help you and your family navigate this uncertain time. The care hospice provides is patient-directed, so it's based on the individual's own goals and desires, but with advice from family and friends. 
The Registered Nurse Case Manager is generally the first person you meet on the hospice team. They work with you to identify what other team members you are open to receiving support from. This person also provides nursing care, does regular physical assessments, regularly communicates with your primary care physician and hospice physician, and makes sure you have an adequate supply of medications on hand.
The Hospice Social Worker is assigned to assist you and your family in dealing with the difficult emotions related to your illness. They can also help you identify any community resources that may be available, like private care agencies, government resources, and additional counseling services. When the time comes, they can assist with funeral planning and nursing home placement if needed. The social worker can also help with any advance care directives or end-of-life planning you may need. 
The Hospice Physician or Medical Director is responsible for easing physical symptoms, and management of your terminal illness and any conditions related to the illness. If your primary physician is not available, then the hospice physician is there to meet your medical needs.
A Hospice Aide is there for a large variety of tasks. Some people require personal care and the aide is trained to assist you with your activities of daily living. For example, some people with dementia require assistance with feeding. Some people are more independent and the hospice aide can provide companionship. Oftentimes, as with all of the team members, the needs change and the hospice aide's care plan is adjusted to meet those ever-changing needs.
The Spiritual Counselor or Chaplain bases their care on a high respect for your faith and belief. They are available to assist you and your family with the significant spiritual issues that often arise during a terminal illness. These services often include regular pastoral care visits, being on-call and available for crises, guidance in arranging funerals and memorial services as requested, and additional support, if desired.
Volunteers are a vital part of the hospice team. They are well-trained and carefully selected to work alongside our professional staff. Volunteers can provide companionship and respite to you and your loved ones. For example, if you're caring for someone receiving hospice and need a temporary break from those duties to run errands, take care of your own medical and emotional needs, or care for a child, a volunteer can sit with your loved one to make sure they're not alone. Some volunteers are available to provide pet therapy when requested.

Learn more about what it's like to be a hospice volunteer in this video from Hebrew SeniorLife volunteer Bill Shulman, who says, "I feel like I have made an incredible difference in patients' lives. We sing, listen to music, and talk about their lives. Just being a presence can be life-changing for not only the patient but myself."
Complementary Therapies include music and massage. These services may be provided on a regular schedule or an as-needed basis. This is not offered for every hospice program so it's best to check when you're thinking of hospice care. Hebrew SeniorLife Hospice Care offers expressive therapies, massage, Reiki, and more, all at no additional cost to you. 
The Bereavement Coordinator is responsible for oversight of the bereavement program. Following your loved one's passing, we are here to continue to provide support. While one individual is identified as the primary caregiver, all members of the family are eligible to receive bereavement services for up to 13 months following the patient's death. They include regular mailings, grief support groups, phone contacts, and individual visits. For needs that exceed the scope of hospice bereavement services, referrals to other organizations and professionals within the community are available.  
The hospice team remains present for many months to support bereaved family members and offer guidance and support. This is another demonstration of their willingness to gently guide this final life transition. The hospice team forms a "community within the community" to envelope a family in need with skill and compassion at this critical life moment.
Hebrew SeniorLife Hospice Care is guided by each patient's personal preferences and care goals. We provide hospice services in the Greater Boston area that support the patient's physical, emotional, and spiritual needs, while supporting their families through the end-of-life journey.  Anyone can make a referral to Hebrew SeniorLife Hospice Care—a patient, a family member, a physician, or a nurse. To learn more, or make a referral, call us at 781-234-9950 or contact us online.
Blog Topics
Learn More
Hebrew SeniorLife Hospice Care works to bring meaning and fulfillment during the final stage of life, in addition to providing comfort and management of symptoms related to a patient's illness.