Why Do People With Dementia Wander?
Tips to manage wandering and keep your loved one safe.
Why Do People With Dementia Wander?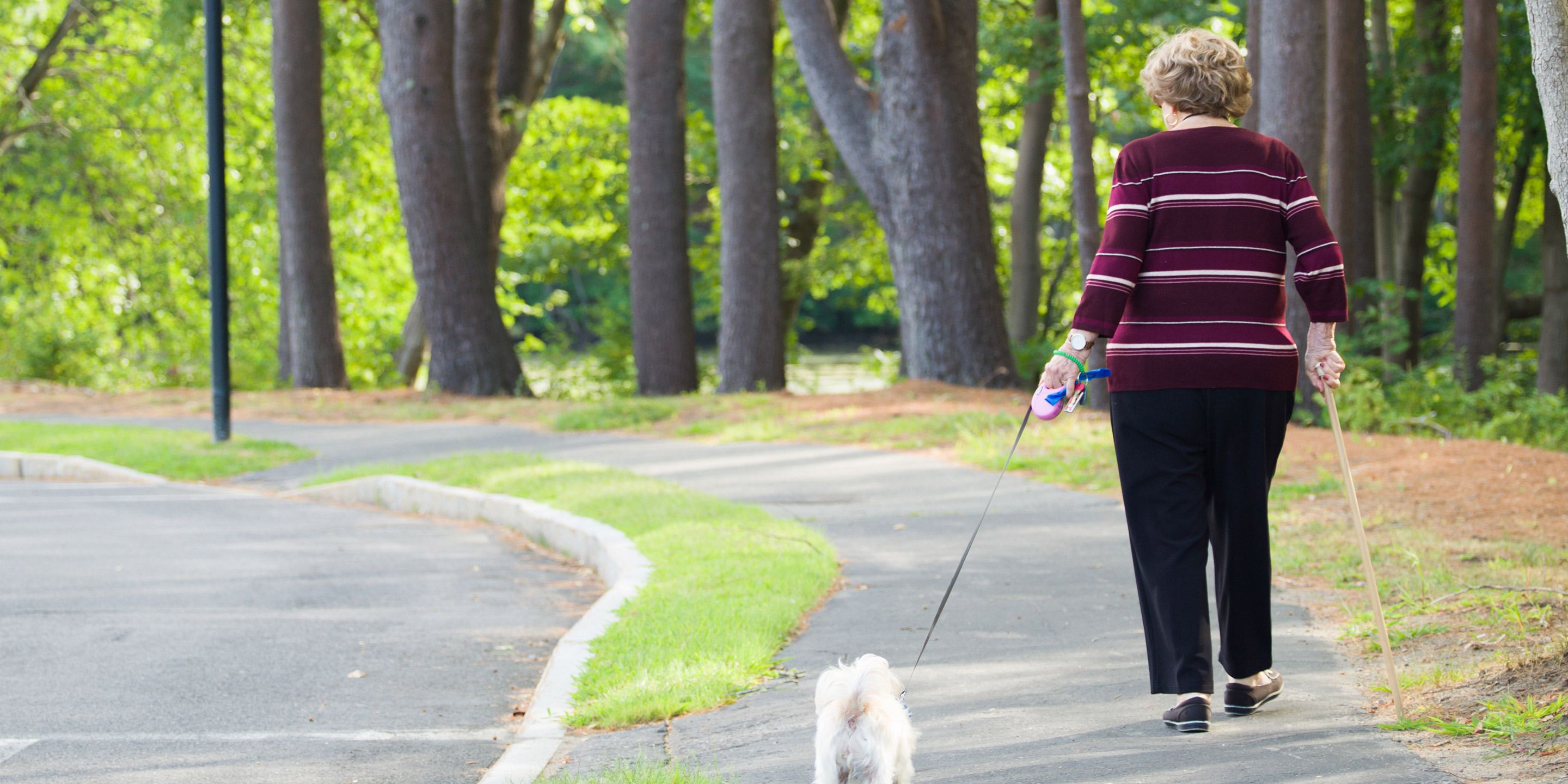 What is wandering and why do people do it?
Adults with dementia or Alzheimer's disease often feel compelled to walk about. They have no real place to go, and they often do not realize what direction they are heading. They just feel the need to move and walk somewhat aimlessly. This behavior is often called "wandering" by clinicians, researchers, and caregivers.
Wandering can be triggered by a desire to look for something or someone, such as a family member or friend, or by a "need" to fulfill a former obligation such as going to work. Some adults with dementia express a wish to "go home" even if they are living comfortably in their own homes. Wandering can occur in the context of stress, pain, disorientation, lack of sleep, or unmet needs, such as loneliness, boredom, or hunger.
Who is at risk for wandering?
About 60 percent of people with dementia, including Alzheimer's disease, will experience wandering, which most commonly occurs in the middle or later stages of dementia. Wandering or pacing can be beneficial in terms of relieving anxiety and providing exercise, for example. However, what is a very serious concern for families, caregivers, and law enforcement officials is known as "elopement" or "critical wandering," which can lead to what is known as a "missing incident."
A missing incident occurs when the whereabouts of a person with dementia are unknown to the caregiver, and the person is not in the expected location. Because dementia impairs a person's ability to recognize that they are in danger or to independently take action to return home safely, missing incidents can pose a serious threat to the personal safety of a person with dementia or Alzheimer's disease. Research indicates that about one half of those who are not found within 24 hours risk serious injury or death.
Many municipalities respond to missing incidents with "Silver Alerts." A Silver Alert is a public notification system to broadcast information about missing persons – especially persons with Alzheimer's disease, dementia, or other mental disabilities – in order to aid in their recovery. In Massachusetts, the Silver Alert program was signed into law in 2010. It is run by the Executive Office of Elder Affairs and the Massachusetts State Police, and mandates that adults with dementia be treated as a missing person regardless of how long they have been missing. In addition, about a dozen or so Massachusetts municipalities now offer Silver Alert "registries" which contain information such as date of birth, medical condition, and caregivers' phone numbers. The information is kept securely and confidentially on file with local police departments to be used in case a person is found wandering or family members report someone missing. The registries may also include a recent photo, physical description of the person, and description of the person's favorite places to visit.
Missing incidents are unpredictable, and can happen while the person is doing seemingly normal and routine tasks. The goal should be to anticipate wandering, plan for it before it happens, and thus prevent missing incidents. This is one very important goal of a comprehensive dementia care plan.
Tips to prevent wandering
If wandering has occurred or the risk of wandering is high, remember that wandering can be beneficial if done in a safe, secure environment. It can relieve boredom and provide much needed exercise. Trying to restrict the mobility of the person will tend to make matters worse, lead to distress and behavioral problems. Instead, here are some tips for managing critical wandering or elopement in the home setting:
Maintaining a routine and structure to each day is important to the person with dementia. If wandering occurs at certain times of day, have an activity planned for that time.
Avoid busy malls or shopping centers that can be confusing and may place the person at risk for a missing incident.
Ensure that basic needs are met. Hunger, lack of sleep, pain, loneliness, and boredom all can trigger wandering behaviors. Use night lights to ensure the person with dementia can find his or her way to the bathroom at night.
Do not correct someone with dementia who is asking to "go home" or to work. Instead, redirect them to another activity such as sitting down for a cup of tea, a puzzle, or listening to music.
If wandering tends to occur at night, limit daytime napping when possible. Many people with dementia lose the ability to distinguish between night and day. Leave only night lights on at night and use shades or curtains to reduce light intrusion from outside sources.
Never leave someone with dementia in an unlocked home or vehicle. If the person is at high risk for unsafe exiting, you can consider installing locks on exit doors above the line of sight. Keep keys in a very handy location. Door alarms that signal when a door or window is opened may also be considered.
Contact local law enforcement to learn if they maintain Silver Alert registries. Keep a recent up to date photo handy and make a list of places that the person may wander.
Consider purchasing an identification bracelet and an electronic tracking GPS device that helps track the whereabouts of the individual and manage their location. Little data exists to support the benefits of tracking the whereabouts of a person with dementia at the risk of limiting one's personal liberty. A decision to use an electronic tracking device should be made with the consent of the person with dementia whenever possible.
The specialized staff at the Deanna and Sidney Wolk Center for Memory Health at Hebrew SeniorLife can help you put together an appropriate plan and identify the resources needed to maximize the safety and well-being of the person with dementia, along with their caregivers and family. Interested in learning more? Call us at 617-363-8600 or contact us today.
Blog Topics
Learn More
The Deanna and Sidney Wolk Center for Memory Health at Hebrew SeniorLife provides outpatient memory care services, in person and virtually, for people living with cognitive symptoms — and for their families and caregivers.