How to Decide Which Type of Senior Living is Best for You
Learn about the different care options available in independent senior living, assisted living, and long-term care.
How to Decide Which Type of Senior Living is Best for You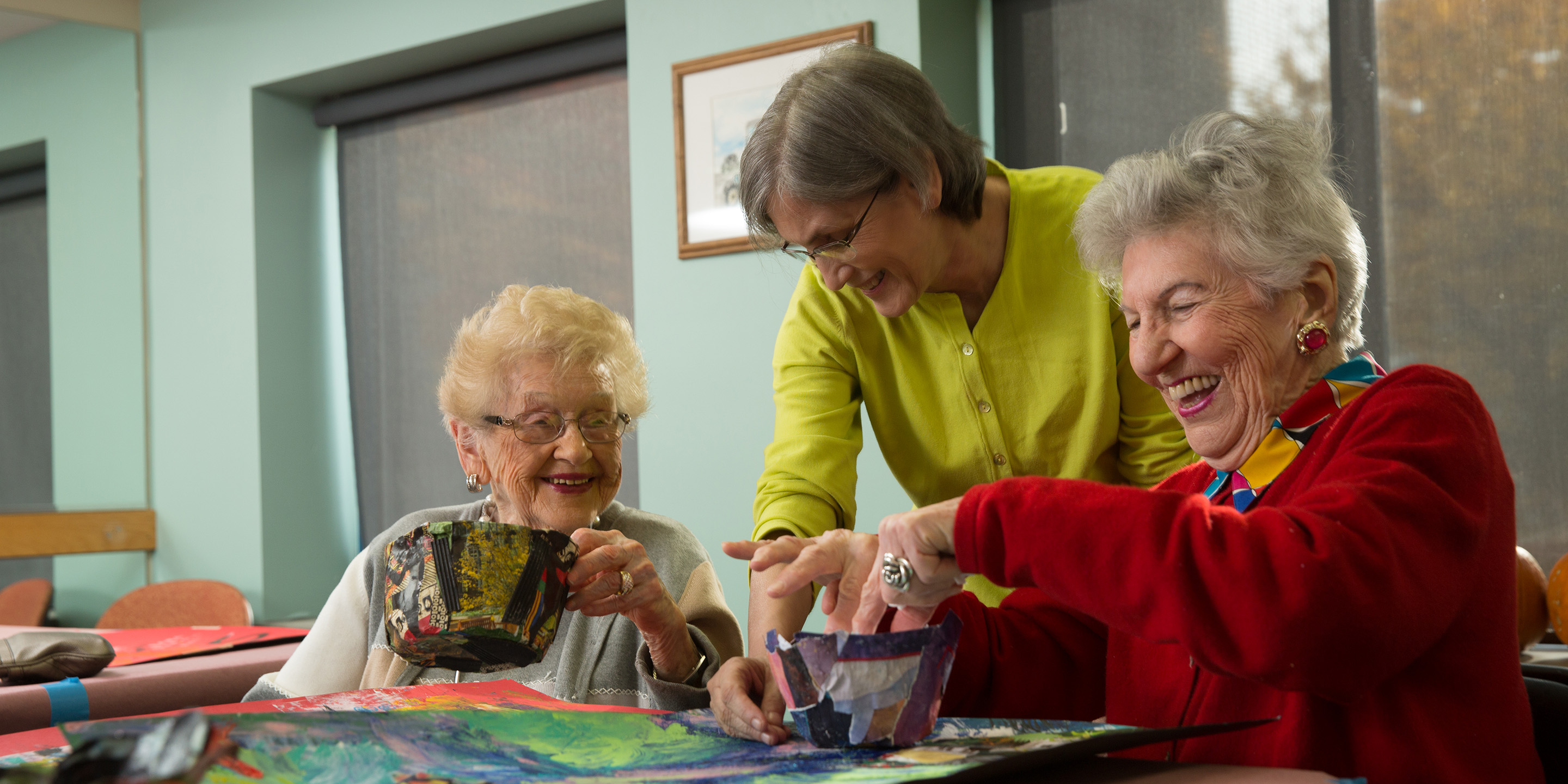 There are many reasons why moving to a senior living community is attractive to older adults. With age, the responsibility as well as the physical demands of caring for a home can become burdensome. And when older adults may start to experience a sense of isolation as their circle of friends and family shrink, finding a community that offers social interaction becomes very important. Finally, health issues may make it difficult or unsafe for an older individual to live in the greater community without supports that a senior living community can provide.
When evaluating senior living options, it's also important to ask the question, what type of care do I really need? Think about when you looked for a house or apartment when you were younger. You probably thought about what you wanted and needed to fulfill physical and social requirements. Maybe a walkable neighborhood, or good schools, or access to open space and parks helped determine your choice.
When looking for a senior living community that provides the level of care that you need, the decision-making process is similar and starts by taking a good hard look at what you really require in terms of physical, medical, and emotional support. And my advice is to ask this question sooner than later. You don't want to find yourself making decisions around where the best and safest place to be is in the midst of a crisis.
Generally senior living communities fall into three categories - independent, assisted living, and long-term care, and each offers different levels of care.
How do I know if independent senior living is the right choice?
If you are still relatively healthy and able to navigate your life independently, but would like services that eliminate the burden of home maintenance and an environment that provides a sense of security, community, and opportunity to make new friends, then an independent living community might be just right for you.
Keep in mind that these communities are called independent for a reason. They are designed to support an older person's independence, and residents are expected to ambulate, groom and dress, and cook meals on their own. Although independent living homes include kitchens, meal plans are also often available as an opportunity for socialization. And some communities allow their residents to hire personal aides or bring in visiting nurses when needed, like the kind Hebrew SeniorLife offers through our in-home services.
Residents of independent living communities are responsible for securing and managing their own medical care. Each of Hebrew SeniorLife's five independent living communities offer medical and wellness supports. This can include an on-site primary care medical practice, wellness programs designed to keep residents healthy and out of the emergency room, or mental health programming. However, this is still the exception, not the rule, when it comes to senior independent living.
What If I Need Some Help with Activities of Daily Living?
As retirement counselor for Assisted Living at NewBridge on the Charles, I help older people and their families assess their care needs to determine if assisted living provides the level they require. I start by asking a range of questions including, do you, or does your loved one need help with what are known as activities of daily living:
Walking
Bathing
Dressing
Toileting
Bed transfer
Eating, or
Memory
The answers to these questions give me a sense as to whether or not assisted living provides the appropriate level of care. As the term "independent" in independent living suggests the type of resident that will thrive in an independent living community, "assisted" suggests that a person who seeks admission to an assisted living community needs assistance in their daily routine, and not around-the-clock personal or nursing care. If you need wound care, injections, or IV administration as examples, then another level of care is called for, which I'll explain later.
If you're still active but ready for an environment that is designed to keep you safe with grab bars in the bath, doorways that allow for walkers and wheelchairs, and other features that provide support with activities of daily living then assisted living could be a good choice. Keep in mind that most assisted living communities have certain health criteria that an applicant must meet for admission, such as being able to eat independently or transfer from a bed or wheelchair without assistance. 
There are generally two types of assisted living – traditional and memory care. Hebrew SeniorLife offers both at NewBridge on the Charles in Dedham. 
Traditional assisted living
I'll start with traditional assisted living, which is social in nature. It offers robust activity and exercise programs designed to combat isolation by keeping residents engaged. Even as physical strength wanes, our need for intellectual and emotional stimulation and support remains. Assisted living also offers opportunity for socialization by providing meals to residents in its dining rooms and restaurants.
Residents at our community are offered assistance through personalized plans with up to one hour a day of personal assistance, including incontinence care. Our assisted living provides a 24-hour on-site professional resident care staff and nursing staff for 12 hours each day.
Traditional assisted living is often attractive to older couples with mixed needs. We try to maintain some flexibility when admitting residents by considering that one partner may be able to provide some assistance to the other. It's important to note that a partner is not expected to serve as a 24/7 caretaker but rather can accomplish small tasks where needed for their partner, which can increase the likelihood for admission. 
Although we discourage it, we also allow private aides in certain cases. Once an individual becomes a member of our community, we strive to allow them to age in place as long as possible.
Memory care assisted living
For those experiencing cognitive decline, the memory care type of assisted living may be a better choice. In this case, safety is top of mind. When behavior brought on by cognitive decline puts an individual or others at risk, it's best for all involved to find an environment that supports the needs of the individual and their loved ones. At NewBridge, we employ a therapeutic model called habilitation aimed at helping individuals experiencing cognitive decline hold on to strengths that they still have.
It's important to note that these are general guidelines for criteria that may qualify someone for independent or assisted living, but every person's situation is unique. If you're considering a move for yourself or a loved one, you should always reach out to a representative of the community, like myself, who can help determine the best living environment for your needs.
What if I need more care than assisted living can provide?
When an assisted living community can no longer provide the care you need on a daily basis, that's when it's time to consider long-term care – often thought of as nursing home care. Long-term care communities are for seniors who are medically stable but need continuous nursing care for chronic conditions and help with activities of daily living and often mobility. Since these facilities typically become permanent homes, they offer activities to promote resident engagement and build community in addition to nursing and personal care.
At Hebrew SeniorLife, we offer a level of care called long-term chronic care, which is a higher level of medical care than what is found in traditional long-term care settings or nursing homes. It combines comprehensive therapeutic programs and clinical services for seniors with chronic and sometimes complex diagnoses, including moderate to advanced dementia. Hebrew Rehabilitation Center, which is located on the campus of NewBridge on the Charles in Dedham and at a separate location in Boston, offers long-term chronic care in a home-like environment.
Hebrew SeniorLife's Orchard Cove and NewBridge on the Charles are continuing care retirement communities, which means they include multiple levels of care on the same campus. This allows residents to seamlessly move from one environment to another if needed. This warm "hand-off" between care levels is often comforting to our residents and their families when faced with the prospect of transitions from one level of care to another.
Comparing levels of care provided by independent living, assisted living, and long-term care communities
To summarize, here's a quick breakdown of the levels of care provided in each community.
Level of Care
Independent Living
Assisted Living
Long-Term Care

Resident Profile

 

Able to ambulate, cook, and care for personal needs independently
Able to ambulate (walkers and wheelchairs OK), transfer from bed to a chair, and eat independently
Medically stable but needs continuous nursing and personal care
Personal Care
Arranged by resident when necessary

Limited number of hours per day included

Provided 24/7
 
 
Resident assistants on-site
 

Medical Care

 

Arranged by resident when needed
Medication management provided by resident care assistants
Nursing care provided 24/7
 
 
Nurse on-site during weekdays for emergencies, but continuous nursing care for chronic conditions is not provided
Long-term chronic care has on-site physicians, therapists, pharmacies, and labs. 
 
 
Approved visiting nurses or hospice may be arranged independently by residents/families
 

Social Support

 

Resident-driven interest-based groups

Programs designed to keep residents active and engaged

Therapeutic activities facilities by life enhancement and expressive therapies staff

 
A calendar of community programming
Life enhancement staff, especially in memory support, for group activities and to encourage participation
Residents receive assistance from staff during activities
 
Social workers available to support residents and families, as needed 
Social workers on staff to support residents and families
Social workers integrated as part of the care team
Still Not Sure? We Can Help.
The good news is there are more and more types of communities available to older adults with diverse care needs. But it can be confusing and overwhelming. And it can also be stressful after you've settled into a new home only to get uprooted when your needs change.
Some organizations like Hebrew SeniorLife offer a continuum of communities and service options that support continuity of care when an individual faces a transition from one environment or level of care to another. We offer five communities in the Greater Boston area, including independent living, assisted living, long-term care, and long-term chronic care. We have options with a wide range of lifestyles and costs. One thing they all have in common is a commitment to providing care based on what matters most to you.
Find out how Hebrew SeniorLife can help you find the right care, in the right place, at the right time. Contact us.
Blog Topics
Learn More
Whether you're looking for an urban rental, a beachfront apartment, or a suburban cottage within a larger continuing care community, HSL offers vibrant senior living options throughout the Greater Boston area for people of all income levels.
NewBridge on the Charles Assisted Living in Dedham, MA offers a choice of one-or two-bedroom rental apartments, along with the peace of mind that comes with knowing you have the support necessary to maintain an active lifestyle.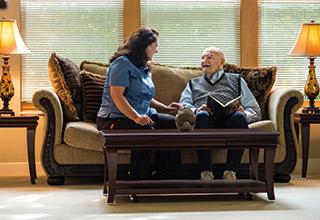 Hebrew Rehabilitation Center provides person-centered extended medical care in a homelike setting for patients with chronic illness. As a licensed long-term chronic care hospital, we provide higher-level, more comprehensive medical care to older adults than a traditional nursing home.