A Pandemic Through the Eyes of an Assisted Living Director
Lessons learned from COVID-19 and a look into the future
A Pandemic Through the Eyes of an Assisted Living Director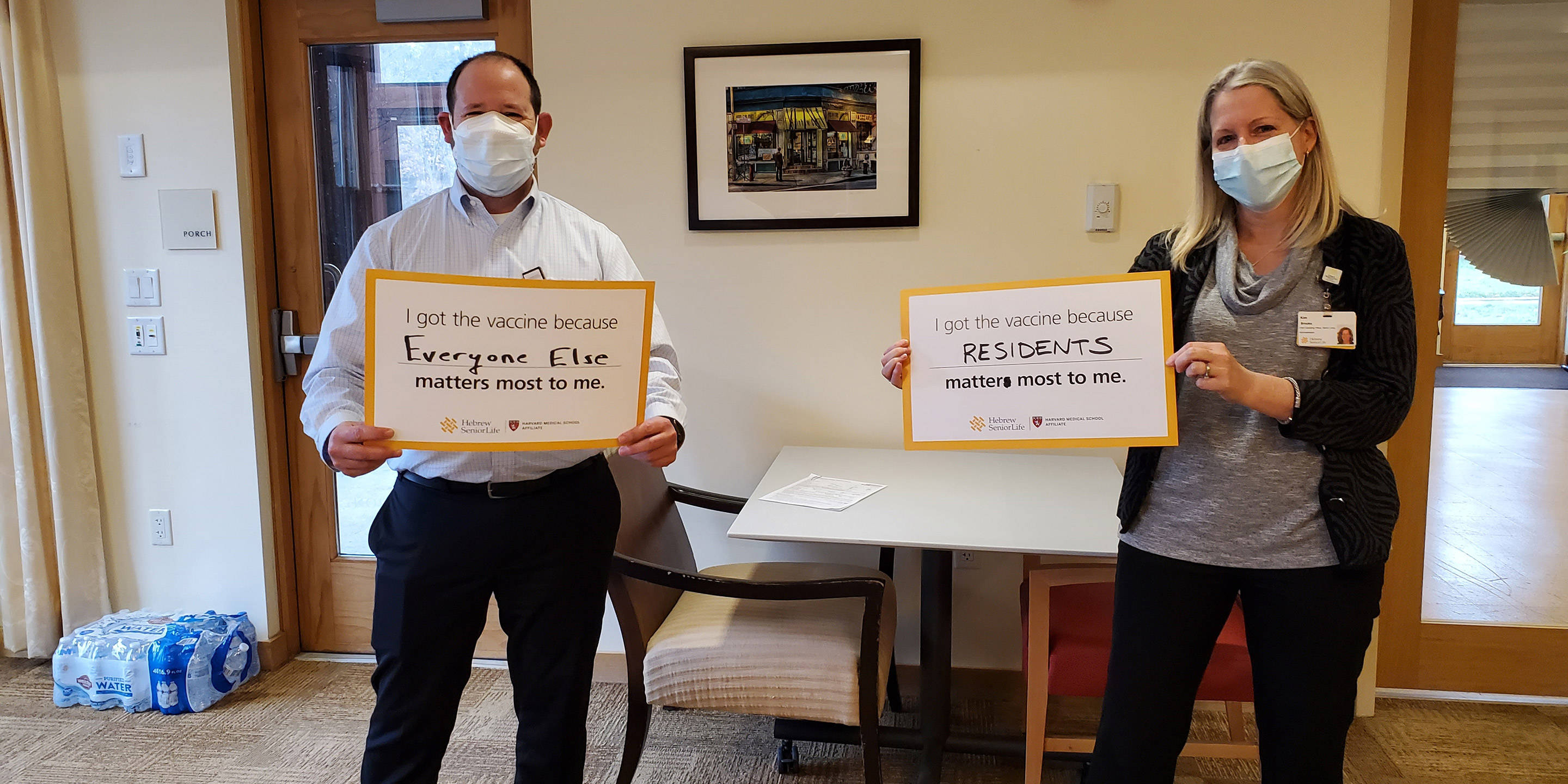 Matthew Hollingshead is the executive director of Assisted Living at NewBridge on the Charles, a Hebrew SeniorLife retirement community in Dedham, MA. He's a face of comfort around the halls of the community and a source of knowledge to many of his colleagues. Matt knows residents' names by heart, family backgrounds, their grandchildrens' latest projects in school, and so much else about each of their lives. Along with his colleagues, Matt was challenged in many ways throughout the COVID-19 pandemic. He's eager to share the reasons he believes the community is now stronger than ever and how he grew as a person during the last year.
From the very beginning, Matt shared Hebrew SeniorLife's transparent and collaborative approach to dealing with the pandemic. This included frequent emails to residents and their families, regular Zoom calls with families to update them about the latest policies and answer questions, and being open about what we did and didn't know. Today, because of thorough testing and a near-universal vaccination rate among residents, seniors living at NewBridge on the Charles can now gather with friends, enjoy dining together, take in live lectures from accomplished speakers, participate in group exercise in the gym, and create art together in the art studio. Matt credits this in large part to the staff, who he suggests go above and beyond every day to make sure residents are living their best lives.
I had the opportunity to talk with Matt about his experience, and what he learned during the last year.
JC: Can you describe the emotions you felt around the COVID-19 pandemic?
MH: While it was an incredibly difficult year, I truly feel more grateful than ever and will never forget what I experienced. I'm surrounded by incredible and tremendous people in every part of my life and work at NewBridge on the Charles. Everyone stepped in and did what they needed to to make sure the residents were safe, staying active, socializing, and living what matters most to them - and that continues today.
In the first months of the pandemic, I and so many others shifted our lives to do whatever it took to make sure the residents were safe while preventing the isolation that so many people across the country were facing. It's hard to put into words exactly what that time was like but some that come to mind when I reflect are "acceptance", "determination", "collaboration", "confidence", and "communication." I knew that we as a team could get through anything and I'd say the pandemic changed the way we think about how to best engage the residents whether that's virtually or in-person, how we work together to efficiently provide the best quality of life, and how to provide the most engaging environment for everyone in assisted living by asking residents what matters most to them and making it happen.
JC: How has the last year changed your life and what is something you'll remember the most?
MH: The biggest thing the pandemic taught me is to not take things for granted - slow down and enjoy life, keep your commitments to family, friends, and co-workers, reconnect with old friends, and visit the people who matter most.
I will always remember feeling overcome with emotion at the vaccination clinic held at NewBridge on the Charles. I remember seeing residents and staff getting their shots and knowing how much of a difference that would bring to their already fulfilling life.
Another moment that stands out to me is when Hebrew SeniorLife was able to provide adequate personal protective equipment to our staff - what a relief that was! That's a testament to Hebrew SeniorLife's incredible partnerships with the greater community and true dedication to senior care. We didn't take anything for granted and it certainly saved lives.
JC: What can we learn going forward from what we experienced?
MH: As much as you believe you are prepared for anything, events like a global pandemic put that into perspective. I think we all can learn that we need to be flexible and adapt to changes that life brings in so many ways.
I learned so much from the residents in assisted living, too. They all have so much knowledge and wisdom and have been through so much. For example, some lived through the Holocaust. That wisdom and strength is something we should never take for granted when living through a challenging time.
JC: Although the pandemic isn't over, what are some things you're looking forward to most as things safely resume?
MH: I'm looking forward to residents being able to spend more time with their families, friends, and grandchildren again. Every senior lost so much in-person time with loved ones during the last year, and I'm thankful for technology and that every resident was able to see their family virtually when they couldn't in person.
I'm looking forward to residents continuing to have a fulfilling life, being able to safely travel, play a game with friends, and so much more. I can't wait for the day I can go out to dinner with my wife, hug my extended family, and attend large events again. I think that while masks obviously saved many lives during COVID-19, they also led to non-verbal communication being a bit lost and I'm looking forward to being able to see someone's face fully and their expressions again.
I'm so proud to work for Hebrew SeniorLife and can't emphasize that enough. The staff gave countless hours of commitment and care to make sure residents were safe and healthy. There are so many things that will change because of the pandemic that will have lasting positive impact for years to come. I think many people will change their perception of being prepared for the unknown and we as a society will have a bond with each other through our shared experiences that will last a lifetime.
Blog Topics
Learn More
NewBridge on the Charles Assisted Living in Dedham, MA offers the amenities of our stimulating community, plus help with activities of daily living so you can focus on what matters to you.