Nervous About Getting the COVID-19 Vaccine?
To end this pandemic, as many people as possible will need to be vaccinated. Read the myth vs. fact about COVID-19 vaccines.
Nervous About Getting the COVID-19 Vaccine?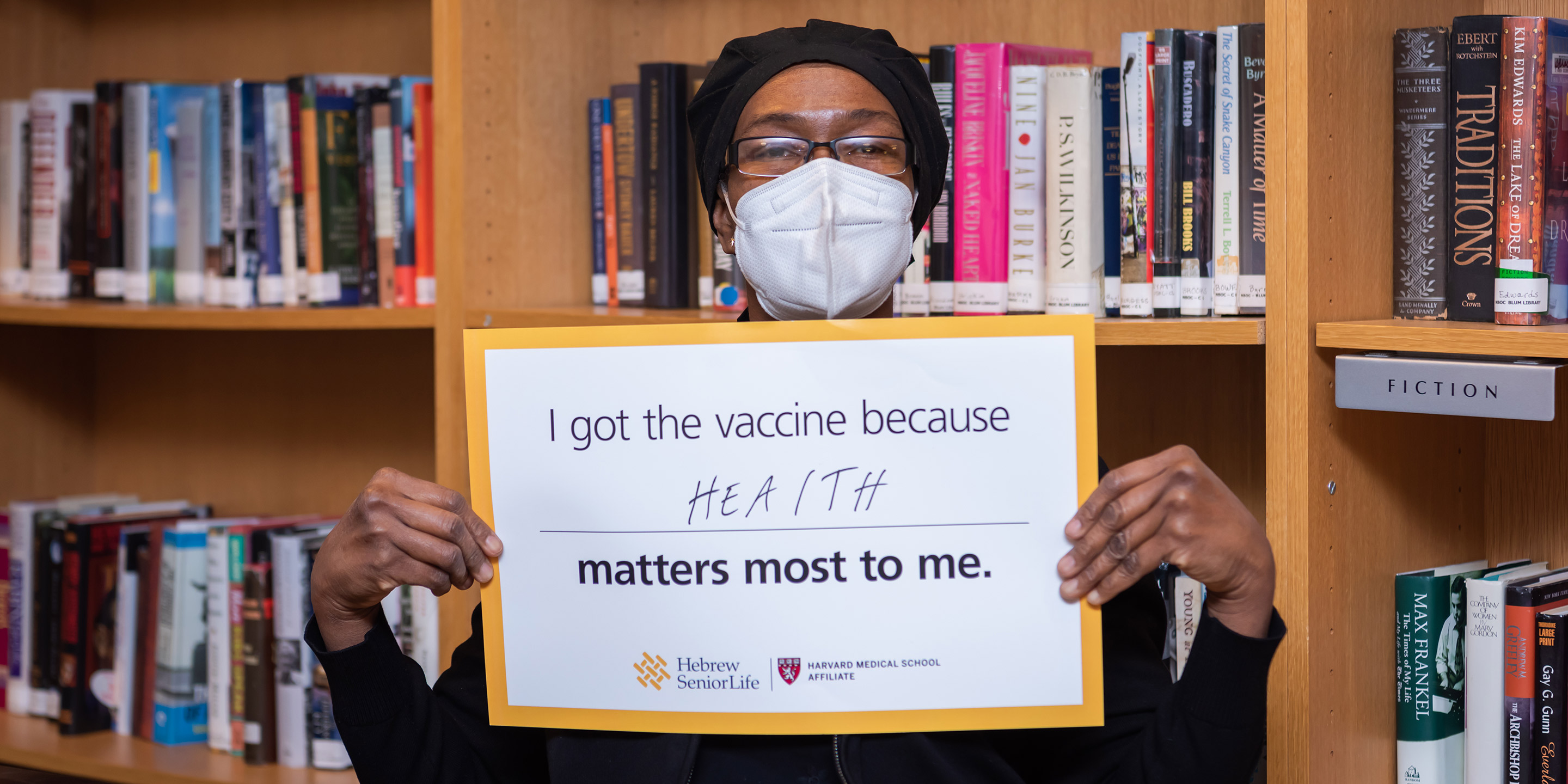 With Massachusetts now entering Phase 2 of the COVID-19 vaccine rollout, older adults age 75+ are now eligible for vaccination and many are scrambling to secure an appointment. 
At Hebrew SeniorLife, we're making vaccines available to all our staff, patients, and residents, and the excitement is palpable. For example, at Orchard Cove, our retirement community in Canton, MA, the first vaccine clinic turned into a (socially distanced, COVID-safe!) party. 
However, I also know that there are people who may be hesitating to get the vaccine, for a variety of reasons. If that's you, I hope that I can reassure you and encourage you to be vaccinated as soon as it's your turn.
Why I got vaccinated
My family is from a country where people saw firsthand how people sickened and died from vaccine-preventable diseases. I got the smallpox vaccine, the polio vaccine, and even a TB vaccine. When a measles vaccine became available, my mother made sure that we were among the first children to receive it at a time when it was brand new and I am glad that none of my family or friends ever had to worry about the measles.
With this background and my medical knowledge, and as a frontline clinician working with frail seniors at Hebrew Rehabilitation Center, I proudly received my COVID-19 vaccine and joined with my colleagues in taking the first step to end this horrible pandemic.
Here are some of the concerns that I've heard from people who are hesitating to get vaccinated, and how I respond to their questions:
Myth: The COVID-19 vaccine was developed very quickly. I don't think it's safe. 
The technology behind the Pfizer-BioNTech and Moderna vaccines has been around for over a decade. The companies were able to rapidly use that proven technology to create these vaccines. The vaccine studies have been conducted on over 50,000 people. Some people did get side effects, but even after giving over 33 million doses in the U.S., there have been very few allergic reactions.
Myth: This is just an experiment being done on people like me, right? 
Actually, no. This is not an experiment. It is a public health vaccination program that is designed to reach every adult in Massachusetts and really around the world. Given that we have had a heartbreaking number of COVID-19 deaths in this state and in the U.S., I am hoping that we will be able to vaccinate enough people so we can end the pandemic.
Myth: I've heard that some people have had bad symptoms after taking the vaccine, is that true? 
At Hebrew SeniorLife, we've vaccinated more than 3,000 staff, patients, and residents so far and have not had anyone with a serious anaphylactic (allergic) reaction. There have been people with mild fevers, body aches, headaches, and fatigue. These mild symptoms lasted only for one or two days and everyone said that it was worth it to avoid becoming infected with COVID-19. 
Myth: I am not a vaccine person, I don't even take the flu vaccine. 
You are relying on others to create community-wide herd immunity—and if enough people refuse the vaccine, we will never achieve herd immunity and we will have to continue the challenging public health measures none of us likes indefinitely: masking and social distancing. People I grew up with wouldn't understand this—while no one likes shots, they would argue that they are not polio people or smallpox people, or measles people either, and they were relieved and happy to be vaccinated. 
The vaccine is one of the ways we will end the pandemic and go back to doing the things that are so meaningful: visiting with our families, going out for dinner, seeing the Red Sox, hugging people, among other things many of us have missed. I hope you will take the vaccine, if not for yourselves, then for your friends, family, and community. 
Blog Topics
Learn More
Hebrew Rehabilitation Center provides skilled care and support after illness or surgery and offers long-term chronic care and specialized care for those with memory loss.