How to Improve Your Recovery After a Hospital Stay
Research shows there are steps older patients can take to help regain function and strength after hospitalization.
How to Improve Your Recovery After a Hospital Stay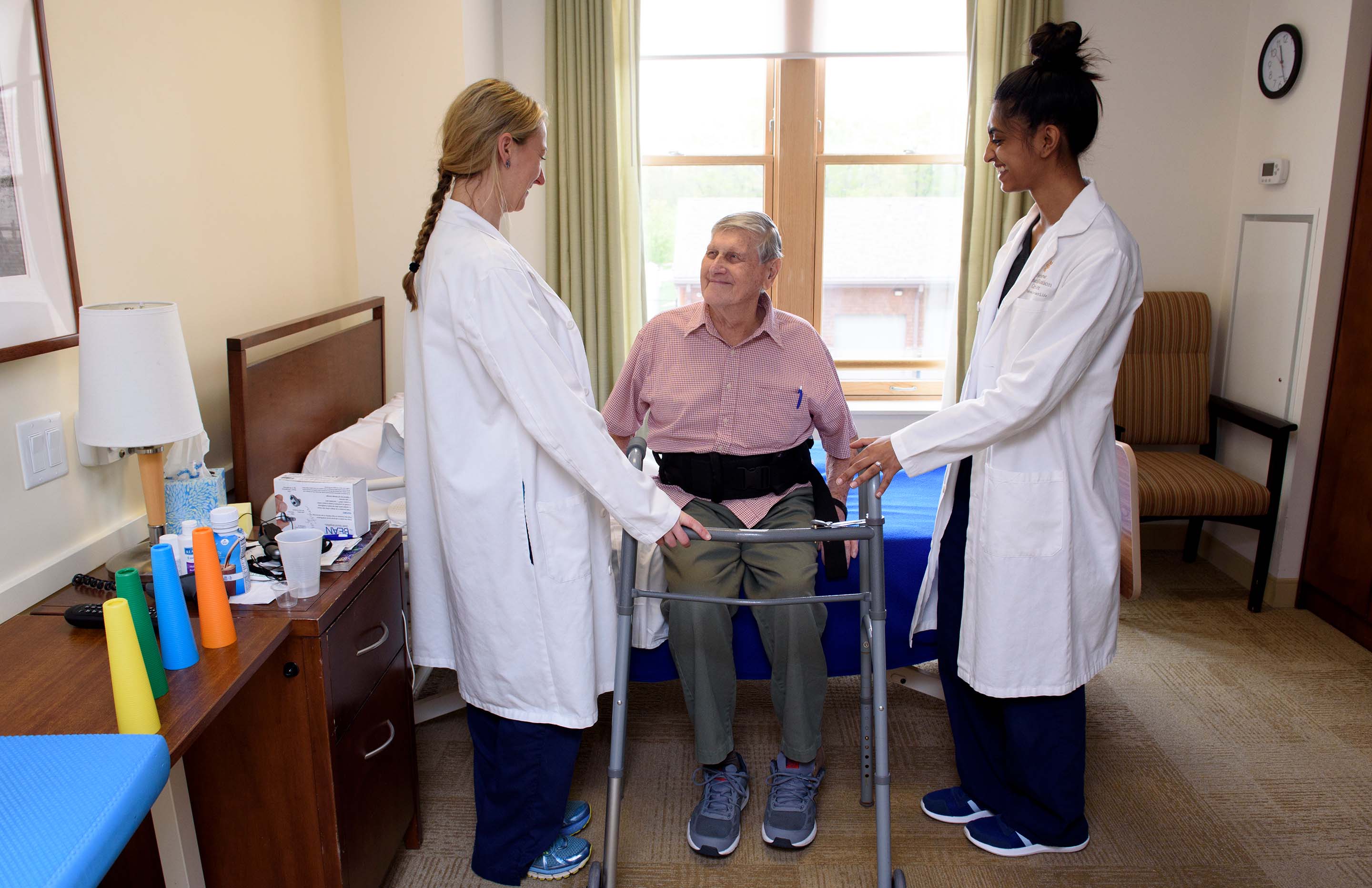 Sandra Shi, M.D., was drawn to treating older patients early in her medical training. "Honestly, I'm naturally a curious person, and I like sitting down with someone, talking and learning about their life," says Dr. Shi. Working in geriatric medicine allows her to spend time with her patients to learn about them and their goals for care. She sees patients as more than just their diagnosis; their story and the history that they bring with them all play a role in influencing their goals.
Dr. Shi is also more than just a physician. She's also a researcher at Hebrew SeniorLife's Hinda and Arthur Marcus Institute for Aging Research who is committed to research that is "not just on older adults, but for older adults." At Hebrew SeniorLife she has an opportunity to change how older adults experience transitions that often come with aging. 
According to Dr. Shi, "I have the unique opportunity to see my patients in the Rehabilitation Services Unit at Hebrew Rehabilitation Center and go down two floors and be part of a research institute with state-of-the-art technology and resources that allow me to conduct cutting-edge research informed by the patients that I just saw."
Dr. Shi answers the following questions about the unique challenges older patients face after a hospital stay, as well as ways to support recovery.
What is frailty, how is it assessed, and how does it impact rehab outcomes?
Dr. Shi: When people think of someone who is frail, they often think about someone who is very weak and vulnerable. But it is equally important to think about why that has happened. 
With aging, health problems can accumulate to the point where the individual becomes more vulnerable, both to diseases and also treatments. Clinicians can better understand when and how to help patients by measuring frailty, which quantifies the burden of health problems a person is facing. This allows us to be much more precise in our predictions, and also track progress over time. It's especially important in the rehab setting because this is when critical decisions are being made about whether someone can go home independently or may need more support. 
Frailty impacts rehab outcomes because you can tailor treatment regimens based on their frailty status. Frail people are at higher risk of side effects from medications or developing new problems, so we have to be more vigilant in monitoring their progress. But frail people do improve and have successful rehabilitation courses. We need to assess each person carefully to really maximize benefits of treatments while minimizing the risk of harms. 
What are the top myths about older patients' ability to recover after a hospital stay?
Dr. Shi: When people are hospitalized they are often focused on the acute problems, and that as long as the reason they are hospitalized is addressed, they will have a full recovery. But for many older adults the hospitalization itself can have lasting consequences if issues are not recognized early and interventions put in place. For example, even if someone has a hip fracture fixed, they may be deconditioned or develop delirium in the hospital. Unfortunately, the longer problems drag on, the higher the chance they will lead to more permanent problems.
The other common misconception we see is that people expect to be feeling back to 100% within just a week or two and will go home fully independent. In reality it is pretty normal to feel 'washed out' or exhausted for several weeks, and people should not feel discouraged about that.
However, bed rest is not the answer! Being mobile and staying active both mentally, physically, and socially are all key to recovery. Rehab typically lasts a few week, so ask family or friends to bring in clothes from home to help make you as comfortable as possible.
What are the top risks that older patients face after discharge from the hospital?
Dr. Shi: The following risks top the list:
Delirium, which has been studied extensively at the Marcus Institute by visionaries like Sharon Inouye, M.D., M.P.H., is an acute confusional state that can precipitate during hospitalization. This can severely impact recovery. 
Falls can also be a setback, causing more injuries and harm. This is why we always ask people to call for help well in advance or create a schedule to help make things predictable. 
Finally, from a very practical perspective, the transition process from hospital to rehab can often feel very rushed or chaotic. Sometimes information can be mixed up, and it's important that patients have discharge paperwork before they leave the hospital so they can stay informed about what the plan of care is. This helps to communicate and verify critical information to the team taking over, so important medications or treatments aren't missing. Patients often don't realize that a rehab facility may not have some medications on-site, so patients may need to ask someone to bring in important medications.
What steps can older patients take to improve rehab outcomes?
Dr. Shi: There are a number of steps older patients can take to improve outcomes.
Stay active and engaged. The post-acute period can be very chaotic and comes with a lot of issues that a patient is juggling. 
Leverage your resources, this is not the time to be shy! In rehab there is a whole multidisciplinary team that is there and wants to help. 
Set concrete goals for yourself and share them with your care team: What do you want to be doing in a month from now? A year from now? Is it really important that you can cook or garden or dance? Those are key points for your providers to know. Also, it can be tempting to want to just rest and recover. But part of recovery is retraining your muscles and mind as well.
Finally, it is never too early to start planning ahead. We typically try to have a plan in place within the first few days, and most people will need extra help once they go home. Trying to put together a support plan can take time, so it's best to get a head start with realistic expectations for the days ahead.
What should older patients keep in mind to maximize recovery and improve health when they return home?
Dr. Shi: The journey has just begun! 
First of all, similar to the discharge from hospital, ask for a summary of what happened and what medications were changed before going home. This helps primary care doctors pick up where the rehab team left off. An easy question to ask is "If I were to stay here for another week what would you be doing or keeping an eye on"?
Make sure medications you need are at the pharmacy, ready for pick up.
Continue seeing your doctors and therapists at home or in the community. 
Keep active and engaged, and check in with people often so that they can help support you. It is very common to need extra help for the first few weeks, and older adults should absolutely not feel bad or embarrassed about it. In fact, over half of people need help with daily activities like bathing or dressing. Asking for help with the little things will help keep people safe from the big ones.
How can family and other caregivers help?
Dr. Shi: This has been a uniquely difficult time for patients, families, and caregivers. No one expects people to be back to 100% right after getting out of rehab. But understandably it can be hard to ask for help, especially when you don't know how long you will need it for. Activities like paying bills, managing medications, or grocery shopping can become even more overwhelming as older patients face their medical problems. I can't emphasize enough that people should ask for help, both patients and family! Being a caregiver can be extremely stressful, but there are often very good community resources that can help.
Is there anything patients and their families should be aware of concerning the COVID-19?
Dr. Shi: COVID-19 has made rehab especially challenging, not only because of all the new protocols in place but also because of the need to be flexible and adapt to a rapidly changing and ever evolving situation. It's hard to get into specifics because policies can change by the day. The best advice I have is to call ahead of time to try to get the most updated news about policies. 
All facilities are going to be testing for COVID-19 and visitors are typically expected to be or must be vaccinated. Patients should expect to be screened at least once, regardless of when they were last tested. All staff in addition to recommended vaccinations also undergo regular screening to be proactive.
If you have not received a vaccine or booster but are interested in it, let your medical team know. Most rehabs will be able to offer one. After discharge home continue usual safety measures and good hygiene.
Find top-quality skilled nursing rehab in the Boston area
If you're seeking skilled nursing facility level care following a hospitalization, Hebrew Rehabilitation Center in Boston and Dedham and Orchard Cove in Canton offer five-star rated care. In fact, Hebrew Rehabilitation Center was given the highest possible rating by U.S. News and World Report for short-term rehabilitation.
We offer care for a variety of conditions, including surgery recuperation, orthopedics, stroke and other neurological conditions, congestive heart failure, and more. Patients receive physical, occupational, and speech-language therapies as needed, and other services to support their individual needs. Contact our Admissions Team or call 617-363-8372 to find out how we can help put you on the road to recovery.
Blog Topics
Learn More
Hebrew Rehabilitation Center in Boston and at Newbridge on the Charles in Dedham, MA, offers specialized care to older adults recovering from a surgery, complex illness, or hospital stay.