Inpatient Skilled Nursing Rehab vs. Outpatient Care After a Hospitalization
Learn what qualifies you for skilled nursing care and when going directly home is more appropriate
Inpatient Skilled Nursing Rehab vs. Outpatient Care After a Hospitalization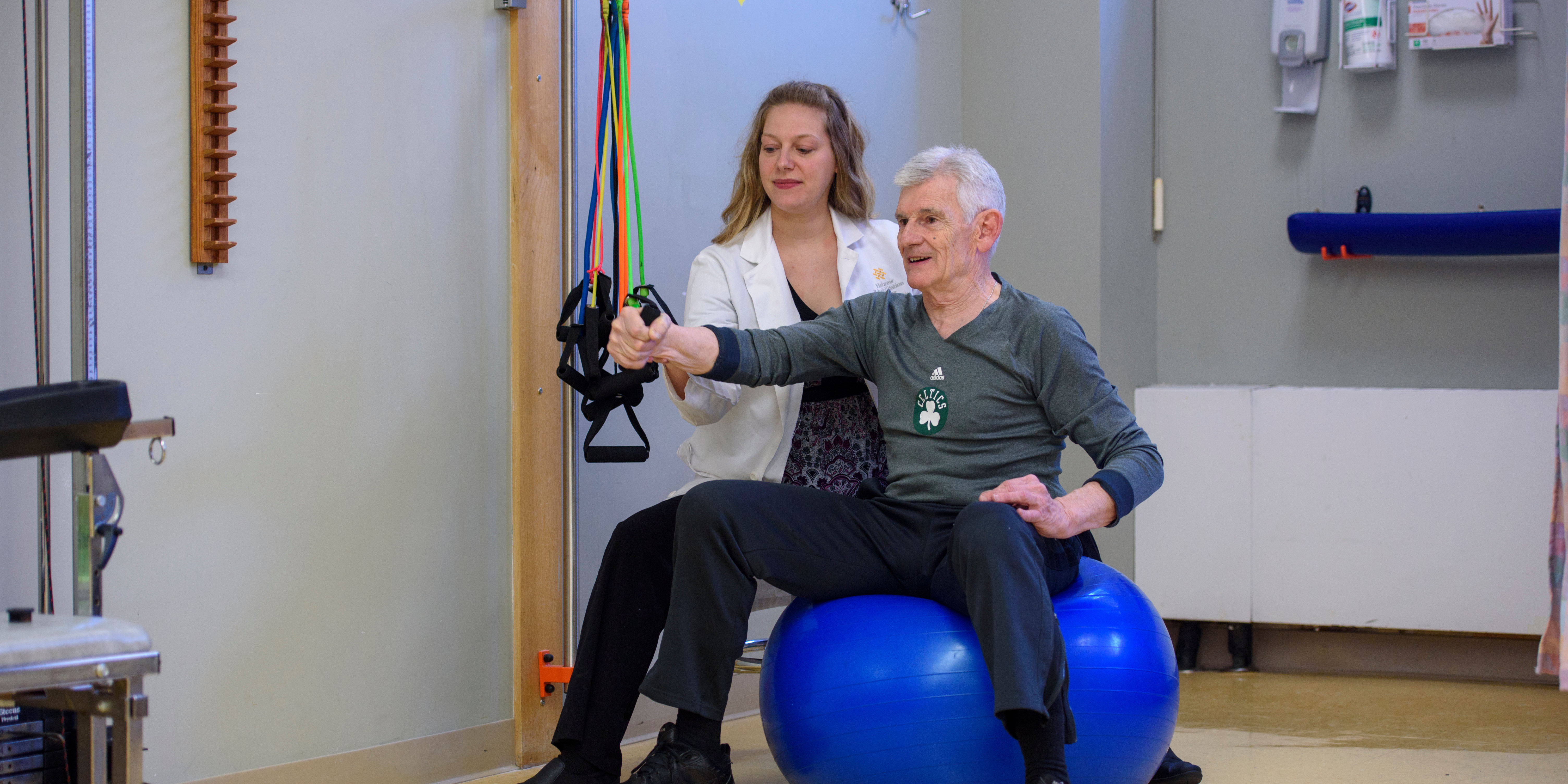 Dealing with medical issues can be stressful. Whether it's an emergency hospital trip or a planned surgery, chances are you'll want to return to "normal" life as soon as possible. While understandable, some recoveries are more complex than others. One important question for older adults after a hospitalization is,  "Am I ready to go back home or should I go to an inpatient rehab facility?"
Making that call is a collective decision between you and your doctors, nurses, and therapists in the hospital. There are many different factors to consider that can be highly variable from patient to patient. At Hebrew Rehabilitation Center's Rehabilitative Services Unit, we help those for whom inpatient rehab is the best choice. We treat people who are recovering from a fracture or a joint replacement, surgery, stroke and other neurological conditions, congestive heart failure, COPD, and more.  
Here are some of the factors your care team will take into account as they make their recommendations.
Initial assessment
Once you've recovered from the acute phase of an illness or stabilized after having a procedure, most people will require some degree of therapy beyond the minimal services offered at a hospital. The main decision point about whether to do that as an inpatient or outpatient is if you can care for yourself and meet your basic needs. 
The hospital team will evaluate your ability to do day-to-day activities on your own such as:
Getting dressed
Going to the bathroom
Taking a bath or shower
Getting food such as microwaving a meal
Climbing stairs
Doing laundry
When you're ready to be discharged, if you can meet these basic needs you'll generally be sent home to receive therapy in your own home—or in an outpatient setting—while those who are unable will be recommended to receive care at an inpatient skilled nursing facility.
Certain conditions or surgeries are not necessarily indicators. For example, a patient who goes for a walk every day could get a knee replacement and be discharged home. The same procedure on someone with more sedentary habits might necessitate a skilled nursing facility for inpatient therapy.
One thing that can be common in older adults who are hospitalized is general functional decline, not only due to the illness or surgery that put them there in the first place, but also because prolonged time in bed can cause a loss of muscle strength, decreased stamina, delirium, and more. If you've experienced a significant loss in function, that can be another indicator that a stay at a skilled nursing facility is a good choice, as you'll receive focused therapies to improve mobility, strength, and stamina. 
Another element the hospital team will discuss in evaluating whether you should go home or to a skilled nursing facility after a hospitalization is what kind of help you might have at home. 
Do you live alone, or with other people? 
If you live alone, is there someone who can stay with you or check in with you regularly? 
Can someone do errands for you? Help you with any of the day-to-day tasks listed above? 
Are you the caregiver of a spouse with their own medical needs? 
Often, hospitals have a social worker as part of your care team to help you think through the answers to the questions above. 
Inpatient rehabilitation following a hospital stay
If it's determined that your overall health, strength, and mobility might not be enough for you to safely go home, your care team will most likely recommend a skilled nursing facility for inpatient rehabilitation, such as Hebrew Rehabilitation Center in Boston or Dedham. 
Skilled nursing facilities provide 24/7 care, giving patients direct and frequent access to providers and specialists including physical, occupational, and speech-language therapies. They will listen to your own individual goals - anything from reducing reliance on a wheelchair to driving, gardening, riding a bike - and put together a care plan to put you on the right path. They'll make sure that you can safely care for yourself before being discharged home. This can include helping you get comfortable with any assistive devices you might need, such as a cane, walker, or rollator.
Another important benefit of inpatient care is the coordinated treatment each patient receives. Medical staff are able to check in throughout the day frequently. Ongoing monitoring makes it easier for doctors, nurses, and therapists to get a clear assessment of how each patient is recovering. This allows for responsive adjustments if more attention is needed. Medical staff can address any clinical needs beyond the specific treatment you're there for.
Read more about what skilled nursing facilities offer, and how they're paid for.
Outpatient and home therapy
If the decision is that a stay in a skilled nursing facility isn't necessary, you'll likely receive outpatient or home-based therapy to continue your recovery. This could include many of the same therapies you'd receive as an inpatient, such as physical and occupational therapy as well as speech-language pathology, but on a less intense schedule. You may also be referred for home health care, also known as a visiting nurse. Again, this provides some of the same care you'd receive in a skilled nursing facility - like wound care or IV therapy - but on a more limited basis and without close 24/7 observation.
If you're being discharged directly home, it means you have enough mobility to meet your basic needs. The additional therapy you receive is designed to improve upon your health - for example, you might be targeting improved mobility or strength in one particular joint, as opposed to overall functional strength. In other words, if you struggle to stand up, you wouldn't benefit from home-based therapy designed to increase your range of movement.
However, you don't necessarily need to have full independence or complete all of those day-to-day activities on your own to be discharged home. Some people have support networks that can help them with those tasks. As long as you have minimum mobility and someone to help, you can likely go home. Otherwise, you'll need inpatient rehabilitative services until you regain the ability to support yourself.
Read answers to some common questions about in-home care.
We're here wherever you need us
Overall, the decision about sending you home or to a skilled nursing facility is about ensuring your long-term health and safe outcomes. We want to make sure that you're in the best possible position for a full recovery, building a solid foundation to get you back to the highest level of health and well-being possible. 
Regardless of where you need to recover, Hebrew SeniorLife is here for you. Hebrew Rehabilitation Center in Boston and Dedham offers inpatient skilled nursing facilities and outpatient therapies. Hebrew SeniorLife also offers a range of in-home services across the Boston area, including home health, private non-medical care, and rehab therapy. For more information and to determine which service may be best for you, contact us today.
Karen Drake also contributed to this blog post.
Blog Topics
Learn More
At Hebrew Rehabilitation Center in Boston and Dedham, MA, we offer adult physical therapy, occupational therapy, and speech therapy using state-of-the-art mobility and treatment equipment.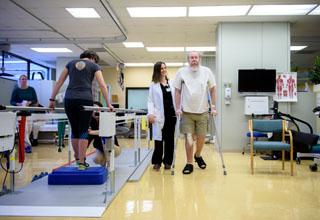 Hebrew Rehabilitation Center in Boston and at NewBridge on the Charles in Dedham offers five-star skilled nursing care and rehabilitation after a hospitalization, surgery, or other illness, so you can return to the people and activities you care about most.
Often covered by health insurance, Hebrew SeniorLife's physical, occupational, or speech-language therapists come to you with Therapy House Calls.