Questions to Ask When Considering Long-Term Care
A guide to deciding the best option for you or your loved one
Questions to Ask When Considering Long-Term Care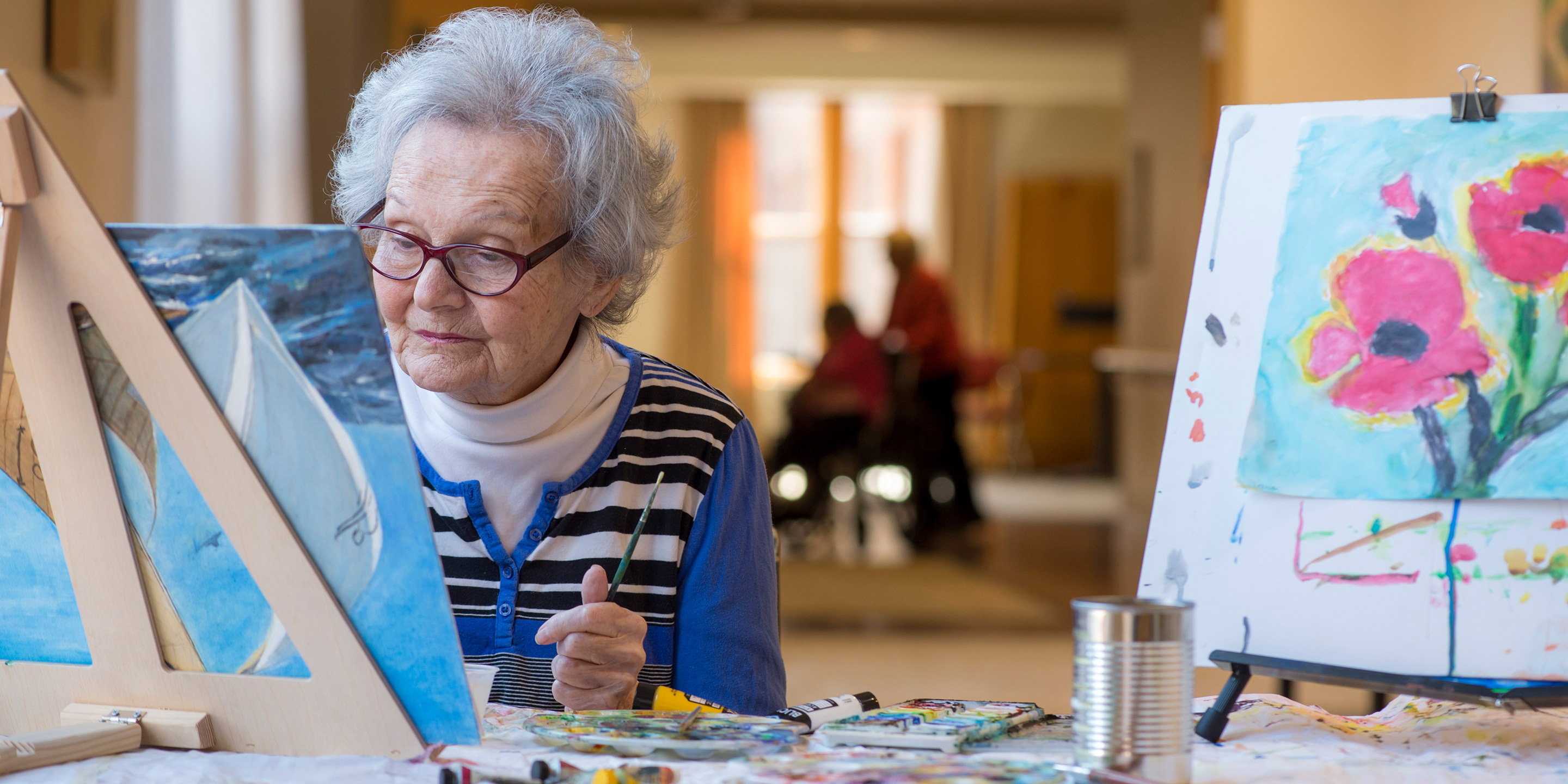 Long-term care is a term that can encompass a wide range of programs and services to meet a person's health or personal care needs. These services help people live as independently and safely as possible when they can no longer perform everyday activities on their own, such as bathing, dressing, or feeding. The goal of a long-term care facility is to provide a safe space for a senior but equally as important is honoring the autonomy of the individual, and helping them continue to live life with purpose and meaning.
What is Long-Term Care?
You may be asking yourself "where do I begin?" or "how do I know which place is right for my loved one?" First, you should understand the different living options for seniors:
Independent living is most appropriate for people who can still perform activities of daily living with minimal assistance, and focuses on serving the social needs of residents.
Assisted living communities support those who need help with activities of daily living, while allowing residents to live as independently as possible. 
Memory support assisted living is for seniors experiencing cognitive decline, with programming that is targeted for their needs and a physical environment that promotes both safety and independence.
Long-term care is also sometimes known as skilled nursing. Many people think of long-term care as a nursing home for the elderly, but it's really so much more. 
In this blog post, I'll focus on long-term care and the benefits and questions you should ask if it's something you're considering. 
A long-term care facility provides:
Around the clock nursing care. 
A geriatric team that consists of members working together to manage advanced illnesses and the psychological needs of individuals, including cognitive decline.
A care plan personalized for each individual that's built around their preferences, needs, and abilities. Staff should get to know each individual's life stories and experiences in order to shape the best support.
Programming that includes expressive art therapies and other life enhancement activities, spiritual support, and community-building. 
In long-term care, the staff continuously monitors individuals in their care and picks up changes in each seniors' condition that might go unnoticed in a different environment. If you're caring for an older loved one at home  and don't have a medical background, it can be hard to recognize subtle changes that if picked up quickly can help avoid worse conditions or hospitalizations. 
For example, urinary tract infections in seniors don't always present with the typical symptoms that younger people get - in an older person sometimes the only symptom might be confusion, which is an especially common presentation for those with dementia. Long-term care staff are aware of this and can quickly flag any change in behavior for the medical staff. 
When Long-Term Care is the Best Option
You might be wondering if it's the right time to consider moving your loved one into long-term care. That decision can be a hard one and very personal for not only you but your loved one. It's important to remember that the right long-term care facility can be an enriching and rewarding environment for your loved one and for you as their caregiver.
Health and safety concerns are the main reason why someone may need to be admitted into long-term care. For example:
A chronic illness that can't be managed by an older person at home, leading to repeated hospitalizations.
Frequent falls can have significant effects on a person or caregiver and quality of life.
Impaired cognitive function, increased confusion, or memory issues in your loved one.
If you're concerned about your loved one being unsafe around appliances, like the microwave or stove.
Your loved one with dementia may be prone to wandering, which is especially dangerous if they leave the house during  hot or cold weather.
Benefits to Long-Term Care
While some people might view a move to long-term care as a negative, there are many benefits. Someone who is isolated at home, with limited mobility and social interaction, may decline even more quickly than a senior in a long-term care environment with the proper support and socialization. Benefits of moving to a long-term care facility include:
Less disruption from hospital and emergency room visits. Research shows that a visit to the emergency room - even one that doesn't result in being admitted to the hospital - can put a senior at increased risk of functional decline. 
More physical and social engagement. With rich programming, a community of people nearby, and activities designed for people with mobility and cognitive challenges, seniors living in a long-term care facility may find that they are even more active and engaged than when they were living in their home. 
More energy to focus on visits. When your loved one has a team of people to support them, you can both take the energy you spent on the tasks of caregiving to just enjoy each other's company.
A re-established parent-child or spousal relationship. The strain on a relationship when one person becomes the caregiver can be so much to handle and the quality of the relationship can suffer. We often hear family members say "I get to enjoy being a daughter again" when a parent moves to long-term care.
Both the caregiver and the senior can try to resume a sense of living comfortably again. 
As one example, at Hebrew Rehabilitation Center in Boston and Dedham, our life enhancement and expressive therapies teams work every day with long-term chronic care patients who have cognitive impairment to stimulate their memory and cognition. We know that the creative part of the brain is often untouched by neurological conditions like Alzheimer's disease and dementia. Although someone may experience word loss or memory loss, this particular part of the brain often doesn't experience the same decline. 
Research suggests that artistic engagement can help ease common behavioral symptoms of dementia like anxiety, agitation, and depression. It can also boost mood and self-esteem. This is why we offer a wide variety of arts-based programming, using music, movement, poetry, painting, drawing, and more to give seniors a way to express themselves using the parts of the brain that remain unaffected.
How to Plan and Pay for Long-Term Care
It's important to start planning for long-term care as early as you can. This gives you time to learn about services in your community and what they cost. It also allows you to make important decisions while you're still able and before a crisis forces you to make a quick move. 
Here are some tips to make sure you're prepared:
Consider geography. Does your loved one want to be in the same neighborhood they've always lived in? Move closer to children or family so they can visit easily?
Research facilities in advance - look at the quality of care, as well as the quality of life.
Visit in person if you can to  get the feel for the environment.

What feeling do you get from the staff? Do they seem happy and engaged?
Are the residents well dressed and groomed?
When you're visiting, consider speaking with someone about what life looks like when your loved one is admitted and how you can be involved. Questions to ask include: 
What is your staffing model? This will allow you to learn about the people who will be involved in your loved one's day-to-day life, and the facility's ratio of staff to seniors.
Who is the medical team that will care for my loved one? In long-term chronic care at Hebrew Rehabilitation Center, we have geriatric specialists and Harvard Medical School-affiliated physicians on staff, along with an on-site pharmacy, lab, x-ray, and other medical services.
How will I be involved in planning? A good long-term care facility will view family members as partners and critical members of the care team.
What therapeutic programs are offered? This should include a range of opportunities and activities suited for varied interests, programming that allows seniors to interact with each other, and evidence-based therapies such as physical, occupational, and expressive therapies.
Do you offer spiritual support? At Hebrew Rehabilitation Center we have a team of chaplains serving seniors of all faith backgrounds.
Long-term care can be expensive but there are some ways you can help ease the financial burden. Many seniors will use their personal funds, this is called private pay. MassHealth or Medicaid are also available in many cases. Long-term care insurance is another option that helps cover the costs of that care when you have a chronic medical condition, a disability, or a disorder such as Alzheimer's disease.
At Hebrew Rehabilitation Center, we provide person-centered extended medical care in a home-like setting and look to visitors and prospective seniors to tell us what matters to them and to ask important questions. We're here to help you make the best possible choice for your loved one, provide transparent information, and an accurate look at life inside. If you're interested in long-term care, contact our Admissions Team at 617-363-8372.
 
Blog Topics
Learn More
Hebrew Rehabilitation Center provides person-centered extended medical care in a homelike setting for patients with chronic illness. As a licensed long-term chronic care hospital, we provide higher-level, more comprehensive medical care to older adults than a traditional nursing home.