Six Resources to Help Caregivers Connect to Non-Medical Care and Social Supports for Seniors
Caring for an aging loved one and not sure where to start? Learn about these community resources.
Six Resources to Help Caregivers Connect to Non-Medical Care and Social Supports for Seniors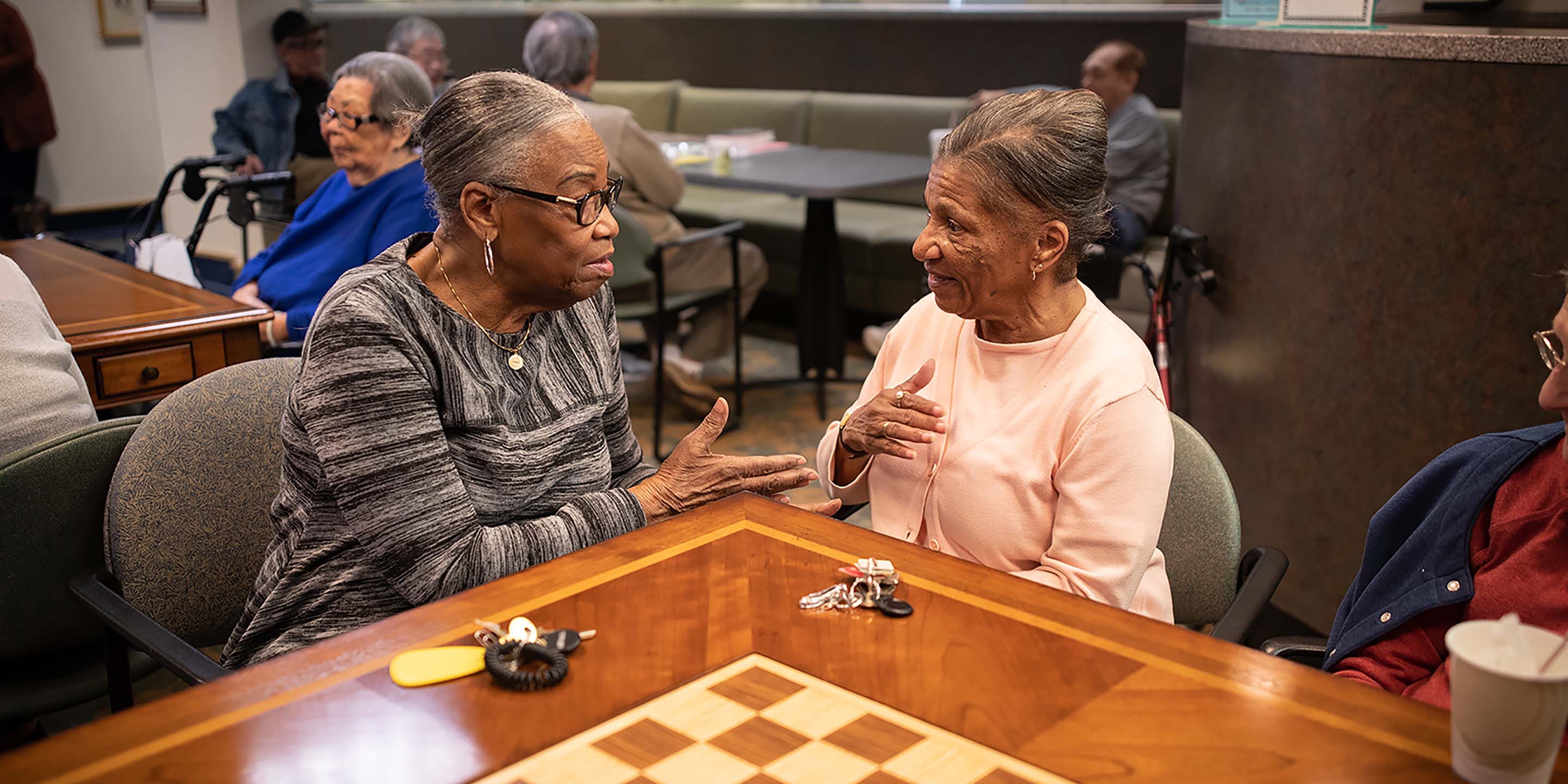 At Hebrew SeniorLife, we often receive calls from adult children and caregivers looking for non-medical care or social engagement opportunities for an aging loved one. Sometimes this involves a family member with memory loss, or sometimes it's a senior who's becoming isolated due to physical or mobility limitations.
Usually the need is for assistance with activities such as bathing, dressing, grocery shopping, meal prep, and transportation. Some callers are looking for companionship for their loved one to prevent loneliness, isolation, and depression, while others are seeking engagement for a loved one so that the caregiver can have respite.
Usually, by the time the caregiver reaches out to us they are exhausted and in need of services right away. If you're caring for an aging loved one, it's a good idea to plan for when they need more care before things reach a crisis point. Below are some helpful resources in Massachusetts for social engagement, non-medical assistance, and respite.
Use your local senior center to find activities and social groups
Most towns have senior centers, also known as Councils on Aging, to offer a variety of supports, activities, and social groups for local seniors to engage in.
The centers are staffed by aging service professionals who understand the needs of older adults and their families, and enjoy making their lives easier and more enjoyable. Social workers and outreach workers assist seniors and their families with accessing services, supports, and benefits. They have a network of service providers in the area and can refer to podiatrists, hairdressers, handymen, home care agencies, landscapers, and dog walkers.
Many senior centers offer transportation to and from the center and to medical appointments, grocery stores, pharmacies, and malls. Some have veteran's agents to assist seniors with accessing veteran's benefits, and many have volunteers willing to lend a hand, make a friendly visit, or escort a senior to a local appointment.
Senior centers generally offer a robust activities calendar with guest speakers, holiday parties, day trips, exercise classes, dances, and group meals. Participation in these offerings enhances social connections and helps reduce isolation. Some senior centers have activities for those with memory impairment and their caregivers, such as Memory Cafés. Hebrew SeniorLife sponsors a monthly Memory Café at Temple Emanuel in Newton, which is open to the community and offers conversation and friendship in an inclusive environment.
Since the pandemic began, many senior centers have expanded their ability to offer virtual programs, so those who aren't comfortable attending a public event can still benefit from social engagement and community-building
Reach out to state-funded agencies like ASAPs for a full suite of services
Massachusetts has 25 Aging Service Access Points (ASAPs), which are private non-profit state-designated agencies under contract with the Massachusetts Executive Office of Elder Affairs to provide services and supports to seniors over age 60 and their caregivers.
Some ASAP services include but are not limited to:
Information and referral
Caregiver support groups and classes
Case management
Assessment and re-assessment of needs
SHINE counselors (Serving Health Insurance Needs for Everyone)
Nutrition support, including Meals on Wheels
Money management
Non-medical home care for low-income individuals that is managed by ASAPs and supported by federal and state funds and private donations
ASAPs also offer access to legal services related to public benefits, housing, guardianship, nursing home issues, and elder abuse. Some of the programs are staffed by trained volunteers who are professionals or retirees with expertise in the area for which they volunteer. The information and referral departments at the ASAPs are a great place to start when you're trying to figure out how to access community-based or in-home services.
ASAPs are available to people of all income levels. They can be particularly useful in helping seniors and caregivers access and apply to any public assistance benefits they may be eligible for.
Try adult day programs for respite and engagement
Adult day programs keep older adults engaged, prevent social isolation, and provide caregiver respite. They can provide a safe, stimulating, and inclusive environment for a senior while a caregiver works, or give a spouse the time they need to care for their own physical or mental health.
There are several adult day health programs for seniors throughout Massachusetts, including one that Hebrew SeniorLife offers in Brighton. These programs have nurses and nursing assistants on staff to assist participants with personal care, medications, and other medical and personal needs. They also offer programming to stimulate the mind and body, and a social environment that fosters community. Some adult day health programs offer transportation to and from the program. Fees are paid for privately, through long-term care insurance or veteran's benefits, or they are subsidized through MassHealth. 
There are also social model adult day programs which, as the name suggests, are social only and don't have the medical and nursing components.
Unfortunately, the COVID-19 pandemic has had a major impact on the adult day health industry. Programs were forced to close during the first surge in 2020. Many are now operating but some have limited capacity and others haven't re-opened yet. However, those that are open are able to safely care for participants and provide critical support for those living in the community.
Explore private care for help around the house
Massachusetts has dozens of private home care agencies, including Hebrew SeniorLife, that offer non-medical in-home care. These agencies hire and train caregivers in personal care, mobility issues, and dementia care. Most accept private pay and long-term care insurance, and some accept veteran's benefits.
Rates vary between agencies and most require a daily or weekly hourly minimum and charge between roughly $30 and $36 hourly. Case managers for private care agencies try to match caregivers and clients for the best compatibility fit. However, sometimes it takes a couple of tries to find a good match and consumers need to communicate needs, expectations, interests, likes, and dislikes with the agency so they have the best experience.
Some of the services offered by private home care agencies include:
Companionship
Personal care assistance
Meal prep and/or feeding
Transportation
Escorts to medical appointments
Light housekeeping and laundry
Medication reminders
Errand support
Mail reading
Pet care
Tech support
Exercise program oversight
Hebrew SeniorLife offers private care in most neighborhoods of Boston along with 17 surrounding towns. Our private care associates are carefully hired and trained to care for older adults. Through local ASAPs, we also offer state-funded personal assistance for income eligible seniors and/or disabled clients. Learn more about our private care offerings.
Other helpful resources for Boston-area seniors
While these are some of the major community resources available for seniors in the Boston area, there are a number of other places to seek out support for a loved one. To find more learning, engagement, and activity offerings try searching the web for the following:
Lifelong learning programs in Massachusetts. Some are at local public schools, and some at universities.
Adult education or recreation department offerings in your loved one's hometown.
Bulletins and newsletters from local places of worship.
Fitness and activity offerings at your local gym or YMCA.
You can also reach out to your loved one's physician's office. Some practices have a social worker on staff who can provide resource information. These days, social media networks can be a great place to find local resources. Try joining groups for your town or neighborhood on Facebook or NextDoor, and ask for recommendations.
Alternatives to "aging in place"
While there are advantages to aging in place in the community, one of the downsides is the need to coordinate and piece together the resources your family needs to care for a loved one. When this becomes too much, or if you're seeking a community that fosters social connections, it might be time to consider other living options.
Hebrew SeniorLife offers a variety of senior retirement communities in the Boston area for people of all income levels and abilities. Whether you're seeking independent living, supportive senior living, assisted living, or long-term chronic care, chances are we have the right option for you or your loved one. Best of all, our staff provides coordinated care and resources with dining, fitness, educational offerings, programming, social groups, and health care right on-site.
We're always happy to talk to you about how these options can support you and your family. Contact us today to explore the possibilities.
Blog Topics
Learn More
Hebrew SeniorLife is known for delivering the highest quality health care to older adults, and our in-home care services are no exception. Whether it's nursing care or rehabilitative therapies, we work closely with you to set personal goals for care.
Hebrew SeniorLife offers a variety of senior living options, including independent living, assisted living, and enhanced living. There are options for every lifestyle and budget.