How to Talk to Your Parents About Getting Older
Tips for overcoming the discomfort of discussing your parent's health with them.
How to Talk to Your Parents About Getting Older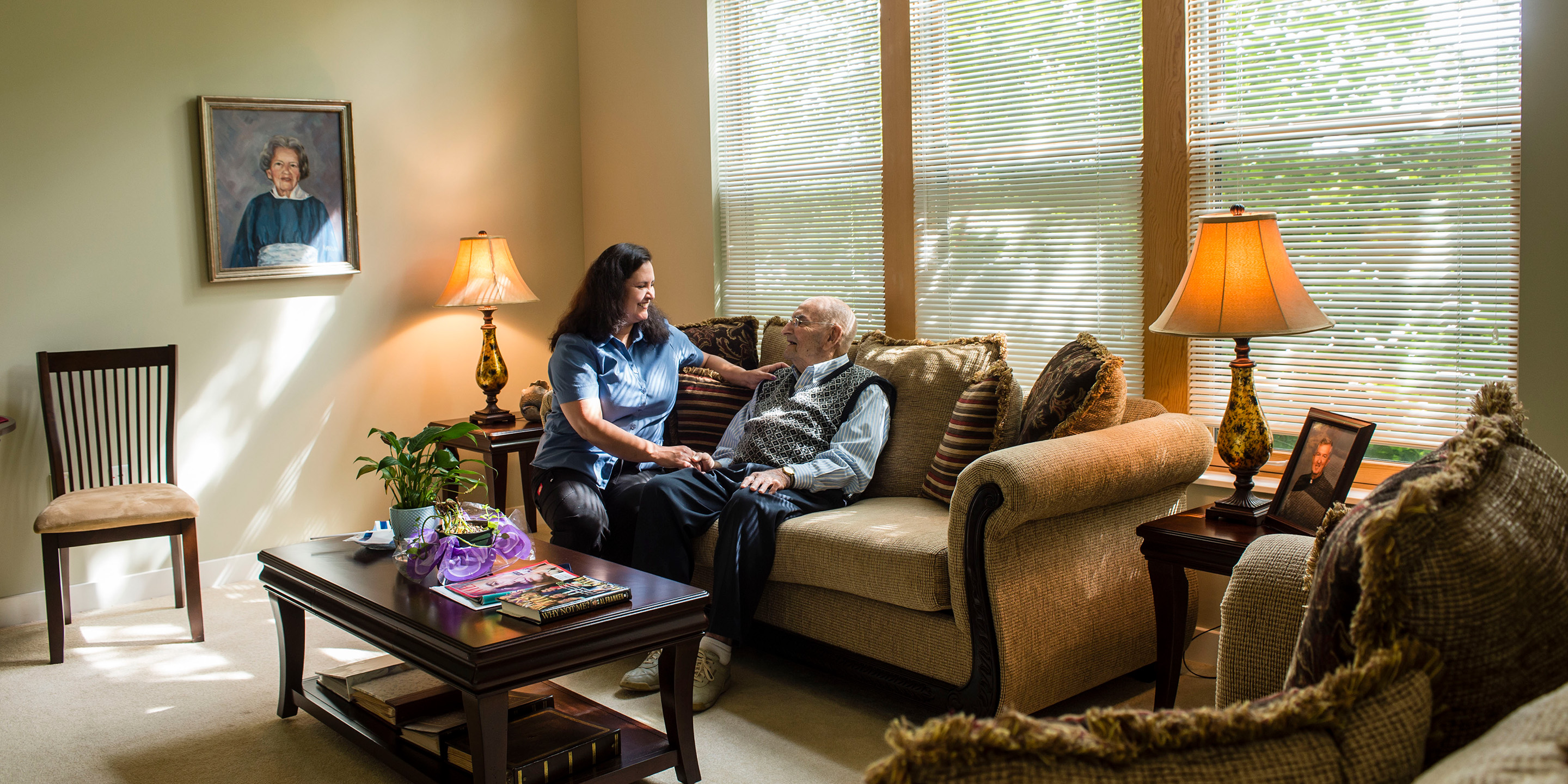 Health and finances evolve as we age. Addressing these needs often requires certain adjustments. Some of these changes are straightforward like adapting to a new medication or more complicated like choosing to downsize. For adults with aging parents, the time eventually comes when it's helpful to discuss your parents' future plans. 
These conversations can be intimidating. There are lots of emotions involved that require sensitivity. Parents might feel they are losing their independence or autonomy. This is why it is vital to have a respectful conversation that ensures these decisions are made with them rather than for them. 
Creating a roadmap for health decisions
Open and frank discussions with your parents help avoid stress and uncertainty about the future. These talks help to plan for future life events, resolve conflicts within the family, and can help ease some of the pressure you'll face later when you might be in the position to make decisions about your parent's care.
Being proactive is helpful. It's a good idea to talk to parents about their wishes when they're still healthy and able to be an active participant in their own care. It's a little less intimidating to have a conversation before there is a pressing need. Especially with diseases like dementia, declining health can result in the inability to make decisions for oneself. If your parent doesn't express their wishes now, they may not have much of a choice in the decisions being made later. Not only does this result in your parent potentially not getting care in a way that aligns with their values, but it also places much more of a burden on you to guess at the best course of action.
Discussing options before there is a crisis is much easier than being forced to make a decision during a medical emergency, when emotions are high. Advance planning means there's clearer guidance to follow. At the very least, having these discussions allows your loved one to communicate their values to aid you in making decisions when they are necessary. 
Additionally, asking questions about your parents' preferences sooner rather than later means not having to decide everything at once. Having ongoing conversations can give both you and your loved ones the space you need to accept potential changes and evaluate all options.
In fact, it's good advice for all of us, regardless of health status, to talk about how we would wish to be supported if our health were to significantly decline. Read more about how to talk about advance care planning.
Suggesting to your aging parents that they might need help 
There's no getting around it: emotional conversations require energy and patience. It's all too easy to find reasons to postpone.
However, making the effort required to have these conversations now can minimize a great deal of stress` later. Bringing parents and families together to clarify the wishes of their loved one unburdens those family members from agonizing if they made the right choice. Your parent might even be relieved for you to broach the topic.
Try not to put too much pressure on yourself by thinking about it as having "the talk" with your parent. What you're really doing is signaling that you're open to an ongoing conversation. Think of it as a series of discussions that can evolve and deepen each time. So there's no need for you to worry about saying the "perfect" thing the first time.
Begin an open dialogue with your parents about your concerns letting them know that it would be helpful for you to know this info. Ask if they've noticed any changes to their physical or emotional health, cognition, or ability to continue doing the things they love. If so, are they concerned? Offer to help them plan how to get assistance with the difficulties they are having. Keep in mind that it can be hard for parents to ask for our help. 
It's tempting to frame everything from a safety perspective. However, this could trigger resistance as it could be seen as infantilizing. Your parent is probably concerned about maintaining their independence and the life they've built over the years. Instead, try focusing the conversation on enhancing quality of life and overall well-being. How can your parents live their best lives?
You could ask "what matters most to you?" rather than "what's the matter?" This reframing makes it more about what someone wants for their life—what's important to them. It's important to really listen to the answers your parents are giving to have a productive conversation. By discussing your parent's goals and values, you can set up systems together to help maximize that part of life. 
For example, in a discussion about driving, you're understandably most concerned about their physical safety while your parent probably fears the loss of independence that giving up the keys might signify. Ask them what they'd miss most about driving - is it the ability to come and go as they please? Are they concerned they'll be more lonely and isolated? Scared of being a burden and relying on others? One solution could be to set your parent up with an Uber or Lyft account so they feel like they can still be spontaneous. Or, you could start discussing a move to a place where they could walk to friends and activities, or where transportation is provided in the community.
Getting your senior parent to accept help
You've prepared for a conversation and pulled out your best "what matters most to you" questions. But what happens when it feels like your parent just won't budge?
Parents are accustomed to being the primary decision-makers, and may initially be reluctant to involve or "burden" their children in decisions about health and care. Make sure you're being sensitive to this change in family dynamics. Let your parents know you are here as a loyal partner to help them make their own decisions, not to usurp their responsibilities.
Stress that your loved one is still the remarkable person they always have been regardless of their current health. Acknowledge what they are still able to do and focus on capitalizing on what is working well.
Many parents express a strong preference to remain in their own homes. They may try to exact a promise from their children to "never put me in a nursing home." Rather than making a promise that could be impossible to keep, use this statement as a springboard for a more productive conversation about what is realistic and most beneficial for your parents in the event their physical or cognitive health declines to the point that safety is a real concern, if you're unable to manage their care at home, or if they become socially isolated.
Make sure to discuss your current or future role in caring for your parents. While you certainly don't want to guilt them into making decisions, the fact remains that providing care takes work. Be realistic about what you and other family members may be able to take on, keeping in consideration the other demands of your life like your work schedule, finances, or the needs of your own children. Planning out the logistics of food, rides, and medications can be draining. One thing I often hear from our residents and their adult children is that after a move to a senior living community, they get to enjoy that parent-child relationship again and can focus on quality time together as opposed to logistics and caregiving.  
Sometimes a doctor, spiritual leader, social worker, close friend, or more distant relative can make the discussion less emotional and easier to get to the essence of what is important. Consider having other family members present for the conversation. Be mindful not to have more than a few people present because a large group may be frightening or intimidating to your loved one. 
If you're really having trouble with the conversation, an aging life care manager could be a good resource. Their job as a neutral third-party is to help determine each person's needs, abilities, and desires and coordinate the best services and programs to meet those individual needs.
Respect your parent's choices
It's important to ask questions, but even more important to thoroughly listen to the answers. You might have certain assumptions about the "right" way forward. However, these preconceptions might clash with your loved one's health goals and their quality of life desires.
Maybe your parents have mobility issues and it takes them longer to go up stairs and get around. You might think they should move to a senior living community designed to be more accessible. However, your parents might have accepted they are a little slower now and don't see it as an obstacle. As long as they aren't directly putting themselves at risk, it's their decision to make. Perhaps you can come to an agreement on what other issues might trigger a move, like when they can no longer use the stairs at all.
Your loved one has a right to make decisions and the person you are supporting won't always make the decision you believe is the best course of action. The important thing is that you've opened the door to discussions about what matters most, and you've signaled your willingness to help them figure out the best path forward if they ever change their mind. Giving your parents the space to process everything that was discussed might be just the thing they need.
Of course, there's also the possibility that your parents just need some time to process and see what you are talking about for themselves
Senior care options in the Boston area
Now that you know your loved one's wants and needs, how do you address them? Hebrew SeniorLife is here to support older adults and their loved ones through all stages of the aging journey. With a range of senior living, health care, and in-home services in Greater Boston, we can help you find solutions that will allow your parent to live their best life. 
To learn more about the right senior living options or get more help with having the conversation with your parent, contact us today.
Check out this interview that Sharon TV conducted with Tara Fleming Caruso about How to Talk With Your Parents About Getting Older.
Blog Topics
Learn More
Hebrew SeniorLife offers a variety of senior living options, including independent living, assisted living, and enhanced living. There are options for every lifestyle and budget.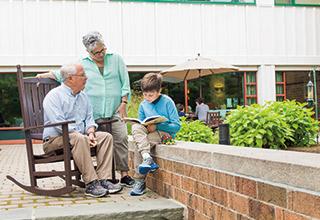 Hebrew SeniorLife is known for delivering the highest quality health care to older adults, and our in-home care services are no exception. Whether it's nursing care or rehabilitative therapies, we work closely with you to set personal goals for care.
Hebrew SeniorLife is the only senior health care organization affiliated with Harvard Medical School. Members of our caregiving teams specialize in providing geriatric care, and they do so with care and compassion.